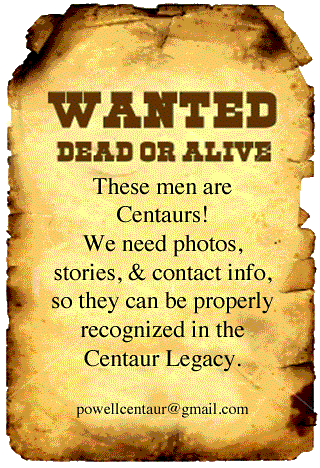 How's your memory? Updated 23 Jan 2020

The Centaurs In Vietnam Organization (CIVO) seeks to have a page for every man that served, as a Centaur in Vietnam, published on this legacy website.
This "Memory Jogger" section is for finding answers to questions and names of Centaurs in photos. A "jogged" memory can provide many answers for us.
You can help! Please check out the comments and photos below and see if you can provide any information at all about them. Names and dates are the most important.
Use the code number for the item you might be refering to (MJ001, MJ002, etc)
Email is best, but if you need a snail mail address to send items, contact Bruce Powell (webmaster) at: powellcentaur@gmail.com.
MJ063 - (23 Jan 2020) What were the requirements for a Crew Chief to earn his crewmember wings? Was a Door gunner awarded crewmember wings? If so, what were the requirements.
MJ062 - (2 Dec 2019) From Lloyd Goldsmith: I have pictures of the C-130 that landed at Lai Kai to move F Troop to I Corps. The runway would not support the weight of the empty C-130 so the move north was cancelled. Anyone else remember that? Date?
One question I have that hasn't been answered is A Troop 3/17 moved into Lai Kai to stand down. If I remember correctly they were going to Hawaii. My question is did they become D 3/4 in Hawaii. (Webmaster note: initial research seems to say no. But we will leave it open for now)
REPLY from CW2 Ken Hundt (16 Jan 2020): I remember the move to I Corp. It happened I believe on 4-1-72. That's when we started the move. If I remember correctly we ended up at  Tan My.  Stop over at Da Nang on the way. I don't remember a C-130 though. When I rotated out- I went to Hawaii and was assigned to C troop 3/4  Cav.  That was 1973-76. I don't remember a D troop.
MJ062 - (19 Oct 2019) From Bill Witt: In early to mid 1968, we had a Duce or Five Ton Truck that broke down with JP-4 on it at Go Dau Ha ARVN/Fire Support Base; I volunteered along with a Mechanic from HQ Motor Pool to go get it. We flew in an OH-23 to Go Dau Ha, THREE of us in a 23, The Pilot, The Vehicle Mechanic, and I the Rifleman. We spent that day and the next two at the compound, after three days we were ready to drive the truck and much needed JP-4 back to Cu Chi. As we waited at the main gate to join the convoy to Cu Chi the MP at the gate said the Convoy to Cu Chi is Cancelled. However, the Mechanic and I Decided to go anyway, didn't want to spend another night receiving sniper fire, dodging rockets and those Big Guns Blasting. We made it back without incident on the road that is, until we got back to the Troop area. We were proud of our accomplishments however, the command wasn't pleased with our decision to drive back without a Convoy and Air Cover. Question is does anyone remember this incident Pilot, Mechanic, or Command?
MJ061 - (12 October 2019) - Can you identify the Captain on the far right with the 101st Abn Patch in this Ken Mick photo?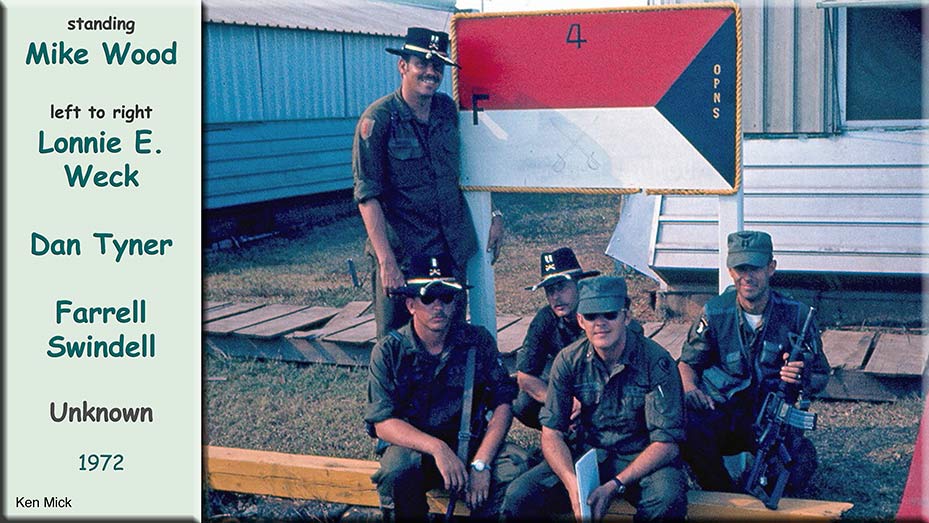 MJ060 - (10 October 2019) - The Centaur Vets Day Attendance Roster has been updated. There are 33 names now.
MJ059 - (9 Sep 2019) Email from Lauren Powell, wife of deceased, Blue Water Navy Pilot, requesting any information about F4 Phantom aircraft covering or working with Agent Orange missions. If you can help with info please contact her at: <lspowell11025@gmail.com>
MJ058 - Frm Don Borey: Did anyone ever finally learn if F Troop remained assigned to the 25th Inf Div until it left Vietnam but operated under the 11th and 12th Aviation groups in 1971 - 1973? The 4th Cav history indicates that it did but it's just one sentence in the Vietnam section of the 4th Cav history article. I always thought F Trp was assigned 1st Avn Bde after the 25th went to Hawaii.
MJ057 - (7 Aug 2019) Frm Jim Hoag: I remember when we first got the 20mm guns one of the first pilots (I don't remember who) complained after the 2nd use of the gun that his tail rotor pedals had gotten extremely sloppy. When we checked the tail boom it shook back and forth a lot when pushed by hand. Turns out the torque the gun created on the air frame when fired in addition to the anti-torque the tail rotor provided would loosen the 4 tail boom attach point bolts to the point the tail boom wanted to fall off. Bad ju-ju in flight I'm sure. It's like the gun was fighting with the tail rotor for dominance. So we made it a point to check the bolt torque after every mission and replace the bolts and mount every, I'm not sure here, 2nd or 3rd mission.
MJ056 - (25 Jul 2019): The only info we have on CPT Robert W. Simmons is "CPT 1970 Died after tour 95/06/13 VHPA". Do you remember anything about him or have seen a photo we can use for a Deceased MyPage?
MJ055 - (25 Jul 2019): From Powell: 1967-68: The SOI (Signal Operating Instructions) was a small Code Book we carried for secure radio communications (changing call signs) with ground units. Did you use it during your tour?
I don't remember using it much. One time in early 67 I was trying to contact a ground unit around Saigon. Needed to pick up someone from there with my OH-23G. I called "Smooth Glacier" something or another (call sign) and the radioman came back with "We is no longer Smooth Glacier; we is now Timber Butter". I remember thinking what a waste of time this SOI seemed to be. In those days we flew single pilot with no crew, making the little book a pain to use.
Can we get some discussion or stories concerning the SOI over the different tour years?
MJ054 - (22 Jul 2019): From Powell: 1967 Scout Notes entries:
1. "Tanner Mounts will be used starting today" Anyone remember what that is, and if we did it?
2. Round Up Mission equals Checkmate - Send in your memories of these terms.
3. Tornado means Night Feint - Written in my notes and I have no memory of those terms
4. Road Runner - Meant gunships standing by at Go Da Hau while the convoy was rolling. Your input?
MJ053 - (20 Jul 2019): From Herman Witt Album. Who is this Maintenance guy with the new Cobra?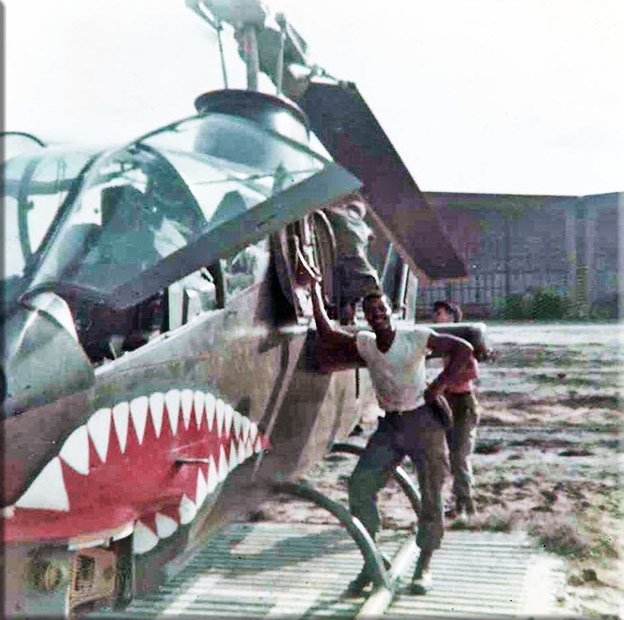 MJ052 - (19 Jul 2019): Hal Hebert sends these comments for the website discussions:
...how about cold showers if you got in late;
...Running for the open topped bunkers when a mortar attack hit the compound;
...A pilot landing on a road in front of an a Vietnamese with an oxen cart and telling me to go check the cart for weapons or RPGs and the ship being tooo heavy to take off so I had to get under the fuel tank and open a petcock valve to drain off some fuel so we could take off;
...Flying cover for the grunts in Hobo Woods when we got a call from the ground asking us to strafe the area about 20 yards in front of their position; the pilots couldn't see their position so I used my M60 to do it They radioed back and said that was fine, bring it in 10 yards which I did; Covering the LRRPs with my M60 as they ran up a jungle clearing to their extraction point;
MJ051 - (9 Jul 2019): From Frank Dillon: the 71-xxxxx Slick was a replacement for MAJ John Spencer's 881 Slick that had an engine failure and was slung back to Tan My minus the tail boom. Could this be the one in Dennis Hogan's pic (go to his MP2)? Someone (John Spencer said it was Pappy Jones) took the 71 Slick out and brought it back with 80+ bullet holes in it. That was when 1SG McConnell was wounded. (We need info/photos on McConnell).
Dan Miller says: I'm pretty sure it was 71-20096 maybe 97. Brand spanking new and flew like a dream until it went in for it's first phase after 100 hours. They swapped out the swash plate and it flew like shit after that.
Also, not surprised 1SG McConnell is not on the roster. He replaced 1SG Johnny Martin and had only been with us a day or two???? when he was left on the USS Okinawa with serious wounds.
MJ050 - (8 Jul 2019): From Jim Hoag: I vaguely remember one of the loach guys had acquired and mounted a handcrank Honeywell 40mm. I'm guessing he acquired it somehow from the Navy as they used them on their gunboats in the Delta.
Here's some info on them especially header picture: http://www.smallarmsreview.com/display.article.cfm?idarticles=2451
Anyone remember that? see discussion at the bottom of the 40mm History Page
MJ049 - (28 Jun 2019): Can you identify Aeroriflemen "Gilley" or "Cal" in Pat Lacy's slideshow photo r1-50 (1966-67)?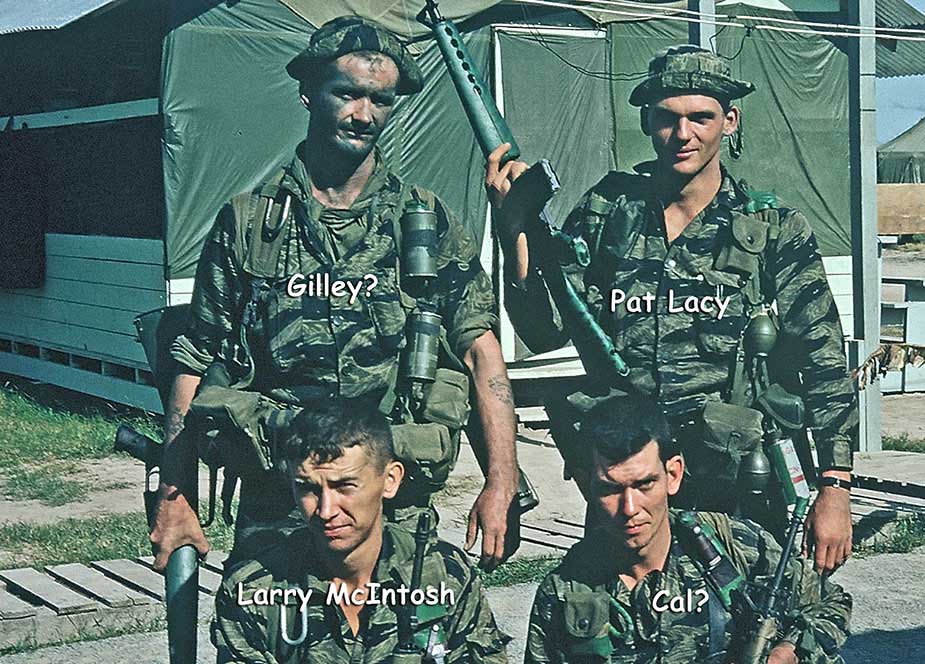 MJ048 - (23 Jun 2019): Please take another look in Warren Waite's Photo Album (Feb 68 to Feb 69) and pictures number 7, 9 and 10 to see if you can identify anyone.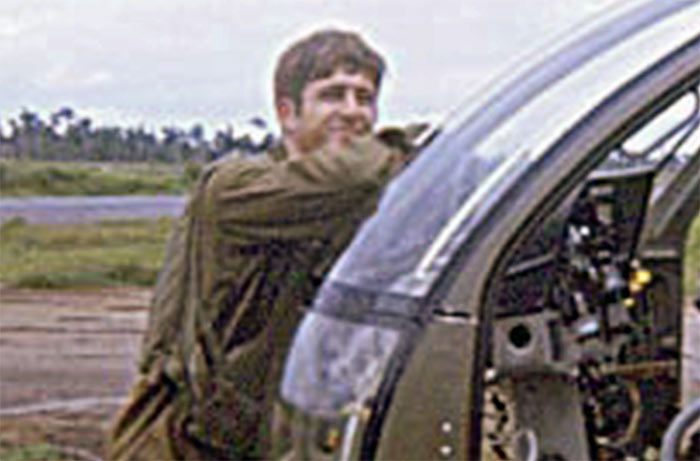 MJ047 - (22 Jun 2019) CW2 Harlan Sparrow III remembers this man as a Scout Crew Chief at Lai Khe (1971-72).
Can you identify him?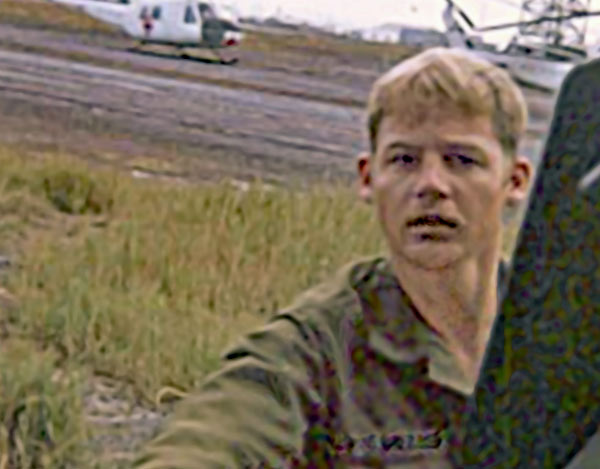 MJ046 - (21 Jun 2019) CW2 Harlan Sparrow III remembers this man as a Maintenance Crew Chief (1971-72) when they would go out to recover downed aircraft. The only name on the roster that comes close is SP4 Richard A Kruzel from Freehold, NJ. Richard, is that you?
• MJ045 - (15 Jun 2019) Does anyone remember having a Centaur Cobra with dual turret miniguns? How about dual 40mm?
ANSWERS: Sam Dooling: In early 1969 we had one Cobra with dual miniguns (551) and one with dual 40MM (540). February 1969. The dual minis were pretty cool, but the 40s never seemed to work right - had feeding problems with the right hand one, so both aircraft were eventually returned to the standard configuration.
MJ044 - (14 Jun 2019) The SSG Pat Lacy LRRP Slideshow photo "r1-50" and also at MP5 on Lacy's MyPage, shows a "Gilley" and a "Cal". Haven't been able to identify either of them. We do have a Jerry Caldwell 1966-67 (No rank or position) on the roster. Is he a possiblity?

MJ043 - (14 Jun 2019): CPT Robert W. "Bob" Simmons, D Troop XO 1970 died after his Centaur Tour on 13 June 1995 (VHPA). We have no photos of him and no obituary.
CW2 Mike Holder remembers him as the D Troop XO who talked him into changing from Slicks to LOH's.
CPT Simmons was in a C&C bird that rescued Mike after he was seriously wounded and shot down on a side mission on 7 June 1970. Mike was in an LOH covering a medevac bird trying to rescue wounded of the 2/22 Infantry.
Maybe you can help:
1. Photos, info and stories of CPT Bob Simmons, XO
2. Who were the slick C&C crew members on the 7 June 1970 rescue?
3. Who were the (not wounded) crew members of the LOH that carried Holder to safety?
MJ042 - (12 Jun 2019): Who is the "friend" to the left of Chester Stanley in this photo (1970):

MJ041 - (5 Jun 2019): Who is the Pilot (Slick pilot?) to Tom Flemings left in this photo (1967):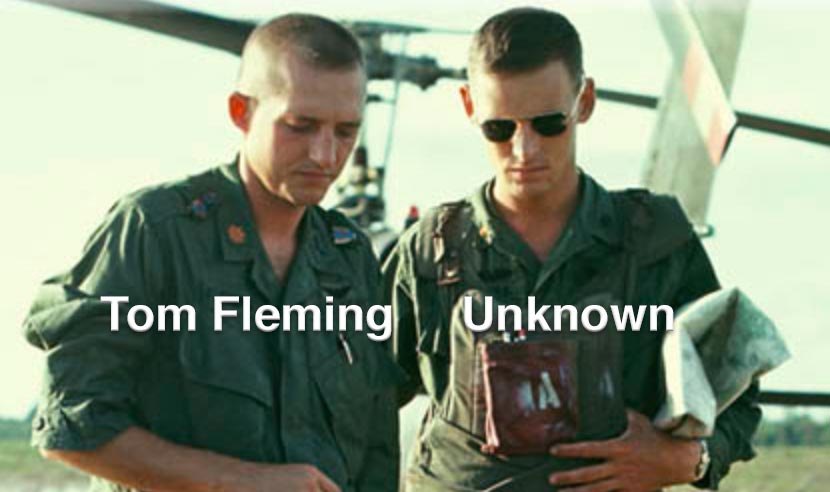 MJ040 - (4 Mar 2019): Jim Hoag: I seem to remember the 1st 20mm guns we mounted under the left stub wing of the Cobra had a triangular 3 barrels instead of 6. We got them while still at Camp Frenzell-Jones. This photo from Google shows it as an M197.
MJ039 - (3 Mar 2019): Is anyone intouch with CPT Bruce C. Riddle 1972/73? He is listed as working in Operations and was on the ground to be rescued on 2 May 1972 (see Jerry Shelton story). Listed as living in Bardstown, KY. Check the Yearbook and see if you find a photo of him for me.
MJ038 - (29 Apr 2019): We are trying to find the first name and any photos or information on the Slick Line Chief Johnson. Possibly "Archie" or "Robert M.". He was replaced by Jack Nemeyer in October 1969 (?)
MJ037 - Solved
MJ036 - (14 Apr 2019): Dale Dow's history notes show that F Troop stood down on 26 February 1973. Other notes often mention that it was sometime in March 73. Do we have any official documents?
MJ035 -(5 Apr 2019) - Mike Peake asks: Although the M129 40mm grenade was known to be used almost exclusively as the AH-1G Cobra turret weapon paired with the minigun (or as twin-40s) , references indicate it was deployed earlier to some degree in a modified M5 turret for the Huey without stating which units in country were provided with the modification kits. Did D Troop use the modified turret with the higher rate of fire 40mm before the Cobras arrived in country? It would have been a significant change having the rate of fire nearly doubled.
MJ034 -(20Mar2019 - webmaster) During the AF Pilots Rescue mission 2 May 1972 near Camp Evans (northwest of Huế in central Vietnam) where a Russian SA-7 Missile destroyed a Centaur aircraft and crew, a second UH-1H was shot down and the crew was recovered. Who was that crew? Aircraft number? Any stories?
MJ033 - Carl Betsill & Frank Dillon (19Mar2019) discuss Avionics with Gordon Hodgson (Avionics Mechanic 101st 69-70) in our History Avionics section. Click here to review. Send any comments to Betsill or Webmaster).
MJ032 - Larry Richardson (5Mar2019) In 1967 I was working on my helicopter, I think on the top, in the old company area, when an aircraft accidentally rocketed the runway. I heard the rocket coming so I jumped down and ran over to the culvert. It was a little culvert but I crammed myself in there. The rocket must have been a dud because it didn't go off. I tried to get out of the culvert and couldn't. Someone saw me run over there and then heard me shouting for help to get out. They pulled me out by my feet. I remembering enduring some harassment for a while afterwards.
MJ031 - Jack Nemeyer (Aug2018) remembers some things about PFC Crew Chief Douglas "Pat" Brown. of Slick 494 1970. Jack found his name listed on orders for Basic Air Medal 12 March 1970. His SSN was issued in Michigan. His name is now on the online Roster replacing "Brown 1"
MJ030 - Lin Riniker 5Mar2019: remembers Gregory L. Spung: As I recall Greg arrived while the troop was in Phu Bai around May 72. He didn't care for the primitive nature of the place and, since we needed an armament guy in Danang, went down there. He did a great job cleaning up the systems while the acft went thru PE.
Frank Dillon notes that the 7/72 Roster shows: Gregory L. Spung mos 45J20 DEROSED 25 Oct 72.
He was from Nebraska.
MJ029 - Hal Hebert 22Feb2018 - Covering the LURPs with my M60 as they ran up a jungle clearing to their extraction point
MJ028 - Hal Hebert 22Feb2018 - Flying cover for the grunts in Hobo Woods when we got a call from the ground asking us to strafe the area about 20 yards in front of their position; the pilots couldn't see their position so I used my M60 to do it They radioed back and said that was fine, bring it in 10 yards which I did;
MJ027 - Hal Hebert 22Feb2018 - A pilot landing on a road in front of an a Vietnamese with an oxen cart and telling me to go check the cart for weapons or RPGs and the ship being tooo heavy to take off so I had to get under the fuel tank and open a petcock valve to drain off some fuel so we could take off;
MJ026 - Hal Hebert 22Feb2018 - Running for the open topped bunkers when a mortar attack hit the compound;
MJ025 - Hal Hebert 22Feb2018 - how about cold showers if you got in late;
MJ024 - Hal Hebert 14Oct2018 - Irony -- PFC Al Hebert – the first day I arrived at camp , I was put into a bunk beside a guy named Al Hebert-from the east coast (we had canvas roofs then – we later put up tin roofs) he went home not too long after that. He is on the roster.
MJ023 - Hal Hebert 14Oct2018 - Jack Rospert – was head of maintenance crew when I first got there. Left me some of his tools when he went home
MJ022 - Hal Hebert 14Oct2018 - SSG Lorenzo Guzman – from Hawaii – showed us how to sharpen a knife – had something to do with the maintenance crews – we were in Tay Ninh and expecting an attack that night so he decided to show us how to shoot the 50 caliber we had set up on the perimeter so we went over and he proceeded to fire off a couple of blasts – needless to say that made the troops nervous – Nice guy
MJ021 - Hal Hebert 14Oct2018 - John "Willie" Williams – I think it was his ship I took over when He left. I visited him briefly in California on my way home.
MJ020 - Hal Hebert 14Oct2018 - Sidwayne Collins – If this is the same guy I think it is he wore real' thick lense glasses but could see as good as an eagle. Seems to me we were flying cover for a wounded grunt that was surrounded by VC. My pilot said "Hebert. Will you go get him if we land? I said yes and at that very time another ship did just that. I may be wrong but I think it was Collins. Not sure though.
MJ019 - Hal Hebert 14Oct2018 - Armourer – Jim Brock – from Fort Lauderdale – Googled him recently – no results. His sidekick was a big guy whose name I can't remember
MJ018 - Hal Hebert 14Oct2018 - – Gary Portas - Gunner– Was my gunner from the rifle platoon – lived in Philadelphia. I went to see him after I got back- tried to find him recently and cannot
MJ017 - Bruce Powell 12Oct2018 - I would like to locate and spend some time with SSG Richard F. ChapmanMotor Pool Sergeant 1967.
MJ016 - From Terry Vaughn - 133-160016…That's me on the left…no clue who the other person is…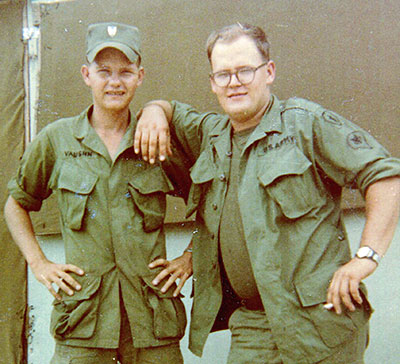 MJ015 - From Terry Vaughn - 123-rvn250025…On the left, No CLUE (Again original group, worked in the Motor Pool) . On the right GREENHAW (Maybe GREENSHAW, James A?) was a truck driver, ran fuel to GO Da Ha in the convoys, also a Motor Pool guy.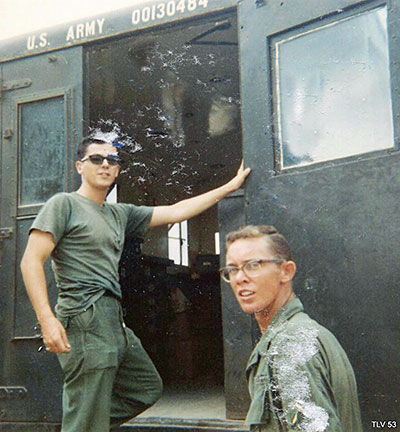 MJ014 - From Terry Vaughn 122-rvn240024 no clue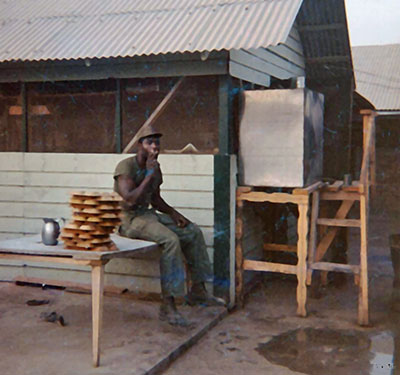 MJ013 - From Terry Vaughn 121-rvn230023…No clue but he was in the original group that came over on the boat…worked in the Motor Pool..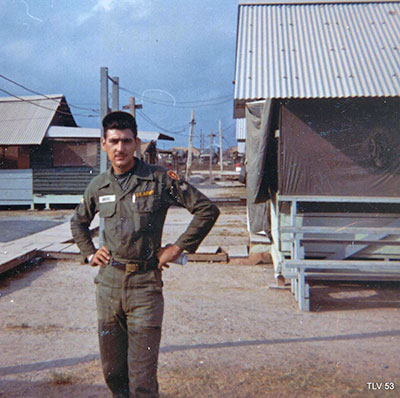 MJ012 - From Terry Vaughn -120-rvn220022 Could this be SACACSKAS, Michael 1967?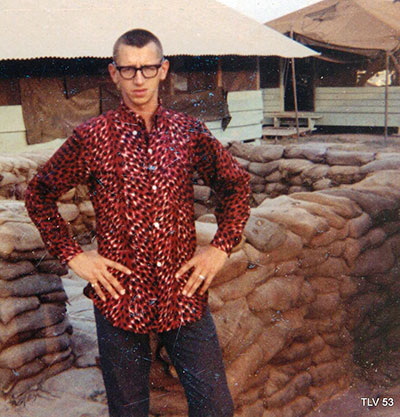 MJ011 - From Terry Vaughn- 119-rvn210021…Doug Olsen and Harold Deist identified him as Paul F. Hutson. A MyPage created for him on 16Jul2019.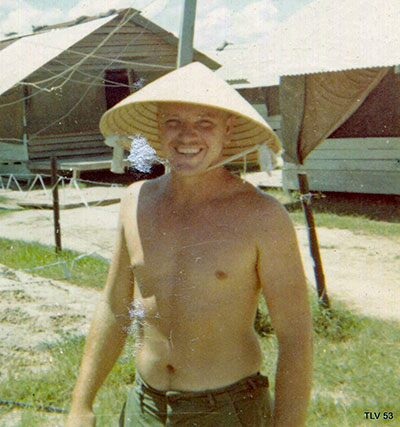 MJ010 - From Terry Vaughn 086: Could this be Harold S. Tedder LRRP and then Door Gunner? Deceased Jan 2004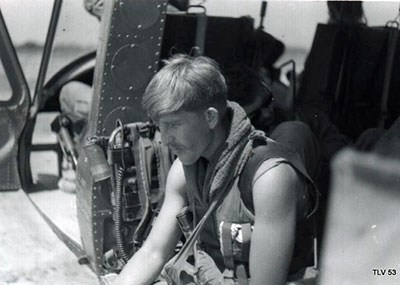 MJ009 - From Moose Marsinkowski - Not on the Roster - Rich DesJardins from F troop. He was one of my platoon leaders when I had an Attack Helicopter Troop at Fort Hood in the early 70's.
MJ008 - from Terry Vaughn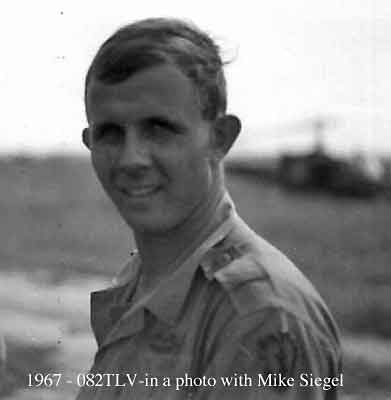 MJ007 - from Johnny Gray Slideshow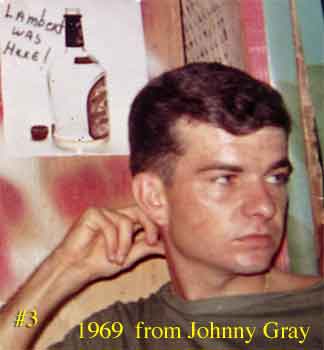 MJ006 - from Jack Nemeyer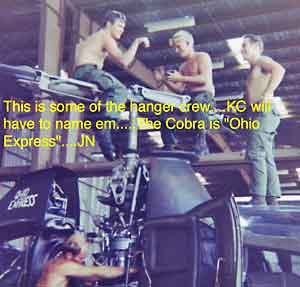 • MJ005 - From TJ Lange photo - IDENTIFIED as Pete Johnson, Gun Pilot by Juaquin Eastes 5Mar2019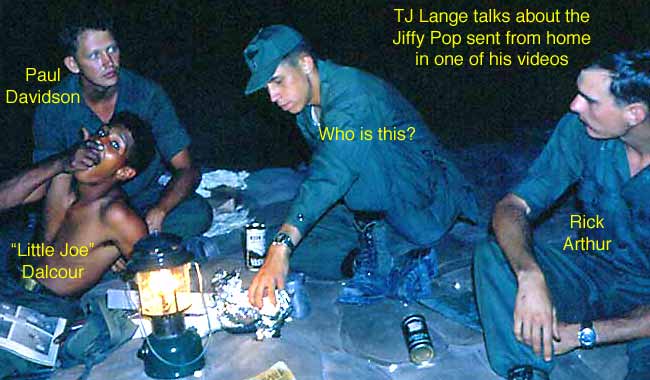 • MJ004 - IDENTIFIED
MJ003 - Gunpilots from Bruce Hinds album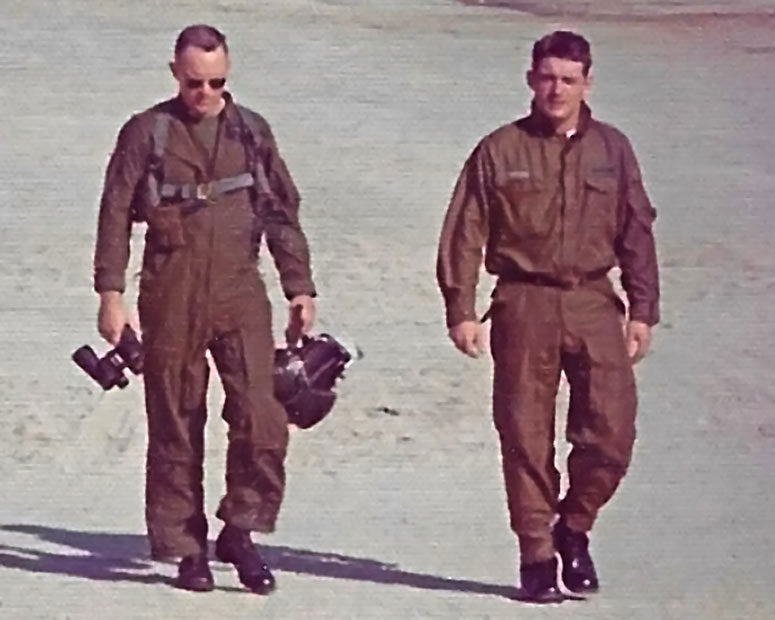 MJ002 - from Jack Nemeyer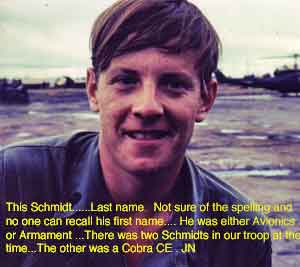 MJ001 - from Jack Nemeyer