Book about the First Year of the Centaurs
by Carl Burns (2008)
.....................................................................................................................................................................................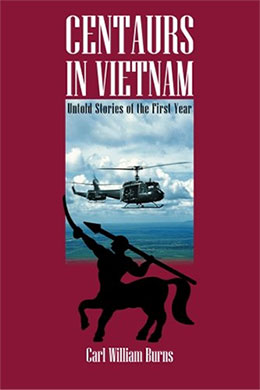 Buy it directly from Carl or at Amazon

This book is the untold tale of the first year of the Centaurs in Vietnam as told through the eyes of air cavalry helicopter pilots and grunts who built a troop from the ground up at Cu Chi based on teamwork, fighting ability, and guts. Climb aboard their Huey for an up close and personal account of the war.
Not your typical war story, this book captures an unvarnished account of how the Army formed an air cavalry troop in early 1966. "Rookies to war," the pilots were plucked out of the skies of places like Fort Rucker, Alabama, and joined by troopers from across America to fight a guerilla war in the jungles and rice paddies of Vietnam. There were no field manuals for this war, and air cavalry was just a glimmer in the eyes of reconnaissance, infantry, and artillery units.
This is the story of one year of the storied 25th Infantry Division, 3rd Squadron, 4th Cavalry that left the paradise of Hawaii's shores for the heat, rain, mud, and guerilla warfare of Vietnam. The combination of helicopters, infantry, and a Long Range Reconnaissance Platoon (LRRP) makes for compelling reading as you follow the lives and battles of 30 different contributors.
There are stories of bravery and fear, ingenuity and innovation, humor and sadness, boredom and electrifying insertions and extractions of LRRP teams. In the end, you will grasp the brotherhood of war and appreciate the sacrifices of those that serve in the name of freedom.
About the author: Carl William Burns is a former bank executive officer and current financial planner. A graduate of Rutgers University in New Jersey, he left the New Brunswick campus commissioned as a Second Lieutenant in the Army. After graduating from flight school at Fort Rucker, Alabama, and training at Fort Benning, Georgia, he shipped to Vietnam in March 1966.
Stationed at Cu Chi, he was a helicopter pilot with the 25th Infantry Division 3/4 Cavalry, nicknamed the famed Centaurs. He flew combat and reconnaissance missions in Vietnam earning a Purple Heart, 16 Air Medals, and the rank of Captain.
He joined a project of a fellow officer from Vietnam, John Alto, who was working on a visual DVD of their tour of duty. Burns decided it was time to share long-buried stories of the war from 41 years ago.
Through emails, letters, and phone calls, he reached out to a network of men and encouraged them to share their stories for their families and grandchildren. Silent about the war for 35 years, Burns slowly convinced fellow troopers to come out of the jungles, rice paddies, and their Hueys to write about their experiences. Man by man, pilots to grunts, the emails flooded in, and the book took shape.
Burns contributed his Vietnam experiences to the Rutgers Living History Society, for which he serves as Vice President. He is also a tour guide for middle and high school students at the New Jersey Vietnam Veterans' Memorial and Educational Center in Holmdel, New Jersey.