I joined the Army in 1965 and went thru Basic, AIT in light weapons, Jump School and Special Forces. I went to Vietnam in Oct of '67 - 68 and returned to become a Staff Sergeant awaiting Flight School. I returned to Vietnam on April 18, 1971, and was sent to C Troop 1/9th with my two buddies who had done Flight School and transition into OH-6 with me, Bob Fortin and Dave Meyer.
The Transition class was very small and we worked with each other every day. When we got our orders I suggested we meet at my parents' house in Napa, California before leaving from Travis AFB, which we did. They had dinner, stayed over and my parents took us to the Airport the next day. We discussed swapping insurance since we felt the money would have little effect on our parents but might get us started in a business. Dave was divorced but wanted his son to have any insurance but Bob agreed to swap.
In three weeks my first buddy, Dave Meyer, was killed but we didn't hear about it until much later even though we were just across the runway from him. I had agreed to swap my insurance with Bob Fortin and did so.
My call sign at C Troop 1/9th was No.10. I had been to Vietnam before as an enlisted man with Special Forces and figured I'd quickly get used to the heat. Not so. But Gene did. He humped rockets for the Cobras and got huge water blisters on his back but it didn't seem to bother him.
In Tay Ninh C Trp had really sorry housing but outstanding esprit de corps. Bob Fortin and I started living under a GP medium tent and as new guys they put us under the leak. I resented being treated as a new guy since I had 6 years in the Army, was on my second tour and had been a Staff Sergeant before Flight School, but W-1 is W-1.
Our answer was to build a hootch of our own out of rocket boxes and Bob and I became roommates. He did most of the work because I was still adjusting to the heat and felt weak all the time. We got along well.
In Special Forces I had seen little of the enemy's equipment, accommodations and the enemy himself. Flying Scouts was a big shock. We talked about it every night. It was nothing like TV. We usually did a road recon where we got on a road in Cambodia, examined the road for recent activity. Where it crossed a creek we could see boot prints or Ho Chi Minh sandal prints and get an idea how many people had passed, how recently and traveling which direction. We would then fly down it at high speed, maybe 140 mph and try to catch up with the bad guys. Then we'd shoot it out.
The gunners at C Troop were fantastic. I still remember Darcy Findlay cussing me out when my foot slipped off the mic button for the CE. Grant Palmer was another great shot. Although we took holes in the aircraft many times a week, few of the crew were injured because we were so aggressive. We shot bad guys many times a week and trailed red smoke approaching the air field every day we killed them. The tower people knew the score. It was dangerous and so exciting it's hard to describe. They had almost exclusively AKs and I sometimes thought that flying into them with 3/16 " of plexiglas between us and both hands and feet occupied, depending on the Crew Chief to hit the guy before he hit me, was a great risk. The bad guys almost always scattered. It didn't seem real and the aircraft was so responsive it was easy to over control when you got excited but the more you flew it the better you became.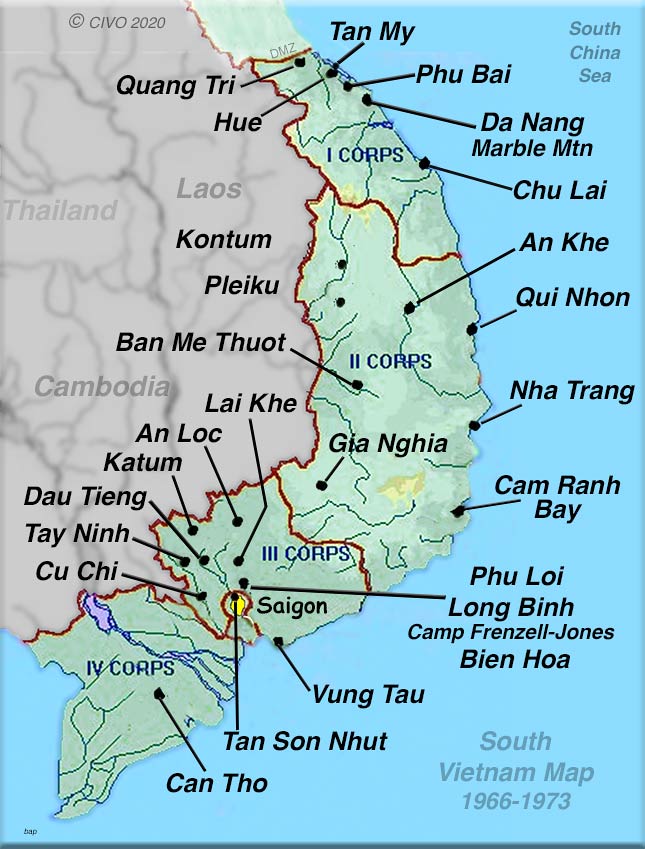 On June 28, 1971 C Troop stood down. At the Stand down Party we presented two Honda 50s to COL Putnam that we had taken from the VC in Cambodia. I was then sent to A Troop 3/17th in Quan Loi (near An Loc) to fill a dead guy's bunk, (Lt. Knuckey), who had tried to hook out a 51 with his LOH. All the time we flew in Cambodia.
At A Troop I transitioned into an OH-58 with a mini-gun for one month. I tried to shoot a bad guy but the sound of the gun caused me to flinch and pull it to the second detent. I cut the guy in half. I wasn't happy with the set-up compared to the OH-6 and a couple of sixties. You could burn up ammo too quickly.
A Troop moved to Lai Khe several months later and I was back in the OH-6. Shortly thereafter I saw Bob Fortin in Phu Loi and he said he hadn't switched his insurance with me because he thought it would look bad for the family. It had been almost 6 months since I swapped my insurance with him and I had been shot down three times. A month later Bob was killed. They said he was shot 47 times. I don't know what he ran into but it was nasty.
I roomed with Steve Suiter at Lai Khe and decided to swap my insurance with him. When I got shot down I broadcasted that I was going down in trees and Suiter, (One-Five), wasn't going to get paid today. Later he was shot down at speed and the aircraft rolled. He transmitted, "We're going over and over and One-Three, (me), is not gonna get paid today". I taught my crew chief, Don Cisney to fly the OH-6 but he got over confident and got us spinning so fast I had to autorotate before I lost the horizon. We came down spinning on the PSP but survived without damaging the aircraft but we both learned a valuable lesson.
Later I was asked to fly a couple of enlisted guys up to Quon Loi from Lai Khe in the evening. They were drinking at the club while I waited at the aircraft for them to show up and we left late. It was getting dark and lightly raining and at 200 feet I went inadvertent IFR. When we came out of the fog we were upside down looking at the leaves on the trees. It was easier to pull the aircraft all the way over and roll back up into the fog. I came out upside down again and decided I had to force myself to fly the attitude indicator and kill the nav lights or we'd all be dead. I straightened it out somewhere over Cambodia and turned to where I thought Quon Loi was located. We flew a long time on a bearing with no sign of humanity. I couldn't get anyone on the radio but eventually saw a single light. I turned at the light and looked for Quon Loi airfield but it was dark. I tried the radio again and got someone. I said I was lost and thought I was at Quon Loi but there were no lights. He said," Oh the lights are off., Here let me turn them on," and the whole world appeared below me. The enlisted guys thought I was screwing with them and never knew how close we came. I learned another lesson and never took chances with Mother Nature again.
When A Troop stood down Lt. Suiter and I were sent to F Troop 4th Cav at Sanford Field. I had been shot down five times and wounded twice, both times not seriously and both times in the butt which Suiter and Radcliffe found very funny and I guess I did too. I flew with Ron Radcliffe, Steve Suiter , James Hamrick, Don Ware, Rod Lacewell, Charles O'Connell, and Roger Blaha.
I had an opportunity to pick up a Honda 50 in Cambodia after we shot several VC and chased the Honda into an open area. I set down and my crew chief Buddy Ring picked up the bike and we moved it to a safe area and the Huey brought it back to Long Binh. At the time everybody was standing down and our flight line transportation had been sent back to the states and we had to get up earlier and walk to the airfield.
The Honda worked out well to run the crew chief's ammo and equipment back and forth. I didn't get a chance to ride the Honda until a week or so later. The one time I rode it a Colonel saw me riding the bike and went ballistic. I had about a month to go and wanted to fly but I was grounded pending disciplinary action.
Things were getting hot in the AO and I wanted to fly but No-Go. I thought it was stupid and of course, never intended to bring a broken down old Honda back to the states as war booty but the war was ending and all the field grades were frightened about the RIF. I was grounded. (Ron Radcliffe knows the back story of some Cobra pilots and a French plantation owner), but to me it was a dumb move, not to mention the same thing we had done for Colonel Putnam.
This was at the same time when CPT James Hamrick was shot down and he and SP4 Don Ware were killed and Ron Radcliffe pulled Rod Lacewell out. I wanted to fly but instead I just got hooked on reading Suiter's Alastair McClean books every day.
After all the initiations at different units with flaming drinks and swinging on a rope at A Troop, (after drinking as much beer as fast as I could), I had given up drinking completely and have never drank again.
They sent me before a General for a General Grade Art.15. The man had a serious lack of sense of humor. After 7 years of service I was released after my DEROS. The Big Warrant Officer in the Sky at the Pentagon, DID have a sense of humor when I asked about my chances of staying on active duty. He was still laughing when I hung up.
After I got out I brought my Vietnamese girlfriend back, married her, had two girls, burned through college, worked as Charlie Manson's Wing Officer in prison to put myself through Law School and then moved to Hawaii to work as a Tour Pilot and then as a District Attorney after taking the Bar.
I had remained in the Guard although I had many bad years because of moving for school and work. In Hawaii I had flown to the Southern tip of Oahu and my partner was flying back in a Cobra when the A/C Commander hit wires at 1800 feet over Kailua. We cut six wires carrying 70,000 volts and took out electrical service to hundreds of stores and thousands of homes. It had to go to Congress for restitution. The aircraft was trashed but we survived. My wife thought I had died.

A year later in 1993, my wife of 22 years, Thuy, returned to Vietnam to see her sick mother but I had a big case and couldn't go. She was killed in a freak highway accident. It made things tough for my two teenage girls and I retired from the Guard in 2001 and we returned to California to take care of my elderly parents until they passed away.
I went back through the Correctional Academy a second time at 60 years old and worked in prison for another three years to get a retirement. Manson was gone to Chino but 6'11" Edmund Kemper was still there. Old Home Week.
Then I moved briefly to Costa Rica and finally to Florida for the last 12 years. I have gone to a couple of VHPA (Vietnam Helicopter Pilots Association) meetings, one in San Diego, CA and one in Orlando, FL. I don't know many F Troop guys because I was short when I got there and grounded shortly after but I've stayed in touch with Steve Suiter and Ron Radcliffe.
Ron was put in for the Congressional Medal of Honor and given the Distinguished Service Cross. It turns out he was flying my Cobra cover when I cut the guy in half.
Charles O'Connell was in the Hawaii Guard when I arrived there and Roger Blaha is still around and several others I knew or flew with.
Buddy Ring has since died, as has Rod Lacewell and several others. People are dying of old age now instead of bullets.