InfoSheet/Obituary - Eugene J. Carolan
see also Comments and Silver Star
………………………………………………………………………………………………………
Obituary: - Eugene Joseph Carolan, 74, of Lansing, died peacefully at home on July 22, 2021.
Eugene was born on March 12, 1947 in Scranton, Pennsylvania, the first son of Eugene Emmett Carolan and Ruth Evelyn Carolan (nee Sparks). The family resided in Detroit, where Gene graduated from Henry Ford High School in 1965.
Gene was drafted and in September 1968, following Officer Candidate School, he served as Captain of the 25th Infantry, 3/4 Cavalry, stationed in Cu Chi, Vietnam. He was a helicopter pilot, earning many honors including the Purple Heart, Bronze Star, Distinguished Flying Cross, and Silver Star Medal.
Gene came home in December 1969 and married the love of his life, Lisa Marie Tasseff, in 1970. The couple had three children and settled in Lansing, Michigan after Gene earned his accounting degree in 1972, Magna Cum Laude, from Eastern Michigan University. Gene joined the Michigan National Guard in 1977 and retired as a Colonel in 1999. He started his own accounting firm, Carolan and Associates, in 1987, and dedicated his professional life to fostering Lansing's small business community. Gene sold his business in 2006 and continued to serve the business community for several years as President of Junior Achievement of Mid Michigan.
Gene enjoyed a healthy and productive life but began to decline several years ago, before it was discovered that he had a rare brain condition caused by his exposure to Agent Orange in Vietnam.
Gene is survived by his wife of 51 years, Lisa Carolan and three children: Chris Carolan, Connolly Carolan, and Katy (Mike) Reed, seven grandchildren: Maranda (Ruben) Chavez, Mirabella Carolan, Roran Carolan, Bryson Carolan, Elena Reed, Carson Carolan, and Emerson Reed and two great grandchildren: Marceline and Miles Chavez. Gene's two brothers, Kevin Carolan and Sean (Gail) Carolan survive him, and Gene is predeceased by his parents, Eugene and Ruth Carolan.
A memorial service is planned at Fort Custer National Cemetery this fall. (2021)
I just found out about Gene's passing. I knew him in Vietnam. He flew cover for B Troop on many missions. He was a good soldier and friend.
Jerry A.Headley
October 15, 2021

OUTSTANDING commander, leader and mentor. Working with Colonel Carolyn was a highlight in my career in the FINEST battalion in the Michigan Army National Guard.
Sean Sullivan, Work
August 28, 2021
Daniel Dobbs: I served as the commander of the Cu Chi/Tay Ninh resupply convoy for the 25th I.D. in 1968 for the first half of my tour then as a team leader of an ambush and reconnaissance team for the remainder of my tour. After I came home I joined the Michigan Army National Guard because they had Huey helicopters. I became a crew chief and about 95% of our flight crews were Vietnam veterans. Gene Carolan joined our unit and became one of our commanding officers as a Lieutenant Colonel. Gene and I became good friends and we had many conversations about our service in Vietnam. I have some great memories of him and I serving together. When he died last year it hit me pretty hard. Gene was a good man and soldier. Your organization can be very proud of his accomplishments. If you would like to know more about our service together in the Guard feel free to contact me.

Remember Gene as a great man and one who REALLY cared for the troops. RIP Sir.
Marion Joseph Warren, Friend
August 3, 2021

My thoughts and prayers are with his family. I was in the National Guard with him. He was an amazing leader and a wonderful person. I enjoyed working with him and learned so much from him.
Debi Hinckley, Work
August 1, 2021

Gene was a good friend whom I met as a fellow owner of a new concept league, called the Fantasy Football League, in 1982. A fellow Waverly Rotarian, whose daughter pal'd around with my two daughters. Gene never bragged himself...hardly. Seeing his accomplishments was eye-opening, but not surprising. R.I.P. old buddy.
Tom Spiegel, Friend
August 1, 2021

Eternal peace and God's love are yours! Many thanks for many safe and meaningful years in the National Guard. You were an inspiring leader and wonderful personality, not to mention a gifted pilot.
Ray Segorski August 1, 2021
Input from Dale Dow:
Carolan, Eugene J "Gene" (Nickname in troop was "Shorts") Assigned from Oct 68 to Dec 69.
Started out in the Aeroweapons Platoon flying C Hogs and then Cobras.
Went to the Aerorifle Platoon as the Platoon Leader. (Actually led the infantry on the ground during some heavy actions in 3 Feb when Atkinson and Cassidy were KIA, on 25 Mar 69 when Flores was KIA and on 28 Mar when Ferguson was KIA.)
Received a DFC, Silver Star, two BSM w/V, and PH.
................................................................................................................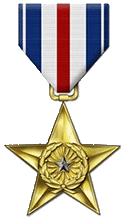 General Orders Number 4806 - 4 April 1969
Award of the Silver Star
4 April 1969 - Date of Action 1 March 1969
Carolan, Eugene J. 1LT INF USA
D Trp, 3D Sqdn, 4th Cav, 25th Inf Div

Theater Republic of Vietnam

For gallantry in action: First Lieutenant Carolan distinguished himself by heroic actions on 1 March 1969, while serving as an Aircraft Commander with D Troop, 3D Squadron, 4th Cavalry in the Republic of Vietnam. While on an evacuation mission in support of a friendly ground element, Lieutenant Carolan's helicopter came under intense anti-aircraft fire. With complete disregard for his own safety, Lieutenant Carolan landed his aircraft in the contact area to extract the beleaguered soldiers. When the friendly soldiers arrived at the landing zone, Lieutenant Carolan exposed himself to the hail of hostile fire as he helped to load his comrades into the aircraft. Although under heavy fire, Lieutenant Carolan successfully flew his helicopter out of the battle area. His valorous actions contributed immeasurably to the success of the mission. Lieutenant Carolan's personal bravery, aggressiveness, and devotion to duty are in keeping with the highest traditions of the military service and reflect great credit upon himself, his unit, the 25th Infantry Division, and the United States Army.
Authority: By direction of the President under the provisions of the Act of Congress, approved 9 July 1918, AR 672-5-1, and USARV Reg 672-1.
Robert L Fair
Colonel, GS
Chief of Staff
W F Faught
LTC, AGC
Adjutant General