Bill Altenhofen's Book
………………………………………………………………………………………………………
The Infantry Adventures of Sgt. William G. Altenhofen
by William G. Altenhofen
Trafford Publishing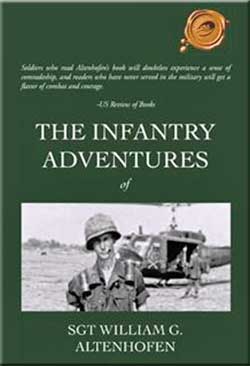 Reviewed by Barbara Bamberger Scott
"Something you do not do in the jungle is move suddenly when you are lying down. You do not want to scare whatever snuggled up to you for warmth."
The author of this gritty chronicle is a career military man who, while serving, was diagnosed with anger issues. Reassigned to the infantry ("I knew it was against regulations") he was sent to varied postings around the world. He cooked, trained soldiers for jungle combat, and fought in the jungles of Viet Nam. His frank, factual observations include battling tropical insects that left "mini Mt Fujis" on the skin and encountering the world's most dangerous snake, the fer de lance, capable of biting a hole through the tire of a moving vehicle.
Altenhofen also managed a zoo in Latin America. These passages reveal the softer side of this hardened warrior—he commandeered food for the animals from the army larder and happily watched the antics of ocelots, monkeys, and tapirs. He always preferred outdoor work despite it hazards, avoiding the boring desk jobs he could easily have gotten.
What stands out in this memoir is Sgt. Altenhofen's prodigious memory. With action packed verve, he recounts the daily, ever-changing events over years of service, garnering a Purple Heart and numerous other combat medals, and the people he met in each new post. He doesn't seek sympathy for the hardships he endured; instead, he entertains us. One could almost picture Altenhofen as "the last man standing" in any crisis. He is so well prepared in many aspects of warfare and survival. Hats off to this veteran. Soldiers who read Altenhofen's book will doubtless experience a sense of comradeship, and readers who have never served in the military will get a flavor of combat and courage.