SAR for "Royal Coachman" Mickey Wilson - 8 Jan 1973
Brian "Stretch" Harrison, Bruce Hinds, Dan Keirsey, Dennis Hogan, Wayne Moose, Peter Barber
.....................................................................................................................................................................................

The 11th Combat Aviation Group records for 8 January 1973 states:
A UH-1H aircraft from the 62nd Aviation Company while flying in support of the Vietnamese Airborne Division was reported shot down in enemy held territory northwest of Quang Tri (vic YD3155). Field reports indicated that the aircraft was hit by small arms fire and an SA-7 missile.  Negative contact was established with the crew and repeated attempts to locate the aircraft were unsuccessful. USAF aircraft participating in Search and Rescue efforts reported intense anti-aircraft fire and numerous SA-7 firings throughout the area. The search and rescue attempt was terminated with negative results and four crew members and two passengers are listed as missing in action.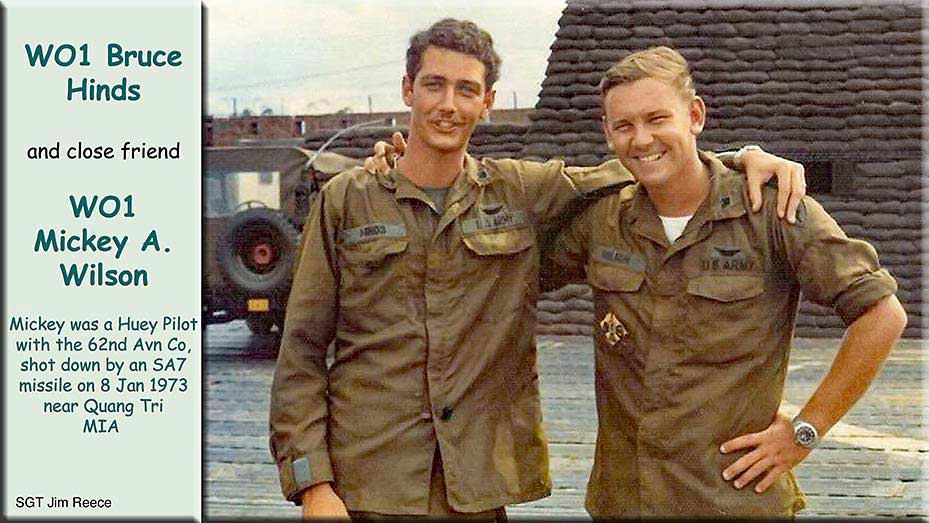 From Brian Harrison:
January 8, 1973 was a busy day for F/4 and everyone in I Corp: The Navy (and Marines and Air Force) accidentally bombed the fuel tank farm near the Army's end of DaNang AFB (see story), and a "maximum effort" SAR mission was ordered looking for a downed American Huey, call sign "Royal Coachman" in the vicinity of Quang Tri. All available F/4 aircraft participated.
From Bruce Hinds:

Here's some more on the action that day and information on the other crew members. POSTED ON 11.8.2012. Final Mission of U.S. Army helicopter UH-1H tail number 69-15619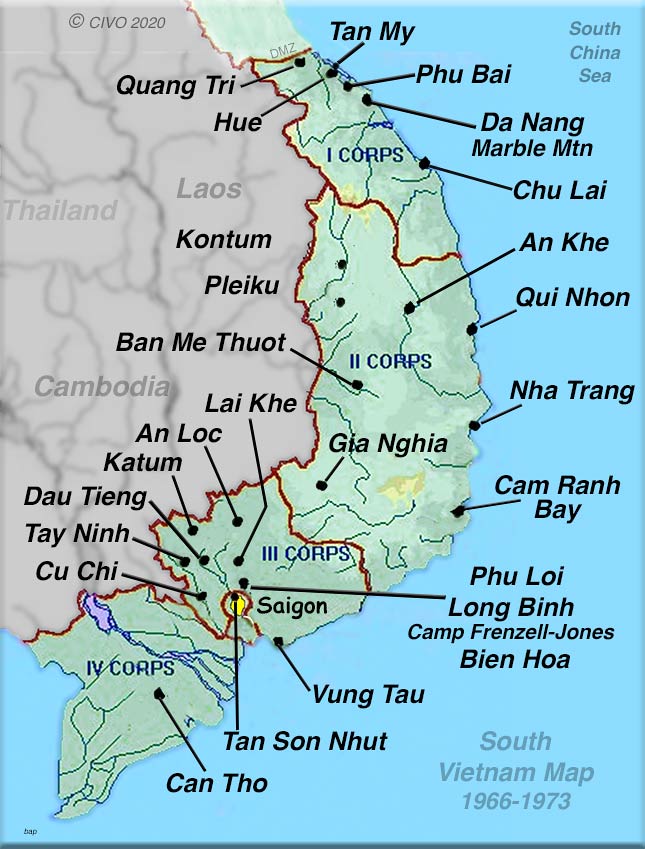 Two reports: #1 - On January 8, 1973, a UH-1H helicopter from the 62nd Aviation Company with a crew of four (CW2 Richard A. Knutson, CW2 Mickey A. Wilson, SFC William A. Stinson, SSGT Manuel A. Lauterio) and three passengers from the Military Assistance Command Army Advisory Group departed Landing Zone Sally in Quang Tri Province en route to Quang Tri City. It was later reported to have flown across the Thach Han River into hostile territory and circled twice with its guns firing at an unknown ground target. It was then fired on by the People's Army of Vietnam using SA-7 ground to air missiles. The first missile missed and the second hit the helicopter's boom. A third hit the helicopter proper prior to its crash in the area of the South Vietnamese Army's Ai Tu Combat Base. Multiple SA-7 launches drove off SAR forces in the area of the helicopter shoot down. The seven servicemen were declared missing in action. Subsequent to their loss,
CIA forwarded hearsay information from a Vietnamese source reporting a helicopter had been shot down on January 8, 1973, in the area of this loss incident. Four U.S. pilots were reportedly captured and the fate of two other crewmen was unknown. DIA later determined that CIA had terminated the source due to possible fabrication of information. In August 1973, DIA received a hearsay report of a helicopter crash site in the area of this loss incident. Two remains were reportedly in the crash site area in Trieu Phong District, Quang Tri Province. Returning U.S. POWs had no information on the precise fate of the missing servicemen. After Operation Homecoming, all were declared dead body not recovered, based on a presumptive finding of death. #2 - WO1 Richard Knutson, pilot; WO1 Mickey A. Wilson, aircraft commander; SP5 William S. Stinson, gunner; SP5 Manuel A. Lauterio, crew chief; and SSgt. Elbert W. Bush and Maj. William L. Dean, both passengers; were aboard a UH1H helicopter (serial #69-15619) that flew in support of the American Senior Advisor to the Vietnamese Airborne Division in Quang Tri and Thua Thien Provinces, working between the provincial capitals of Hue and Quang Tri. On January 8, 1973, at about 1430 hours, the aircraft had departed a landing zone en route to other LZs without making radio contact with the 2nd Battalion Technical Operations Center. When no radio contact was received by 1500 hours, the other LZs were queried. The helicopter did not go to either of the two designated LZs, nor had any communication been established with them. The helicopter's intended route would have taken it northwest toward Quang Tri, with a left turn to an LZ south of the Thach Han River. Although the helicopter failed to contact either LZ along the route, it was later seen flying northwest toward Quang Tri City and crossing the Thach Han River into enemy held territory. While in this area, the helicopter was seen to circle with door guns firing. Enemy automatic weapons fire was heard, and a direct hit was made on the tail boom by a missile, reportedly an SA7. Aerial searches of the suspected crash site on January 8 and 9 failed to locate either the wreckage or the crew. The aircraft was shot down less than three weeks before American involvement in the war came to an official end. [Taken from vhpa.org]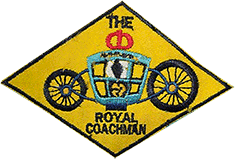 Linda (Wilson) Moreau is Mickey Wilson's sister. Linda has written a book about her two trips to Vietnam and the Quang Tri area to search for closure and Mickey's Vietnamese wife and son (they were married shortly before Mickey was shot down). It is entitled "Da Nang to Memphis" and is available online. Linda continues to look for Mickey's remains and as of this writing has made 11 trips to Vietnam and has another trip in the works.

From Peter Barber:
VHPA has Mickey Allan Wilson KIA 8 Jan 73. Name: CW2 Mickey Allen Wilson
Status: Remains were returned on 1999 from an incident on 01/08/1973 while performing the duty of Aircraft Commander.
Declared dead on 10/05/1978.
Age at death: 24.7
Date of Birth: 04/28/1948
Home City: Mountain View, CA
Service: AV branch of the reserve component of the U.S. Army.
Unit: 62 CAC, 11 CAG
Major organization: 1st Aviation Brigade
Flight class: 71-35/71-29
Service: AV branch of the U.S. Army.
The Wall location: 01W-110
Short Summary: NOE in bad WX overflew DMZ near Quang Tri & shot down. ARVN saw NVA capture crew W/ R. A. Knutson.
Aircraft: UH-1H tail number 69-15619
Country: South Vietnam
Primary cause: Hostile Fire
Major attributing cause: aircraft connected not at sea
Compliment cause: vehicular accident
Vehicle involved: helicopter
Position in vehicle: aircraft commander
Vehicle ownership: government
Started Tour: 02/11/1972
"Official" listing: helicopter air casualty - other aircrew
The initial status of this person was: missing in action - bonified
Location: Quang Tri Province I Corps.
Military grid coordinates of event: YD324528
Reason: aircraft lost or crashed
Casualty type: Hostile - died while missing
single male U.S. citizen
Race: Caucasian
Religion: Lutheran (Missouri Synod)
Burial information: ARLINGTON NATIONAL CEMETERY, VA
The following information secondary, but may help in explaining this incident.
Category of casualty as defined by the Army: battle dead Category of personnel: active duty Army Military class: warrant officer
This record was last updated on 06/01/2000
Royal Coachmen (62nd Combat Aviation Company) Hueys flew into Tan My from time to time carrying VIPs and seemed more spit and polish than us. I vaguely remember seeing Mr. Wilson around Tan My but I didn't know him personally.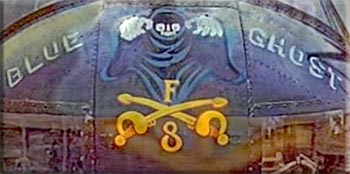 On Jan 8th I flew as a Huey door gunner on UH-1H number 16286 flown by Lt. Dan Keirsey. Somewhere south of Quang Tri we came across an abandoned Huey with F/8 crossed sabers painted on its nose (F Troop, 8th Cav "Blue Ghosts") sitting out in the AO all by itself with M60 door guns missing but otherwise to me seemed to be in good shape. Mr. Keirsey and a Loach flying with us circle-flew around this downed bird quickly looking it over before we headed off satisfied it wasn't the aircraft we were looking for. I was amazed by the circular flying, a new experience for me. Also this was the moment when I realized F/8 had been in "our" AO before us. The missing 62nd Aviation Huey was not found.
From Wayne Moose:
I was a Scout Loach gunner and remember the F/8 Huey and circle-flying around it. It was sitting out by itself on dirt not far from a structure or building. It's nose was pointed towards the ocean.  It was just about dark when we came upon it and it was an eerie sight in the twilight.
There are five photos of the damage to the Quang Tri area and the American compound that are shown at the end of my 267 photos Slide Show. They were taken in the late fall of 1972.
From Dan Keirsey:
The years have left me with only the vaguest of memories of the F/8 bird story. I think I recall the mission but no details. However I used the technique of flying around an object with the nose of the aircraft pointed steadily at it many times in my 30-year Army career. Even more impressive with a Chinook. Dennis Hogan was my roommate.
From Dennis Hogan:
After the final Ceasefire, Dave Scarborough and I drew a JMC mission to fly a team of delegates up to Dong Ha. We were told to search for Wilson's crash site on the way up. All JMC missions were flown at 1500' so we had a reasonably good view. However we were told by the NVA if we strayed from Hwy One, we would be shot down. Given that we could hear the static on FM from the AAA as soon as we crossed the river we really couldn't do much more than hope the site was along the highway. We were told that the site was probably west of the highway but no joy. Rumor was he was flying up Hwy One to get some pictures of Quang Tri before DEROS. Weather was marginal and he crossed the river before he realized it and banked left to head back south when they shot him down. Read the whole story here.