Navy Bombs DaNang - 8 Jan 1973
with Dennis Hogan, Wayne Moose, Joe McCourt and Bruce Dragonjac.
also Keith W. Steward, AP News - New York Times - Project Checo - Google Earth

The 11th Combat Aviation Group records for 8 January 1973 states:
"DaNang AFB received a misdirected LORAN strike causing light damage to one building and one UH-1H aircraft. Six member of the 11th CAG were slightly injured with minor cuts and bruises."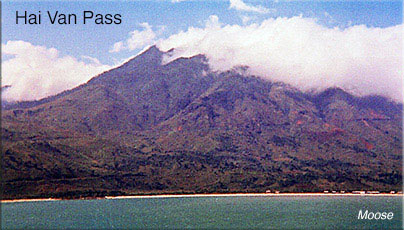 Comments from Dennis Hogan:
Do you remember the day (8 Jan 73) that a flight of four Navy Phantoms pickled their bombs on the DaNang tank farm?
I was coming through the Hai Van Pass at the time and was told to hold there that DaNang was under attack.
When we were finally given clearance to land our maintenance ramp was littered with shrapnel.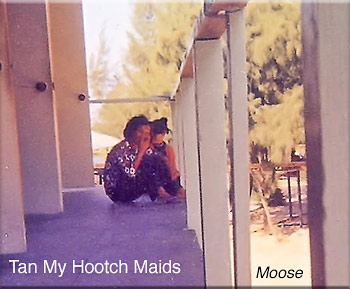 I picked up a piece of the shrapnel, and as we headed back to Tan My we still thought it was a VC attack. I showed the shrapnel to my hooch maid and said see VC attacked Da Nang. She took the piece of shrapnel and shook her head and said no same same B-52. On our next trip back to DaNang is when we found out that it really was shrapnel from 500 pounders.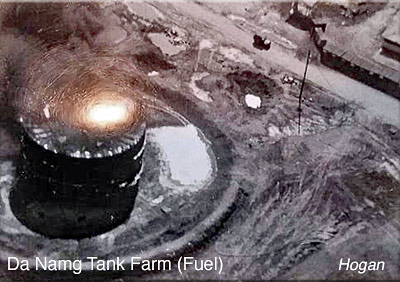 Here is a picture of the Da Nang Tank farm taken later that morning on another trip between Tan My and DaNang"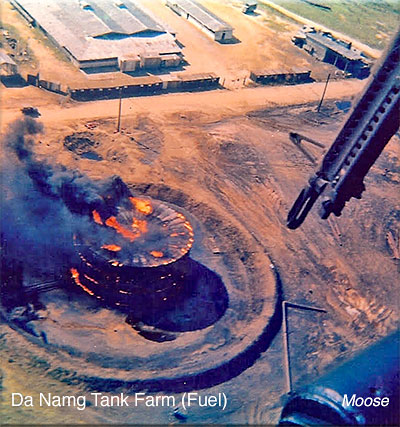 Comments from Wayne Moose:
"I flew down to Danang on Jan 9th and took this picture from a Huey jump seat".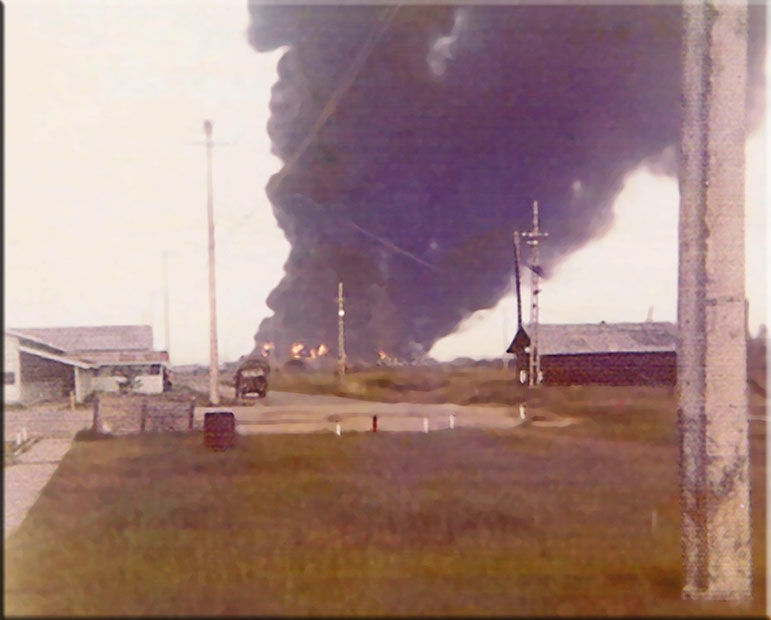 Comments from Joe McCourt: I was a F/4 maintenance crew chief based at DaNang and took this picture of the burning fuel tanks (on the right) from the ground that morning. My normal walking route to work was right past the tank farm to Camp Swampy but luckily a fellow with a jeep picked me up and we went a different way that morning.
see additional photos of Camp Swampy, DaNang in McCourt's Photo Album.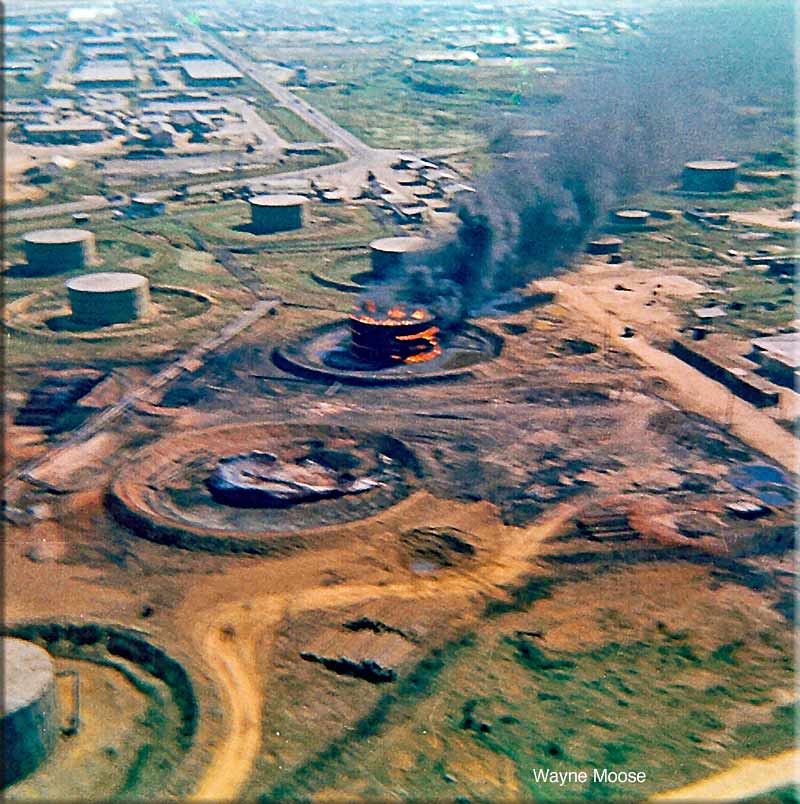 Comments from Bruce Dragonjac: I remember it so clearly, but am a bit fuzzy on the dates and times, although I suspect it was early in the day because I had just been dropped off at the hanger and was heading away the access road after being dropped off. The sky was thick overcast, and as I rounded the corner to make my way between the hangars to my work entrance, I started to hear the screaming of jet fighters in a deep dive. It got louder and louder, and as I looked up in the direction of the sound, a couple fighters broke through the cloud base, and began releasing bombs in the direction of the huge fuel tanks. When I realized what was happening, I ducked behind a small building (a power station, I think) between the hangars, and watched as the bombs struck their target. I believe I saw, or heard, more fighters dropping in at the same time, but can't be sure about that. I think there were a total of 20 or so explosions but can't be sure. It was pure terror/chaos. When I told this story as part of my PTSD compensation claim exam, they later told me that the account could not be verified in the official record. But, I KNOW what I experienced, and it really happened.
Comments from Keith W. Steward (non Centaur) on the ground personal account:
Danang Air Base, January 8, 1973. Keith W. Steward. 6498th Security Police Squadron.
"It was the eighth of January 1973, and Tiger Flight (night shift) had just gotten off duty. I now had a room on the second floor of a two story barracks in Gunfighter Village, on the east side of the base. I was working nights supporting Tiger Flight from the vehicle section. I remembered just getting ready for bed when I heard a strange whistling noise. All of a sudden the world is erupting in explosions. It sounded like rockets right outside of the building. the barracks was shaking and I was sure, when I headed for the door, I was going to find dead Momma-Sans all over, since they would just be coming to work. I ran out of the west door, and seen nothing. Everything looks normal until I look to the northwest across the base. there are several columns of black smoke headed skyward from the area of the VNAF (Vietnamese Air Force) POL (Petroleum Oil Lubricant) storage. the big question was why were the explosions so loud? It turned out we didn't get hit by rockets at all. It was an Air Force F-4, two Marine F-4s and two navy A-7 Corsairs dropping a total of 34 five hundred pound bombs. the story was the Air Force pilot in lead was unfamiliar with the area, and due to overcast conditions, ordered the bombs dropped on the wrong coordinates. The base newsletter had a nice article which I saved, and my folks saved a couple from the local papers. It was said that Danang was the only US air base in Vietnam ever bombed by American military forces. I think even at a mile away, it was too close. One of the large storage tanks burned for days afterward.
I was there! I was stationed at FASU as a Navy air crewman. One day I was sitting in our aircrew shack by our revetments, I am sure it was a Sunday, I was writing my mom. Then a screaming od jets came... louder and louder. As a Navy Crewman I knew it was unusually loud, like a jet landing on a carrier not on the runway close by. As it became evident this was so abnormal and sounded like something crashing I tried to make it to the bunker outside the aircrew shack, jumping over a table or something and then got thrown into walls from the concussions... when I got outside there we 2 F$ Phantoms peeling off. The fuel farm was blowing up and a fuel tank... large fuel tank was on fire and burned for days making it like daytime for nights... some people had a patch made with the "mistaken bombing of DaNang on it.. sorrowful I have lost it."
I was there.. it blew up my guitar which I carried back and had it rebuilt and still have it."
Associated Press News Article:
SAIGON (AP) - An American flight leader mistakenly guided five U.S. fighter-bombers into an accidential attack on the Da Nang Air Base yesterday. Ten Americans and one Vietnamese were reported wounded by shrapnel or injured while running for cover. No deaths were reported. The western part of the base where the bombs hit is thinly populated. The U.S. Command reported that about half a dozen U.S. AC 119 gunships and one helicopter were lightly damaged by flying shrapnel and four fuel tanks were destroyed. The command first reported the explosions at 7:20 a.m. as an enemy shelling attack. Seven hours later, it announced that an investigation showed five Air Force, Navy and Marine
fighter-bombers "flying above a heavy overcast accidentally dropped 34 500-pound bombs at Da Nang Air Base." The intended target was suspected North Vietnamese and Viet Cong positions near Da Nang. The flight leader reportedly ordered the bombs dropped at the wrong map coordinates. The planes, an Air Force F4 Phantom, two Marine F4s and two Navy A7 Corsairs, came from two bases in Thailand and from a carrier off the coast, and the pilots may have been unfamiliar with the Da Nang area. The U.S. Command reported continued heavy aerial assaults on North Vietnam's southern panhandle with the object of slowing war material moving down to South Vietnam, Laos and Cambodia.
New York Times 1996 archive:
SAIGON, South Vietnam, Jan. 8—The latest accidentalbombing incident of the Vietnam war is causing particular embarrassment here among American officers who have been defending the Navy and Air Force against Hanoi's charges of striking civilians.
The incident occurred this morning, when 34 bombs weighing 500 pounds each were dropped by five American warplanes on the giant American and South Vietnamese air base at Da Nang.
Nine Americans were wounded and one Vietnamese on the base was also wounded, the United States command said. One fuel tank for American and Vietnamese planes on the base was hit and another burned. An American Army helicopter was damaged, as was a Vietnamese C‐119 cargo plane. The runways were not damaged.
Still Used by Jets
The base, one of the first military installations used and built by American troops in the early nineteen‐sixties, is a sprawling installation with two 10,000‐foot runways, radar navigation devices, and scores of American planes and several thousand American airmen.

Project Checo Southeast Asia Report,
Short Rounds, January 1972 - August 1973 (U), 1 November 1977
"Because of a procedural error on the part of the aircrew, a flight of F-4s, call sign Junior, inadvertently released 34 Mark-82 five-hundred-pound bombs directly on Da Nang Air Base. Fortunately, the damage was relatively light, considering the number of bombs dropped. The first bomb struck a fuel storage area, destroying three 10,000-barrel-capacity fuel storage tanks. The remainder fell in an open field, and the only damage incurred was from flying debris which lightly damaged eleven parked aircraft and injured 16 persons, with only one requiring hospitalization. Junior flight was scheduled for a LORAN strike and the Da Nang coordinates had been set in the target number two position, to be used for rendezvous. The actual target coordinates were set in the number three position. The aircrew failed to select the number three position prior to making the bomb run, which resulted in the computer identifying Da Nang as the actual target. The LORAN checklist specifically requires rechecking the selected target prior to making the bomb run; therefore, the primary cause of the incident was aircrew procedural error."
Google Earth (Bruce Dragonjac) Here is a photo I captured from Google Earth 2002 edition. I couldn't even find it on the latest imagery. But, the square is where I think our hangar was, the "X" where I was, and the circle possibly where the fuel tanks were.