Info Sheet/Bio - Jerry A. Headley
B Troop Commander, 3/4 Cav, 25th Inf Div, Jun 68 to Jun 69
.....................................................................................................................................................................................................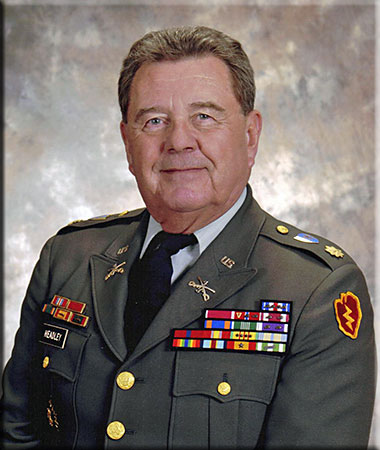 Major (Ret) Jerry A. Headley graduated from John Handley High School in 1956. He graduated with honors from The University of Tampa in 1970 under the U.S. Army's Bootstrap Program. He is a past president of the Judges Athletic Assn. and has served as a senior board member. He is a recipient of the J.A.A.'s Eddie Manuel Distinguished Service Award. He was also invested as a member of the Hunter Maddex Hall of Fame.
Major Headley began his military career in Winchester, VA as an enlisted member of the Virginia Army National Guard with the "Stonewall Brigade," 3rd Battalion, 116th Infantry. He then entered the United States Marine Corps on 7 December 1956. While attending Boot Camp he was selected as Recruit of the Day and escorted the Commanding General for a day. After discharge from the Marine Corps, he reentered the Virginia Guard and was commissioned through the OCS program as a Second Lieutenant, Armor. On 18 January 1968, 1st Lieutenant Headley volunteered and reentered active duty with assignment to 4th Battalion, 37th Armor, Fort Knox, Kentucky, serving as a Scout Platoon Leader and Company XO. He volunteered and deployed to Vietnam in May 1968 and was assigned to the 3rd Squadron, 4th Cavalry, 25th Infantry Division. He served as a Platoon Leader and Troop Commander of B Troop and later as S-3 (Air). Subsequent assignments include staff and troop assignments abroad and in the United States: US Army Armor School, Fort Knox, Kentucky; 1st Squadron,4th Cavalry, Fort Riley, Kansas; Headquarters, US Army Training and Doctrine Command, Fort Monroe, Virginia; 1st Battalion,70th Armor, Wiesbaden, Germany; Headquarters, 5th Corps, Frankfurt, Germany; Headquarters, Fort Jackson, South Carolina; and Headquarters, Department of the Army, Pentagon. He retired from active service in August 1984.
After military retirement, Major Headley was employed as the Deputy Chief, Readiness Division, Army National Guard Directorate, National Guard Bureau, Pentagon. His office was directly responsible for coordinating the mobilization of over 62,000 Army Guardsmen and 398 units in support of Operation Desert Storm. He retired from the National Guard Bureau in July 1995.
Major Headley's military awards include 5 Silver Stars (our nation's 3rd highest award for valor); the Legion of Merit; 3 Bronze Stars (2 for Valor); 3 Purple Hearts; 3 Meritorious Service Medals; Air Medal; Army Commendation Medal, USMC Good Conduct Medal, National Defense Service Medal, Armed Forces Reserve Medal, Vietnam Service Ribbon w/5 campaign stars, Overseas Service Ribbon, Vietnam Cross of Gallantry with Silver Star, the Republic of Vietnam Campaign Medal, and the Army General Staff Badge.
Major Headley's civilian awards include the Department of the Army Meritorious Civilian Service Medal, Department of the Army Certificate of Appreciation, National Guard Bureau Civilian Service Award, and the National Guard Bureau Eagle Award, as well as additional certificates of appreciation from NGB and States: National Guard Bureau Certificate of Appreciation, Army National Guard Meritorious Service Award, Oklahoma Distinguished Service Medal, States of Alabama and Arkansas Certificates of Appreciation.
Major Headley organized the 3-4 Cavalry Chapter, 25th Infantry Division Association, and served as its president for twenty years. He raised funds and arranged for the dedication of a monument at Fort Knox, Kentucky, honoring the men who served with the 3-4 and 1-4 CAV in Vietnam. He is a past President of the 25th Infantry Division Association and was the first Vietnam era veteran to serve as president. He was invested as a Distinguished Member of the 4th Cavalry Regiment in June 1992. Major Headley received the U.S, Cavalry and Armor Association Gold Medal of the Order of Saint George in May 2008 for his service to the Armor and Cavalry community.
He is past Commander of the Kentucky River Chapter of the Military Order of the Purple Heart and past Historian for the M.O.P.H. Department of Kentucky. He is a life member of VFW Post 9760 and a member of American Legion Post 21and served as an officer in each organization. He is also a member of BPOE 847.