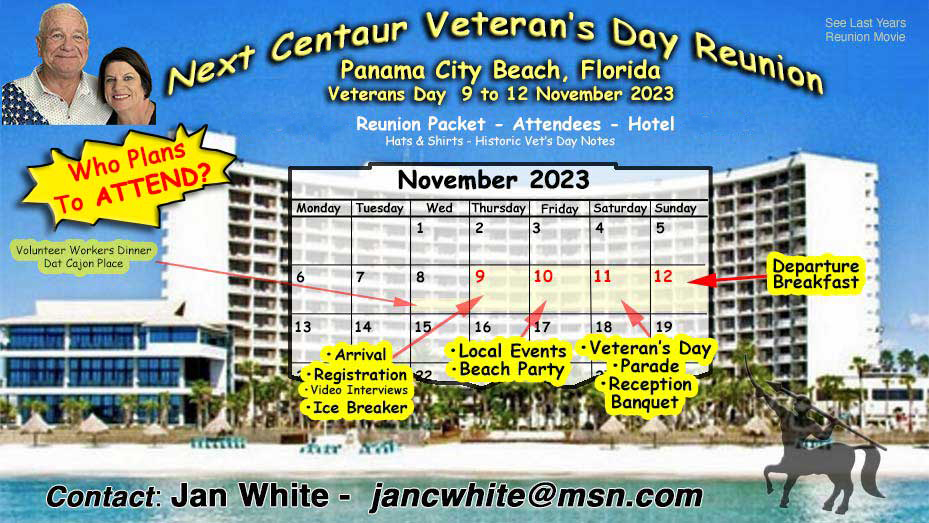 2023 Centaur Veteran's Day Reunion
9 to 12 November 2023
Please contact Jan White (our Reunion Host) soon!
Jan's Email Address - jancwhite@msn.com
Jan's Mailing Address: Jan & Trudy White, 7819 Beach Drive, Panama City Beach FL 32408
Checks for Registration and Banquet made out to:
Jan White, 6124 Beach Drive, Panama City Beach, FL 32408
No Later Than 30 September 2023
Centaur Veterans Day Reunion will be in Panama City Beach Florida and hosted by Jan and Trudy White. So many things to do in Panama City Beach! Detail event planning is going on now.
Holiday Inn Resort Panama City Beach, an IHG Hotel, 11127 Front Beach Road, Panama City Beach, FL 32407
Each person will need to call 800-633-0266 & let the reservationist know they are with the Centaur Reunion, to receive the discounted rate. All rooms will need to be booked no later than Oct 11.
Be sure to read through the REUNION PACKET and see if you have any questions or suggestions.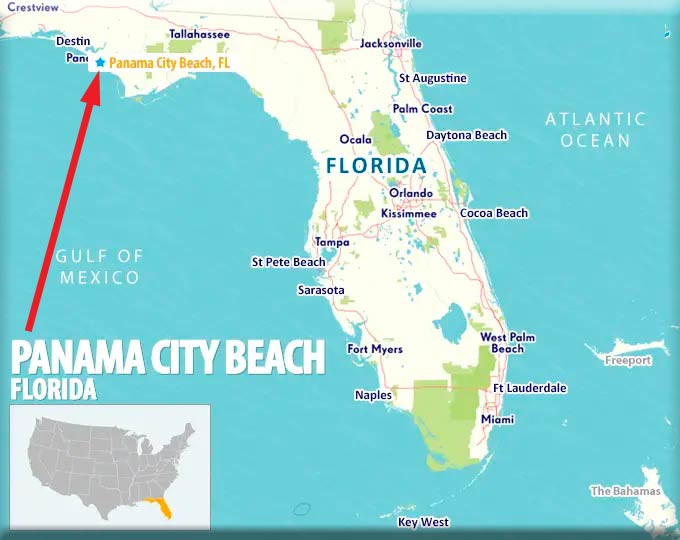 More Information
Airport Shuttle:
Beach Boys Shuttle
offers us a special price one way from the airport to Holiday Inn Resort 
 1 person $51.00 and $9.00 for each additional person.This does not include gratuity. 
Of course, you can compare that price with others to make sure you are comfortable with the price.
Centaurs must mention they are part of the Centaurs reunion. You should call ahead and inform Beach Boys Shuttle of your flight arrival time. 
Additional Activities: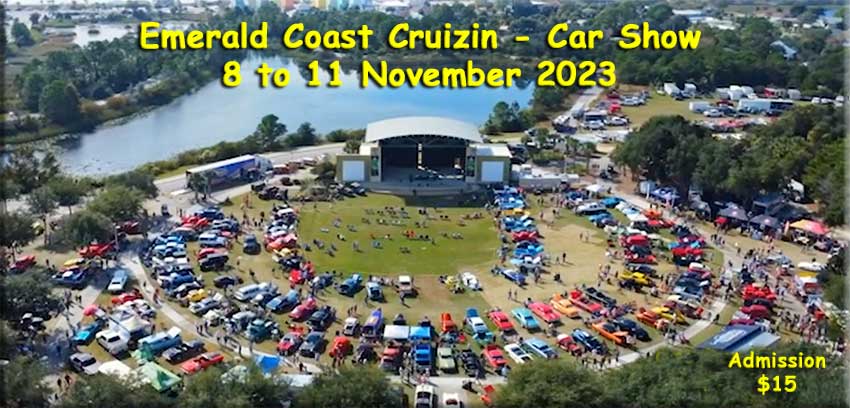 Click here for more information on the Car Show
Airboat Rides: Provided free by a friend as long as you tip the staff.
Shopping at Pier Park: Free.
Harley Davidson Veterans Cook Out: Free Hot dogs
For more information visit https://www.visitpanamacitybeach.com/
Reunion Packet
Click Here to download the .pdf version of the Reunion Packet dated 29 August 2023
The packet will be upgraded as more details become available
Planning To Attend List
As of 14 September 2023 - Click on names - Don't miss this one!
Veteran's Day Parade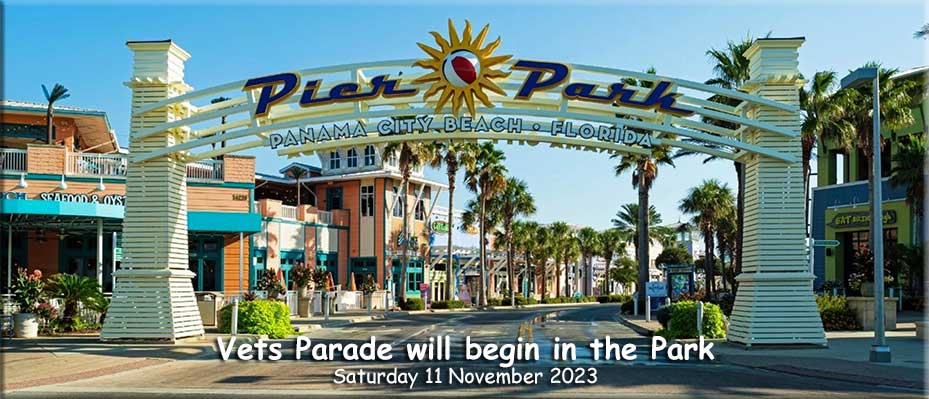 More details to follow!
Centaurs in Vietnam Hats & T-Shirts For Sale
Hats: Three kinds. $25 each plus shipping. Contact Tom Dooling tmdooling@cox.net or (Phone 623-878-5715 - 6313 West Cortez St, Glendale AZ 85304)
Current Hat Inventory: Cobra-15, Huey-14, Loach-11
Shirts: T-Shirts that come in three colors - Green, Black and Yellow.  Sizes available from Men's Medium to Men's 4X large.  They are 100% Cotton and do not shrink. Shirt price is $20 plus $7.50 for shipping one T-Shirt. If you purchase two or three shirts the shipping will increase. The table below indicates our current inventory available to sell
| | | | |
| --- | --- | --- | --- |
|   | Yellow | Green | Black |
| Medium | 0 | 3 | 3 |
| Large | 0 | 0 | 1 |
| X Large | 1 | 2 | 2 |
| 2X Large | 8 | 14 | 14 |
| 3X Large | 3 | 8 | 4 |
| 4X Large | 2 | 2 | 1 |
Please contact Tom Dooling at tmdooling@cox.net to order your shirts.  If you are coming to the reunion, the remaining inventory of shirts will be available there.
(Phone 623-878-5715 - 6313 West Cortez St, Glendale AZ 85304)

Historic Veteran's Day Notes
Veterans Day - U.S. Department of Veterans Affairs:
The theme for Veterans Day 2023 is "Service." Veterans are proud of their military service in defending our Nation. Honor reflects the military value and tradition of answering the call to duty. There is distinct honor in serving to protect our way of life and the Constitution of the United States of America.
These memorial gestures all took place on November 11, giving universal recognition to the celebrated ending of World War I fighting at 11 a.m., November 11, 1918 (the 11th hour of the 11th day of the 11th month). The day became known as "Armistice Day."
Following its first nationwide distribution of poppies, the VFW adopted the poppy as its official memorial flower in 1922. However, a shortage of poppies from French manufacturers led to the idea of using unemployed and disabled veterans to produce the artificial flowers.
Why might someone not wear a poppy?
Some people feel the red poppy has become too political, and that some politicians have used the powerful feelings it creates to justify war. Others refuse to wear poppies because they feel there is too much pressure put on people to wear them.
Veterans Day honors all of those who have served our country.