Info/Obituary on Dale Dow
Deceased 16 February 2018
Obit, Eulogy, Comments from friends and fellow soldiers, Dale's Essay
………………………………………………………………………………………………………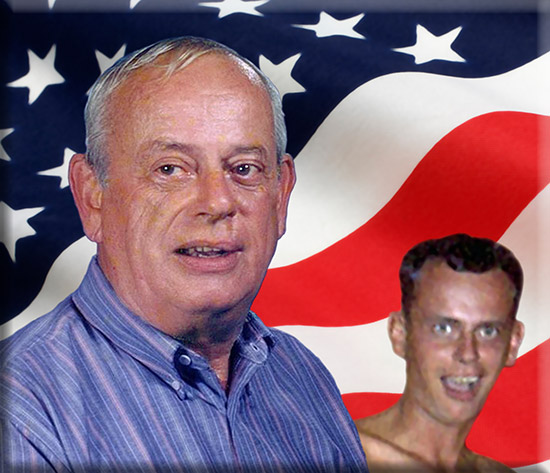 Dale David Dow, 72, of Manhattan, passed away Friday, February 16th, at Meadowlark Hills Retirement Community. He was retired from the US Army and worked as a substitute teacher at Manhattan High School for 15 years and served on the board of directors for the Centaurs in Vietnam organization.

Dale was born in Burlington, WI on August 4, 1945, the son of the late Murray David and Jeanne Carolyn (Uebele) Dow. He graduated from Burlington High School, received a Bachelor's of Science Degree in Education from University of Wisconsin-Whitewater in 1975 and a Master's Degree in Guidance and Counseling from KSU in May 1993.  

On Nov. 29, 1965, he was drafted into the US Army, graduated from Officer Candidate School and received his commission as a 2nd Lieutenant in 1966. He deployed to Vietnam in late 1967 where he served as the Aerorifle Platoon Leader for D Troop 3rd Squadron 4th Cavalry Regiment from Jan 1968 to Aug 1968 in addition to other positions. He retired on June 1, 1991 at Ft. Riley.

Dale was a member of the 25th Infantry Division Association; the 3rd Squadron, 4th Calvary Association, the Centaurs in Vietnam; Veterans of Foreign Wars; Reserve Officers Association and the Phi Kappa Phi Fraternity at KSU.

Dale is survived by a daughter, Christine M. (Jason) Smith, of Manhattan; son, Thomas A. (Jessica) Dow, of Lawrence; sister, Mary J. (Kurt) Schmidt, of Milwaukee, WI; two brothers, Stephen M. (Susan) Dow, of Madison, WI; James R. (Sheri) Dow, of Menomonee Falls, WI; 3 grandchildren: Katherine Smith, Manhattan; Gregory Smith, Manhattan; Kaiden Dow, Lawrence. He was preceded in death by his parents.

The family received friends on Sunday afternoon Feb. 25th at the Irvin-Parkview Funeral Home & Cremation, 1317 W. Poyntz in Manhattan.

The funeral service was held on Monday, Feb. 26, 2018 at 10:00 AM at the funeral home. Burial with military honors will follow at Kansas Veterans Cemetery, Manhattan.

The family requests in lieu of flowers for donations to be made to the 3rd Squadron 4th Cavalry Association or 25th Division Association Scholarship funds.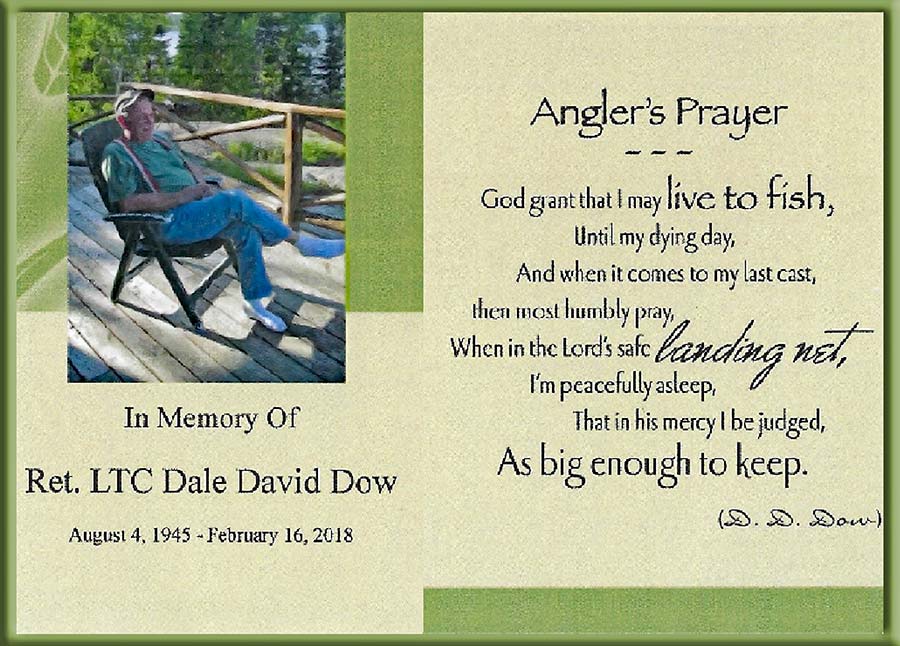 Dale was a good man, true to his convictions, loyal to his country and to his men. He was also a military man, hard enough to tow the line and hold the ranks! But, when it came to family he lived on the other side of life. His family was his world and often would take time from commitments that he should have been keeping to engage in family life. If only for a short time. After talking briefly with Thomas and Christine, Dales's two children, it was most evident where his priorities laid. Those two were beaming with pride in their father and feeling the sorrow of his passing and it was as deep as it could possibly go. Thomas, being a retired Sgt. Major, and knowing how to hold the line, could not hide the love in his eyes for his father. Christine, well it goes without saying that the love for her father was ever present and the broken heart was evident. We will miss Dale tremendously!
The weather had been cold, icy, snowy, windy and downright inhospitable! But come the day of the funeral, the sun showed itself, the wind died down and allowed us to proceed with some modicum of comfort. From our unit, were, Warren Larson, Barney Wood, Allen (KC) Allcock, Frank Dillon and myself, Fred Reese. There is no doubt in my mind, that had the weather been better, our men would have flooded the chapel. At least some of us were able to make it to see Dale off and wish him God speed with our prayers for a better life hereafter.
Comments from friends and fellow soldiers
    Dale was a great person, that I enjoyed knowing while we served together in D Troop and being with him at the reunions over the years.
    Several times in the past he has send a message to me asking about various issues that came up and asked for my input.  Which I was happy to assist.
    We have been blessed to have served with him, to work with him to sort out various issues that came up concerning members of D Troop and especially the Aero-rifle platoon, and to party with him over the years.
    I had the privilege of commanding the aero-rifle platoon in late '68 and early '69 and know how much he cared for all members of that platoon that served in RVN.  I know that the members of the platoon cared a lot for Dale also.
    Tom, you can be very proud of your father!!
I never forgot. .....
     Rest in Peace Noble Warrior
Dale has done a awesome job helping Bruce bringing our Centaur community together
He will be missed as a good friend and an honorable hero among us.
God Bless you Dale and thank you for the memories
See you on the other side
That look on your face when I told you that I had charged my Bar tab to your room. God bless you and your family.
    He certainly was a great leader for the Troop, and certainly one that I will call a good friend. He certainly respected and fought hard for the foundations of our Constitution.   He will be missed by his military family and country. 
Thomas, I know he was proud of you and your accomplishments. 
He was loyal to the USA, the CAV and his friends.