Battle of the Renegade Woods 2 April 1970
Jim Tonelli, Philip Tocco, Phillip Norton (LRRP), Collin Hall, (LRRP), Fred Stuckey (LRRP), Richard Adams, Charles Lowe, Jack Nemeyer, Kenneth Strand, Rog Johnson, Alvin W. Floyd (LRRP)
updated 30 July 2020
……………………………………………………………………………………………………………………………………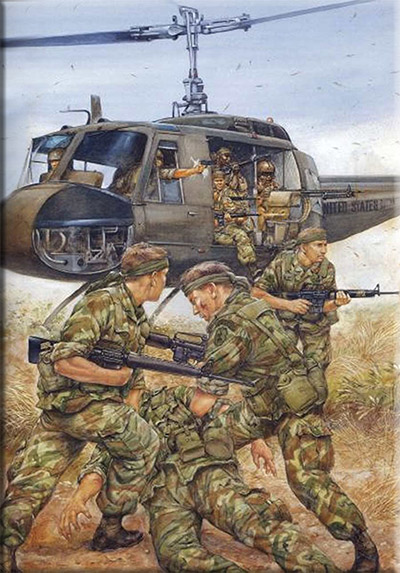 A detailed report of the total action that day was written by the
18th Military History Detachment.
Another version was found at HistoryNet.com ("Chewing up Charlie..." Vietnam Magazine 2012). Tom Fleming makes note of this article: "I found it to be a good article albeit a bit inaccurate right up front.  I would think their reference to a 25th ID starting thing should be questioned by participants.  The author probably assumed that D Troop scouts were 25th ID assets."
See Jim Tonelli's page and click on the movie of the award the LRRPs gave him at the Nashville reunion. Also look at his San Antonio Reunion video.
Jack Nemeyer: 17 Dec 2013 - All those pictures in the After Action Report that is online, were taken from My Helcopter out my door by the LRRP CO..... When we inserted The LRRP's we climbed out and rolled to the LEFT, I was leaning out my door with my 60, I did not see any gooks , looking back at the LZ I did see the RPG that streaked across the open area and cut the Sgt. in half , He screamed in the Radio, I'll never forget that !!  (Can't recall his name, older grey haired guy)
During the Extraction we were again #2 (Centaur 24), we spaced our approach so we could drop in and hopefully pick up what was left in case something went wrong.... We ended up hovering above and behind Tonelli and Tocco, giving them M60 Cover as much as we could....I never did see any gooks.    In the Book "Rangers in Action " Shelby Stanton, the Renegade action is covered, In another book  "LRRP's in Action " (????? ) The Renegade action is again covered and there is a full page color print of a painting of Tonelli firing his .45 out the window....