Letter Rick Williams to Tom Meeks 9 Nov 1968
Reference The An Doc Extraction of 4 Nov 68
The day of 4 November 1968 the 35 element of the Centaurs (Aerorifles) were hit hard. Rick relates this story
to Tom Meeks who had returned to the States a few weeks earlier.
Jim Filiatreault's slick was hit by an RPG killing Crew Chief Greg Phillips and Aeroriflemen John Filippelli and Barney White
……………………………………………………………………………………………………………………………………
Dear Tom ,
What you do boy? I've been meaning to write sooner, but I never have been a good letter writer. As you've probably noticed by now, I've enclosed a bank statement and also the recipe of my mother's chocolate chip cookies which comes off a Nestles package which I didn't know. My mother says she adds more nuts, but other than that, the recipe is right on the package. She also says these are easy to burn, so watch them carefully when baking.
Well, since you've been gone we have been doing nothing but LRRPing up around the mushroom and along the Saigon river to the East. Every damn time we put a team in, they come out again that same night.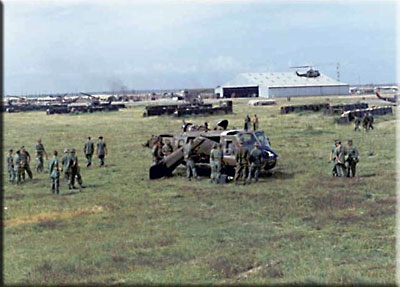 But, let me tell you the big new around here these days. We inserted the 35 element and a POW about 1 click south of An Duc on the 4th and the POW was supposed to point out a weapons cache. As usual no cache was found, so the 5 slicks came in to pick the 35 guys up.
Maxwell
and I were covering. Just as 35 was getting on the slicks, everybody calls "Receiving fire"—in less than 3 seconds, 2 slicks get hit with RPGs, another slick is shot up so bad he can't make it out and of the 2 slicks that did take off, one had to land about 1000 meters east because he didn't have any oil left. The one slick that did make it out OK came in for a dust-off and he was shot up and couldn't get out of the LZ. So, 5 out of 5 slicks were TOTALED.
Maxwell and I were shooting rockets all over the place, but as always the VC were dug in and we didn't do a hell of a lot of good. In all, we had 3 KIA and 7 WIA. Captain Reavis has been evacuated to Japan with wounds in his chest, leg, and throat but he'll be OK. To top everything off, a Chinook dropped one o the slick carrying it back to the Corral and it burned to nothing.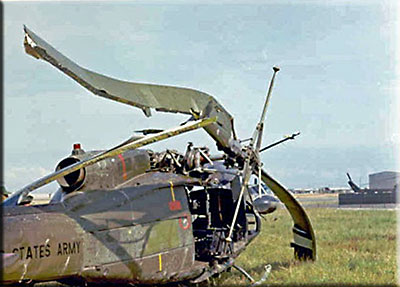 Actually, we came out smelling like a rose considering all the fire that was being taken. Well, so much for that.

Man, I'm getting' so short these days it ain't funny. Down to 16 now without a port call drop. Why don't you write me a letter soon and tell me what you're doing. Everyone would like to hear from you. Tell "Mama" and your "Rug-rat" Hi. What do you hear from James R.?
Your buddy,
Rick