Letter Home - 19 Feb 1968
The day of 18 Feb 68 was a very long day. Smokey Burgess got shot down in his Scout bird (OH-23G) in the Hobo Woods area,
Rick Arthur and I had our Hog gunner (McGlaughlan?) seriously wounded during the recovery mission,
and then that night we had a large mortar and rocket attack on the base camp at Cu Chi.
Related Stories: Burgess Interview & Book article Burgess Shootdown
……………………………………………………………………………………………………………………………………
Seems like the only time I write is when I have bad news. that's the war for you though, one big piece of bad news. It's so dusty and dirty over here now (Dry Season) that you wouldn't believe it. There's four or five inches of fine grained dust and dirt on the flight line. We're still building aircraft bunkers like you saw in the movies I brought home. The engineer vehicles, bucket loaders and grader, have churned up the flight line so bad that it's almost impossible to land an aircraft. We're trying to get the engineers to haul in some laterite (clay-dirt) to pack down the area, then put oil on it to give us a hard surface like the roads.
We had a mortar and rocket attack last night (46 - 81mm mortar rounds and 5 - 120mm rockets). We had one OH-23 damaged and no injuries. The Division had 31 casualties (all wounded, no deaths that I know of). We have a ditch or trench dug behind the hootch; about two feet wide, 3 feet deep and 100 feet long. About half of it is covered with half sections of large metal culvert and sandbags. Looks like a bunch of overgrown mouse holes. Anyway these are our temporary bunkers until we can build some better ones. I don't like to pack into the bunkers like sardines with 5 or 6 other guys. It's hot and dusty and overcrowded, and hard to get a breath of air without choking on the dust. Besides that we have rats.
The first few rounds hit quite a ways from the troop area, but close enough that it woke me up; you know how groggy I am when I wake up. About the time I'm starting to come conscious, Lt. Patterson, in the next bunk, yells "Mortars!!", as he comes flying by in his skivvies. That startled me more than the mortar rounds! After I got untangled out of my mosquito net, I began groping around for my flight suit. I'll be damned if I was going to lay in that filthy trench without some clothes on. About the time that I realized the rounds were coming closer and closer to our area I heard "Ka Woom!" right on the flight line. I decided to dress in the trench (Hasty decision, Ha!). Another round hit across the road. That one, besides making me lay down, also make me wish I was in the bunker ("rathole") instead of on my back in the ditch. But I'd rather be in the ditch looking up at the moon; Full moon too! Real pretty. I could see the bright red-yellow flashes of the impacting rounds reflecting in the darkness. Real weird.
I got to thinking about Smokey having to lay in his bunk at the hospital; with just sandbags around the buildings. "Smokey" (Lt Burgess -Baby Scout, Section Leader) got shot down yesterday (19 Feb) in an OH-23. He was making a gun run on a VC position at the time and flying low over the target on his breaks. He was really asking for it. The only guns on an OH-23 are one M-60 skid gun (machine gun fired by the pilot from a button on his cyclic stick) and and M-60 Door Gun (Machine gun hand held by a door gunner). The first burst wounded the observer and the gunner (3 people on board). The second shot hit Smokey in the right arm, breaking it above the elbow. He tried to fly one handed but crashed. They all made it out alive and crawled to an open rice paddy. One of our slicks picked them up.
I came on station with a gunteam to kill the charlies. We had to wait while Centaur 6 called in artillery. WO Rick Arthur was flying as my pilot in the right seat. We held off target at 1100 feet altitude and well to the East. One of the artillery rounds hit an ammo cache or something and caused a huge secondary explosion that shook our aircraft. My gunner on the right side fell out of his seat and onto the floor. I looked back over my right shoulder and saw blood all over the floor. At first I thought we were receiving fire and that McGloughlan (?) was wounded. He was wounded alright; by shrapnel from the explosion. The wound was below the right knee. I told Goodall (the crewchief) to put a tourniquet below McGlaughlan's knee and immobilize the leg. Goodall didn't know what to do (in shock).
It's so crowded with all that ammo and junk in the back and he still was caring his machine gun (Goodall, I mean). He stumbled around and stepped on McGlaughlan's other leg. God I was pissed off. "Get rid of that (Blankety blank) machine gun, wake up, and get a tourniquet on his leg!" I yelled over the intercom, as I blew my cool. Blood was running up into the front of the chopper under Rick's seat: That did it. "You know what to do Rick, bend it" I said as I unbuckled and climbed into the back. Rick radioed ahead for the medics to standby and he pulled all the power the old chopper had as we headed for Cu Chi. I carefully grabbed McGloughlan's lower leg over the wound to try to stop the bleeding. Couldn't cover the whole wound with one hand. Then I saw the jagged piece of scrapple laying on the floor that had hit him. Eight to ten inches long and one quarter inch thick, about half a pound to one pound in weight, I'd guess.
I took off my belt and used it for a tourniquet below the knee. I kept praying that he would pass out but he just kept screaming with pain. It made my blood turn cold. I used a field jacket to wrap his lower leg. The thickness of the wrap held everything still. It seemed like forever but finally Rick slipped our heavy gunship (full load of ammo) into the small 12th Evacuation Hospital Helipad. We eased McGloughlan onto a stretcher and hurried him into the nearby emergency room. I never did let loose of the tourniquet in one hand or the wrapped field jacket in the other. I never realized how hard I was gripping with both hands until the doctor told me to let go. By then the medical people, about four or five were all over McGloughlan, cutting his clothes off, giving him plasma, and so on. Both my forearms cramped as I released my grip. I went back outside and hovered the aircraft over to one side of the pad. We had to shut down and check for further damage from the blast. We couldn't find even a small nick. That one piece of shrapnel was just one of those weird things that happens now and then. It took a terrific blast to hurl that scrapple such a log distance.
...................................................................................................................................................
More Notes: Rick and I estimate that we were well above 1500 to 2000 feet. The secondary explosion caused by the artillery had to have been a very large cache of 122mm Rockets, or something like that, to have shook our aircraft at that altitude; and to have slung that huge piece of scraphnel that far. I hadn't felt that level of a distant blast since I barely escaped a B52 strike in an OH-23.
.....................................................................................................................................................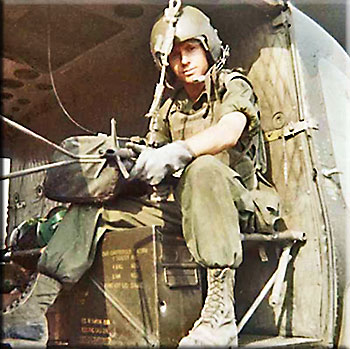 In the letter I spelled the name of the Gunner as McGlaughlan.We have no one listed with that spelling. We need information on him. This photo is believed to be of him. If not, who is it.
If he was a door gunner why take a photo on the left side of the Huey?
Is there a story in the upward angled bullet hole in the ammo can?
Can you provide info on Smokey's crew (CE Bill Knighton & Gunner Harry Swinski)?