The Wounding of Wayne Yetman - 18 Feb 1968
Pat "Juaquin" Eastes and Corrall Wayne Yetman
also see Doug Olsen cmts and Notes
.....................................................................................................................................................................................

Wayne Yetman had not been in D Troop very long, maybe a month or two in late 1967 or early 1968. He was assigned to the Hog Platoon, and had the misfortune to be my Peter Pilot on 18 Feb 68.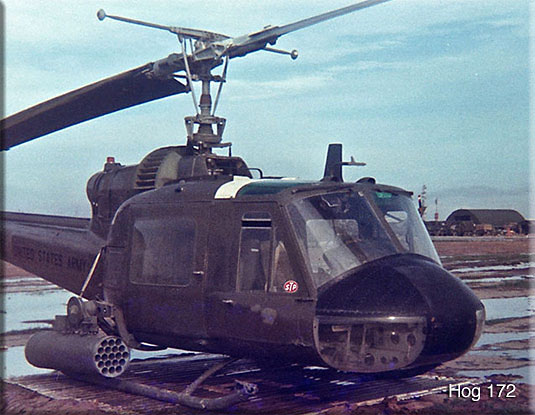 We were flying the Charlie model that was equipped only with rockets (no chunker) for reasons that are lost to memory and history (aircraft number 66-15172). At any rate, the morning of that day we were flying over the Hobo Woods, but I don't remember if we were scouting the area or enroute to another situation.
Somewhere around the Mushroom, we saw a black pajama clad male running away from us on a well defined trail.
We were the lead ship of the fireteam, and I was flying right seat as Aircraft Commander so I could shoot rockets.
I believe I touched off a pair at the VC, and I believe that the crewchief (left side in back) engaged with his M60, and about that time we got hosed by at least one AK, whose operator was either lucky or good, because some rounds came through the cockpit.
I broke right, away from the fire, and when I looked at Wayne, he was white as a sheet, and said something to the effect of "I think I got shot". I looked him over and didn't see any problem until I saw blood streaming from his right boot. I think I said "Yep,, I believe that you are!" and advised our trail ship that we had wounded and were returning to Cu Chi.
We were still heavily loaded, so I called Operations and told them that we were enroute to the Corral with a wounded pilot.. We were met with medical assistance, and Wayne was moved to 12th Evac Hospitol.
That is my memory of the incident, but following is an email that I received from Wayne with his recollections. His ordeal after being wounded is quite the war story in and of itself.
Pat "Juaquin" Eastes

From Wayne Yetman:
Hi Pat. It is great to hear from you. I am not surprised that it was you that I was flying with that day.
It happened in the morning of February 18, 1968. I agree that we were in the Hobo Woods and that we were lead bird of a fire team. We were low level when I got shot. I don't recall seeing VC running down a trail but that doesn't surprise me because it was an active area and that is what we were there for.
I remember the shock of the bullet going through my right foot from the left side to the right side of it and not being sure if I was shot or what at first. I remember rolling right and you and I looking and seeing blood. I remember that we returned to the Corral where a medic cut off my boots and said that it was a million dollar wound because it would not be permanently damaging and it would get me to Japan at least and possibly to the States. 
While I was in the 12th Evac Hospital some of you visited me and showed me what looked like a 30 caliber armor piercing round that you found in the aircraft and presumed that that was the one that hit me. I am sure that I was hit by an armor piercing round because it made a clean through and through hole in my foot. I learned after almost 6 months in the hospital that normal AK 47 rounds tumble in the body and do not make clean through and through wounds especially when they hit bone.
I had debridement surgery at the Evac Hospital and was there for a week or so. Most nights we got rocketed or mortared and we had to lay on the floor under our beds during the attacks. Getting under the bed and back into bed was an interesting maneuver with 2 wounded feet but I managed.
When I was evacuated from Viet Nam, the first stop was the hospital in Tan Son Nhut where I stayed for about a day. I remember the nurses being appalled about how dirty my clothes were not realizing how much time I had to spend  on the floor in the Evac hospital and how hectic things were there.
The next stop was the hospital at Yokota airbase in Japan that was so full that all the new arrivals laid in the hallways because there was no more room. The next day I was transported to Camp Zama Japan in a Uh-1 while it was snowing. Camp Zama was crowded also but after some hours they did get me into a ward.
Being in 3 new hospitals in several days and getting blood drawn each time I got into a new hospital, there were no usable veins in either arm and they started taking blood out of my thigh. The combination of blood loss from the wounds, the debridement operation and all these blood draws made me weak from loss of blood so I asked the medic at Camp Zama what were all of these blood draws for. He said the the doctor wanted to make sure that I didn't have an infection. I told him to tell the Doctor to look real good at this sample because he wasn't getting anymore. 
The other problem was going from the heat in Viet Nam to a snow storm in Japan on a stretcher caused me to get a back ache and with IV's in both arms it became fairly miserable but nothing compared to a lot of the others in the hospital with me.
One interesting thing for me was that my father served in World War II in China and here I was in Japan and two volunteer women came along and fed me ice cream one of them was Chinese and one was Japanese.
I had another operation in Japan and after a week or so they sent me to Fort Dix, NJ where I got stronger and recovered. After 5 months in the hospital, I became extremely bored and started trying to talk the Doctors into letting me out. After being obstinate, they finally let me out in August before they really wanted to and I got orders to A Co 82nd AVN BN 82nd Airborne.
I want to thank you for all the help and camaraderie you gave to a FNG. I remember you and Doc Halliday, Bruce Powell, and Jim Moore well. I also remember T J Lange well because my grandmother knew him and we talked about that. I remember others also but can't recall names so well.
C. Wayne Yetman CW4 (USA retired
From Doug Olsen:
The aircraft with STP sticker is #172.  Ask C. Johnson how it came to heavy weapons.  It was a rebuild from depot maintenance (off post).  Anyway, old 9A Lycoming engine didn't haul 24 rockets in those terrible round pods.
Notes: UH-C 172 is listed as 66-15172 on our Centaur Aircraft Tail Numbers War Story Discussion page. It also says it was received in August 1968 and retired in November 1968. As stated on the page, we are not sure of the accuracy of the VHPA data.