Some Memories Will Never Fade
Published in Army Aviation Magazine 31 October 1996.
Once upon a time as a post-diluvian (non-conversational adjective) author, I recanted to some peers and professional colleagues some rather dim memories of my year in the Air Cavalry in Vietnam. A full quarter century casts shadows which most likely would have preclude my unstimulated memory from formulating anything other than a novel. However, as the years pass, I remain entangled in what probably could be a legal basis for royalty entitlement for the theme portrayed in the popular movie comedy Groundhog Day.
As is the case with most aviators participating in protracted combat operations, I was assigned as Aircraft Commander (AC) to one AH-1G Cobra, tail number 67-15546, which I proudly christened the "Mississippi Queen." I mentioned this aircraft by tail number in the article which appeared in the December 1995 issue of Army Aviation Magazine.
Naturally, sentimental attachment evolved from many combat operations which serve as reinforcement for many of my memories. Quite unexpectedly, after returning home safely from my tour, a chance meeting in 1973 with my aircraft, newly refurbished from the Corpus Christi Army Depot, rekindled embers as I flew it the remainder of the year while assigned to "A" Company, 158th Aviation Battalion at Ft. Campbell, KY.
In those days the Alpha companies of the 158th and 101st Aviation Battalions were attack helicopter companies which were organic with a Headquarters Company and three UH-1 assault helicopter companies to each of the battalions.
January 1974 arrived as I PCS'd to Ft. Rucker, AL for the Aviation Warrant Officer Advanced Course. Staying in place until 1976 for degree completion, I received my RFO for Germany. I returned stateside to Ft. Campbell in 1979 and was assigned to B Company, 229th Attack Helicopter Battalion.
In summer of 1979, we received three Production Model AH-1S aircraft to replace some of our aging fleet. Surprise, surprise, there was my "Queen." Once again, reunited with 67-15546, I soared with the Eagles.
A little over a year elapsed as we nurtured night flying techniques and began dabbling in FLIR and NVG flight with our Cobra aircraft. Soon tactics and techniques mandated a platform shift to smaller and more versatile platforms as we honed our night fighting skills. I left the 229th and my trusty steed in 1980, for what is to this day my home in Special Operations Aviation.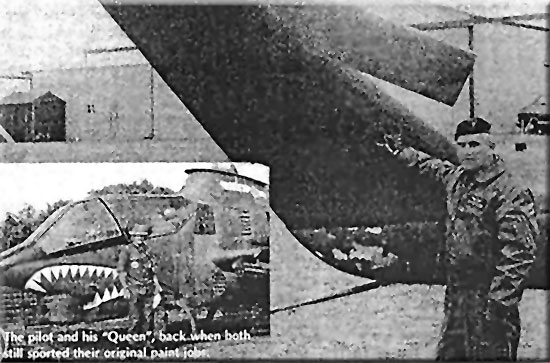 Fifteen years "FLY" by. January 1996, a curious, yet professional piece of correspondence arrives in the mail. I do not recognize the business logo nor am I able to make a mental sorting of the likelihood of being a new "Publisher's Clearing House" gimmick. "Surprise" to the third power as Gomer Pyle would acclaim! The document-sized manila envelope contained a handwritten memo and a newspaper clipping from CW4 Oscar Max Hall. "Red", as he is known by his friends and family, is a Vietnam helicopter pilot veteran and active participant in the Arkansas National Guard. He operates Engineering Services Inc. and has a hangar and office space at the Springdale, AR Municipal Airport. His first interest was in letting me know how my December 1995 article had been parlayed to him and that he wished to relay that my aircraft in the story had not been converted to soda pop cans and razor blades. In fact, Max was instrumental in transferring its service-lifed carcass from the Arkansas National Guard to the caring hands of Pat and Cissy Edling, who along with some of their staunch American counterparts, Mr. J.T. Smith and Mr. Kenneth Hughes were emplacing the Northwest Arkansas WWII Aviation Museum.
The incubating museum is located at the Siloam Springs, AR Municipal Airport. Open to the public, it boasts a fixed wing T-6 Texan trainer, a T-2 Buckeye, J-3 Cub, an L-3, a Beech 18, an A-7 Corsair, an A-4 Skyhawk Navy jet fighter, a 155 MM towed howitzer, and you guessed it, my AH-1G "Queen" 67-15546. Pat and Max say the aircraft have added much sparkle in local kids' eyes as they sit at the controls and envision virtual reality dogfights.
A chance coordination meeting at Ft. Chaffee, AR in March 1996 for an upcoming JRTC exercise, with freeplay around Camp Richardson and Ft. Chaffee provided the opportunity to flyby and make overhead photos and later a 30 mile ground excursion to visit the museum and its organizers. I traveled with CPT(P) Greg Petrik, our RS3 Current Operations Officer. We could not wait to meet the entrepreneurs.
The Siloam Springs airport, not yet progressed to the AVJET era, is a quaint and perfect setting for the project. Located in the northwestern-most region of Arkansas, very near the Oklahoma border, its scenic setting is well complemented by the true American spirit of its citizenry. The airport and its museum supporters have a weekly get-together to tell embellished stories and try to keep the museum premises in shaper with volunteer support. Needless to say, they have my heartfelt thanks.

A small digression is necessary to make public and hopefully bring appropriate accolades to Max Hall for his contributions in rejuvenating Army Aviation history. Max has undertaken no small chore in refurbishing his chariot of war, an H-21 Shawnee. Max and his friend Rec Murray, a native of Fayetteville, AR traveled overland to Alaska with his truck and trailer on his sheet metal forage. They slept in the truck and subsisted on sandwiches and occasionally splurged on a motel for a shower on the three week journey. The hulk he last transported had to have 50 foot tall trees, that had subsequently grown around the abandoned fuselage, cut and cleared to allow access. Max and his compatriots in Springdale, AR have searched and acquired three H-21 airframes and innumerable pieces and parts to restore to airworthy condition a flyable H-21. Mind you, "airworthy" is an understatement, as the photos attest. Max and his colleagues' craftsmanship rival original factory specifications and aesthetically surpass any expectation. Not one wiring harness contains a splice-plug. Silver solder and heat shrink are the only tell-tale signs that new wiring has spool constraints. Max has cranked, ground run, and taxied his trusty workhorse. Awaiting a shipment of airworthy certified blades, their mounting and tracking is one of the last hurdles to complete his dream to fly his heart throb to the Oshkosh reunion next summer.
I cannot describe a more dedicated group of true Americans. Everything the Hall, Edling, Hughes, and Smith families do is from the heart, out of pocket, and ensures "Some Memories Will Never Fade."