Click on any of the 1960's Wartime Photos to return to your Tour Paragraph.
These notes may be right or wrong. No study or research involved here, just our interpretation of what we saw and heard.
We hope to eventually produce a DVD movie of this tour from the over 1300 photos and movies taken.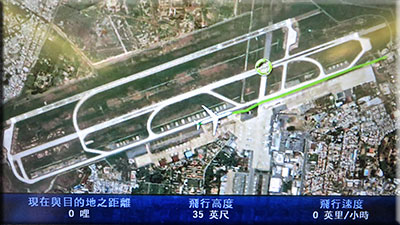 Air Travel: We had not traveled by commercial air for many decades. It was a new experience, requiring patience.
The EVA airlines Boeing 777 (a Taiwan company) was shockingly large, reasonably comfortable, with a touch screen TV monitor at every seat. Full length movies, games and such were real handy to kill time on the 14 hour flight to Taipei, Taiwan (another 3 hours to Saigon). One channel showed an ongoing animation of exactly where the airplane was at all times, even while on the taxiway at the airports. In flight it constantly updated the airspeed, altitude and relative times. Yes, the data was in English also.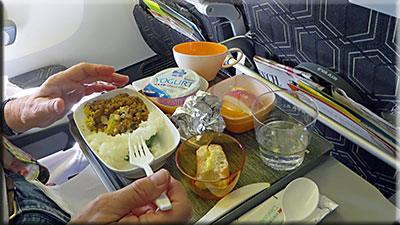 Snacks and food were good on the plane. Sharon was also impressed with the quality and flavor of most of the Vietnamese food we had on the trip. Most of it was difficult for me.
Every time an announcement was made, it had to be said several times to cover several languages. That was a little boring if you were trying to watch a movie.
Saigon: (Okay, Ho Chi Minh City; whatever) A huge and modern city with sky scrapers like the Bitexco; 68 floors above ground and three below. 861 feet tall. That big lip sticking out is a Helipad on the 52nd floor. People pay to go up to the Skydeck (49th floor) for tours and photos. (see Saigon Waterfront 1967).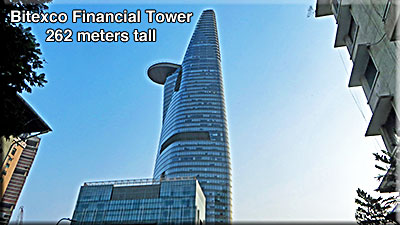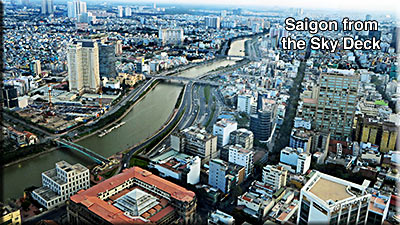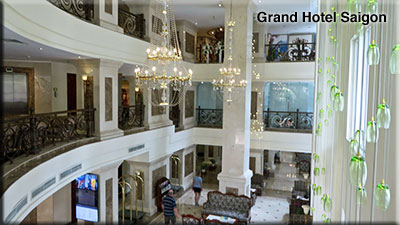 Great modern 5 star hotels in Saigon and Hanoi. (approx $240 per night). Comfortable king size bed and all the amenities. Tay Ninh is still in the sticks in comparison. 2 star hotel at best. (approx $40 per night). Beds were very low to the ground and hard. Both rooms had new TV's with HDMI so we could plug our iPad in and look at our photos and movies.
We had never heard of or tasted the Dragon Fruit. Very tasty. Had a complimentary one left in our room each morning. It has kind of a watermelon texture and is very sweet and tasty.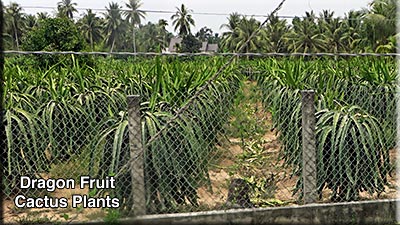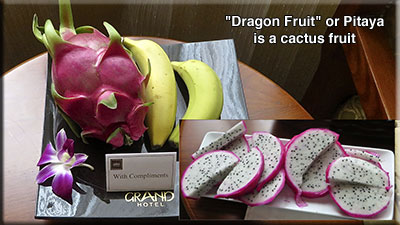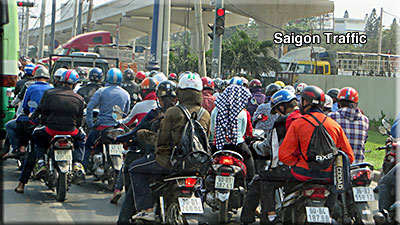 Traffic: Picture New York or LA, then add 8 million scooters/motorbikes. Much like Taegu or Seoul South Korea. The amazing part is that it seems to work. No yelling and screaming, middle fingers, or shaken fists. Everyone just does what they have to do. Horns are used for safety, not for expressing frustration. Both the red and green lights have seconds left before changing count down, like what we often have at our crosswalks. Toll Roads are prevalent and the tolls are usually local; for that town, company or that section of road.
What happened to the White Mice Cops?
South Vietnam Police used to wear all white uniforms and we called them the "White Mice". Vietnamese police are now dressed in light yellow uniforms. Didn't see very many of them. On the open roads they don't chase down violators. They put out a team of two units/checkpoints. One takes a photo of the violator and then he is pulled over and dealt with at the second check point. Truck and bus drivers flash their lights at oncoming trucks and buses to tell them that there is a cop ahead.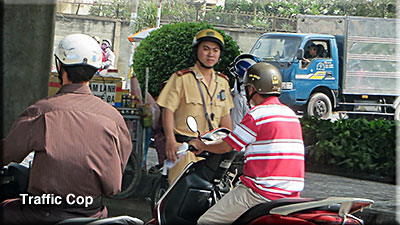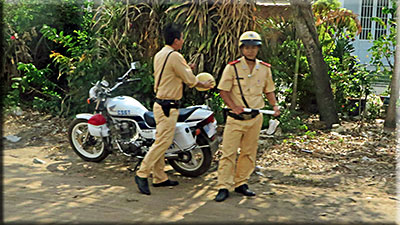 Saigon at night: Remarkably beautiful city. Everyone is out on Sunday night for festivities. Some streets are closed to traffic and vendors set up their tents.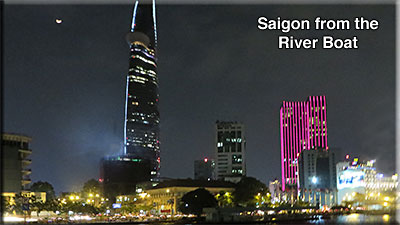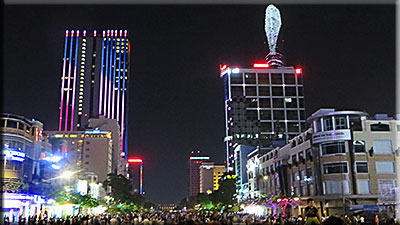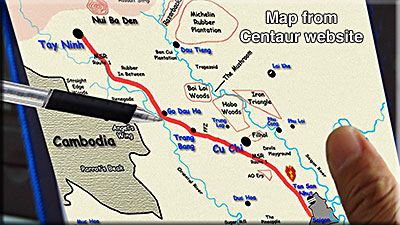 A creative Tour Guide: Our Guide, Thong (pronounced "tong") reviewed the Centaur website and pulled down a copy of my 25th Div AO map. He used that map to keep us oriented at all times.
We marked it up heavily to help me make a new one that might better describe our routes on this special tour.
Boating the Mekong Delta:We used several different sized sampans to travel among the islands in the Delta. Coconut trees everywhere. We learned about water coconuts, coconut shell products, a coconut candy factory, musical instruments, fishing the waters and had live entertainment during lunch. I did the bee thing, without injury, but passed on the Boa Constrictor around the neck. (see Mekong River Tour Map).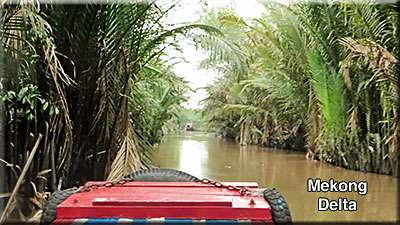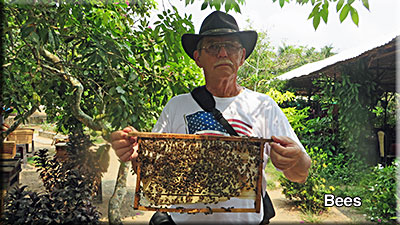 Cholon and the Racetrack: Cholon (ChinaTown) is Southwest of Saigon and was the location of what we called the "Racetrack". It was a huge Horse Racing Track at one time that could easily be seen by pilots from the air. It made a great navigation point. I got shot up over Cholon in 1967. All that remains is the large Grandstand building; the rest has been made into a gigantic Sports Center. Soccer, tennis, archery, and about everything else.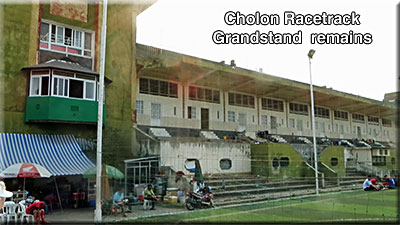 Bridges: The old Hoc Mon and Go Dau Ha bridges are no more. No trace. New bridges have been built. (see the Go Dau Ha bridge of 1966). (see the Go Dau Ha dirt airstrip). In the book "Engineers at War", on page 563, it is mentioned that the Engineers had to rebuild the Go Dau Ha Bridge during the big Easter Offensive (1972). In the photo to the right, the bridge on the left or South side is called the "Old Bridge" by the locals. The one on the right leading one way into Go Dau Ha is the "New" one.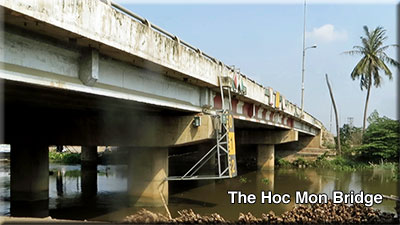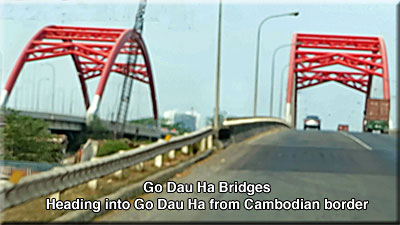 Go to the "Go Dau Ha Discussions" page (War Stories page then Discussions button) for more on this area and on the Go Dau Airstrip.
Hardly any Military to be seen unless you drive by a Military base. All the bases are totally fenced in. Usually very tall cement fences so you cannot see anything.
The new improved Cu Chi Base Camp entrance is located where our old one was. It is a big military base and they don't take kindly to us taking photos of any of their military areas. (see Cu Chi area map)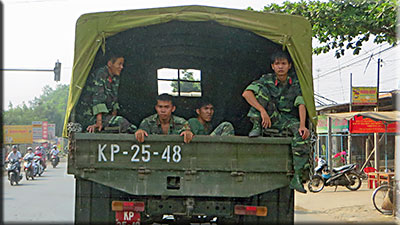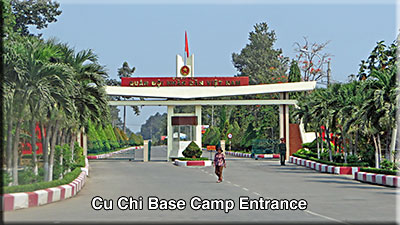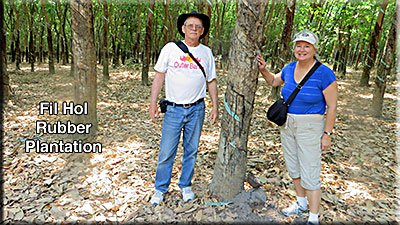 From the Cu Chi area we passed on the North edge of the "Devils Playground"; Not much there; then to the Fil Hol as we called it. It has been renamed for a VC soldier that was killed there.
They cement over everything for the tourists. The Tunnels of Cu Chi were made wider and taller with cement everywhere. The War Zone C Jungle tourist area has cement side walks, cement bunkers under the portable jungle houses, and cement trenches. (see a real tunnel). I guess the Disneyland approach works for them, but I think it is a shame that they are destroying their history.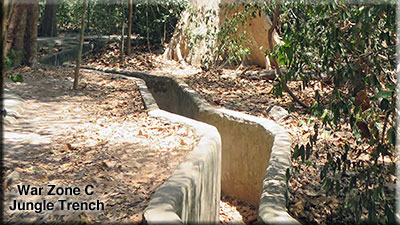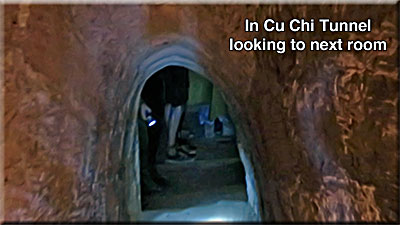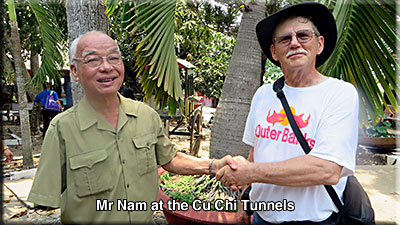 VC Soldier and Air Cav Pilot meet:
This is Mr. Nam (pronounced "Num"). You may remember him from Bain Cowell's visit to the Cu Chi Tunnels. Mr Nam wasn't on duty today so Thong helped me track him down. I wanted to meet him since we probably shot at each other in 1967.
See my stories: Attack Raven and Tunnels.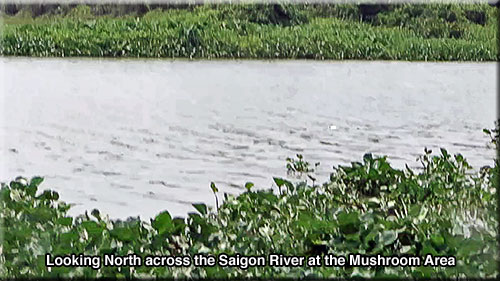 The Mushroom: At the Northeast corner of the Hobo Woods, the Saigon River makes some sharp turns forming a mushroom shape (from the air). It was also called Loach Alley. Bad area. This photo is taken from an outdoor restaurant in the Cu Chi Tunnel area looking North.
New Highway to Dau Tieng: It goes from Trang Bang (a big city now) to the Northwest corner of the Boi Loi Woods (not much there), then North to Ben Cui (still an active Rubber Plantation) and on to Dau Tiang.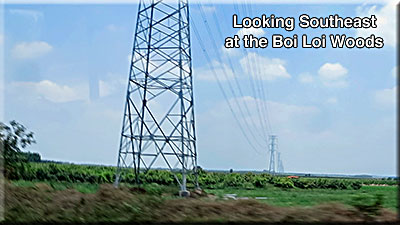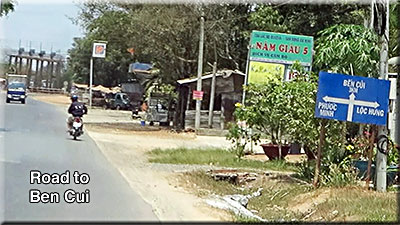 Dau Tieng and the Swimming Pool:
The above ground swimming pool of the Michelin Rubber plantation is still there but totally modernized. Take a look at the old pool in the Text Photos of John Kelly. (see also 1968 pool pic)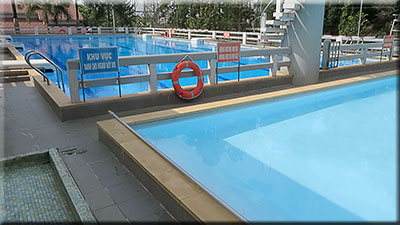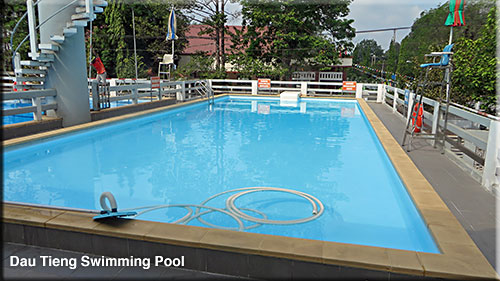 Michelin Rubber Plantation area and the Razorbacks:
We pulled a lot of Counter Mortar standby on this old airstrip. Looking North we could see the Razorback Mountains. War Zone C began on the other side of the Razorbacks. That area is now a big reservoir.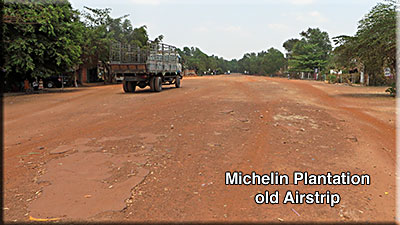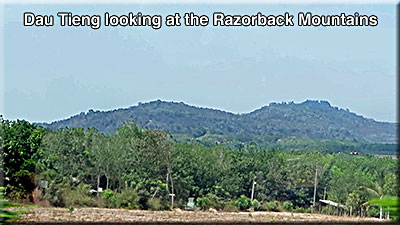 The Dam on the Saigon River is called "Dau Tieng Dam". It is the longest dirt dam I have ever even heard of; maybe several miles long. When the water level is low, much land is uncovered. With high water it looks like there are several islands. Soui Tre (LZ Gold) is now under water behind that dam. There are bigger dams here. Dau Tieng Dam is the third largest.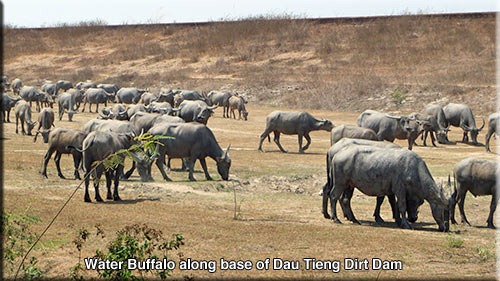 Water Buffalo:
We did not see many Water Buffalo. This herd at the base of the Dau Tieng Dam was the most we saw. The use of modern equipment is replacing the Buffalo on the bigger farms.
Many farmers contract out their harvest to companies with modern equipment.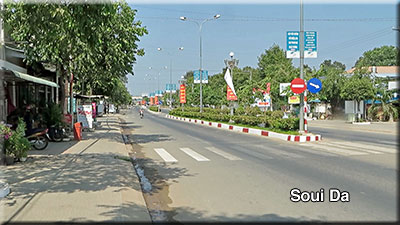 Suoi Da Airstrip:
The new Suoi Da is now a thriving town. Those of you who were in Operation Junction City probably remember the Soui Da airstrip which is way North of here and underwater from the Dam. (see Suoii Da airstrip 1966) (War Zone C map)
Tay Ninh City:
Tay Ninh is a big city of about 200,000 people. The whole Tay Ninh Province is more like 2 million people. It was also quite impressive at night.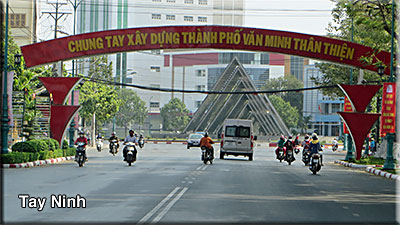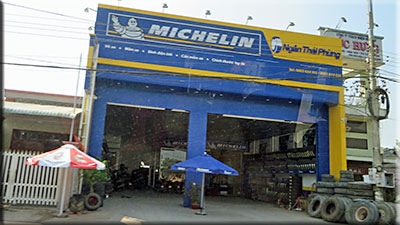 The Cau Dai temple at Tay Ninh:
That temple that we all took photos of in the 1960's on the way to Tay Ninh, is very unique. It is a conglomeration of 5 major religions which include Muslim and Christian! It is called "Cao Dai" (pronounced Cow Die). You might say this temple is to this religion as the Vatican is to Catholics. It was not damaged during any of the wars. (see photos of the Temple from 1966)
The monkeys run free in the forests of the temple and come out into the public areas in the late afternoons.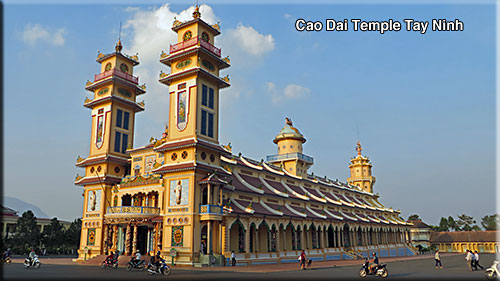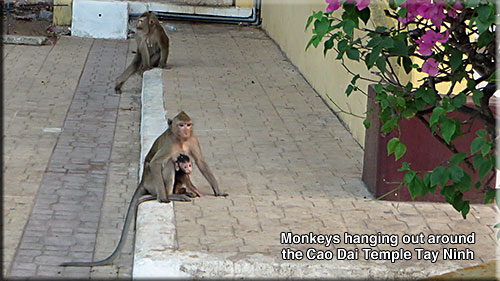 On the way to War Zone C. (see the War Zone C Google Earth map).
On the way North to War Zone C we passed near Nui Ba Den mountain on the Northwest side, through several small villages, to the town of Ka Tum near the Cambodian border. The old runway of Ka Tum is now a street.
A few miles North a road intersection marks the area of the only Airborne assault of the war (173rd Airborne - Operation Junction City - approx XT300970)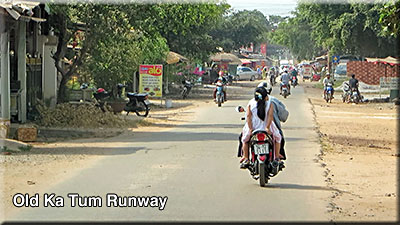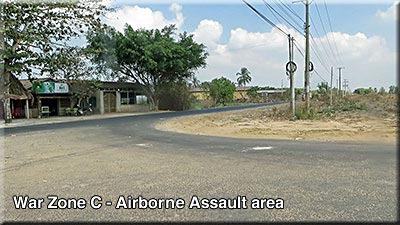 Closer to the Cambodian border we found the famous COSVN (Central Office for South Vietnam). They controlled the People's Revolutionary Party, the National Liberation Front and the Viet Cong. It is now a museum and tourist jungle attraction with Jungle walk. During the walk we found out that they don't do walks in the early morning. The snakes like to cuddle up to the warm cement walkways. We kept our eyes wide open. (see War Zone C Google Map)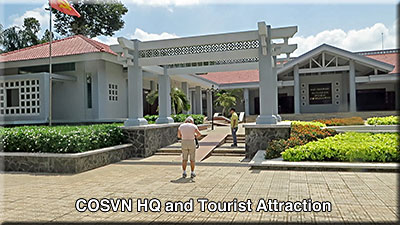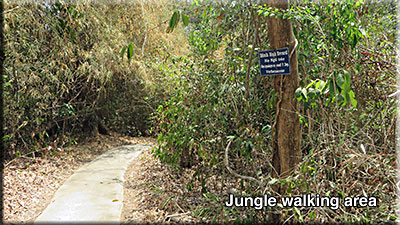 Two things in this area we had never seen:
A Cashew Nut tree, which also has a tasty fruit; and a very colorful lizard. It was thought to be a Green Forest Lizard, but turn out it is a new species discovered by National Geographic in 2014.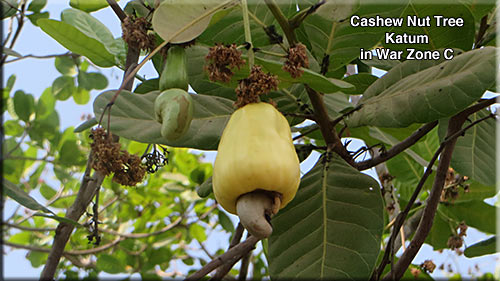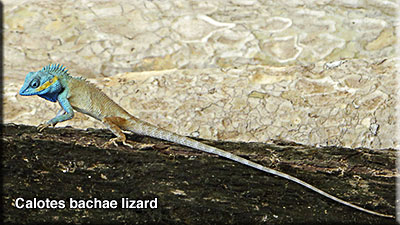 At the Northern most area of War Zone C is a Cambodian border crossing that appears to be newly renovated. Thong called it Sa Mat. Can't find it on Google. (see War Zone C Google Map).

It has no manmade tunnels. It is solid granite rock. However there are many cracks and caves in the mountain. At least two go all the way thru to the other side. You can hike to the top from the gondola get off point. It still takes all day, is very strenuous and involves some minor rock climbing. If we had known, we might have tried that. Also turns out that the military has a road or two to the top that no one else is allowed on. There is a new Helipad up there but seldom used.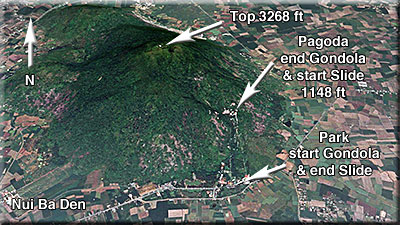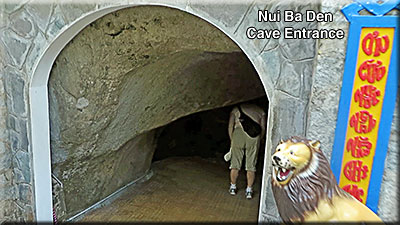 The Gondola (a new one) goes about a third of the way up the mountain (350 meters; the top of the mountain is at 986 meters). There is a slide that goes from the 350 meter point to the bottom. You go down it sitting on a small, very small, sled with hand brakes. No seat belt, no safety cables, no helmet. You are in total control and could probably kill yourself on it if you wish. (see photos from 1966) (see Google Earth photo)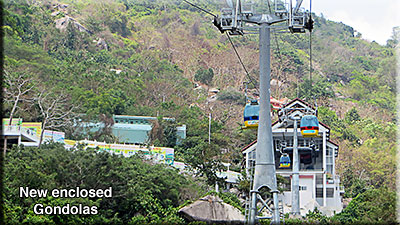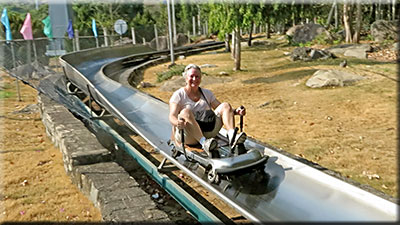 The Iron Triangle area is hard to get to. (see Iron Triangle area Google Earth map).
We took the long route back through the Michelin Plantation area, then South through Lai Khe,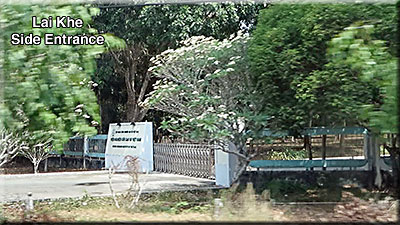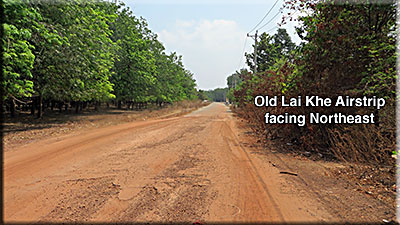 ...to Ben Cat on the upper Northeast corner of the triangle. (Note the dog statues. Wards off evil spirits; or it could mean beware I have guard dogs.)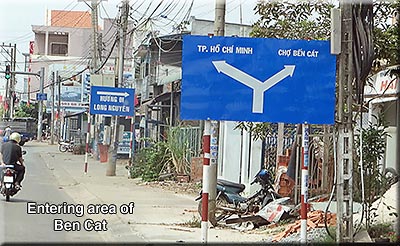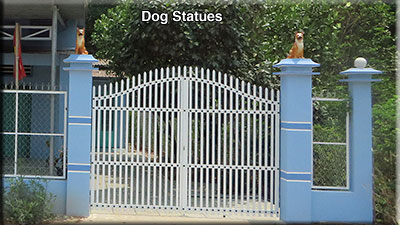 ....then South to the lower corner of the triangle and a sharp right, to the Northwest headed for Ben Suc and the far West corner of the Iron Triangle. In Ben Suc they are building a tourist tunnel attraction similar to the Cu Chi tunnels, but it is not done yet. It probably won't be as popular as Cu Chi because it takes so long to get there with the current roads.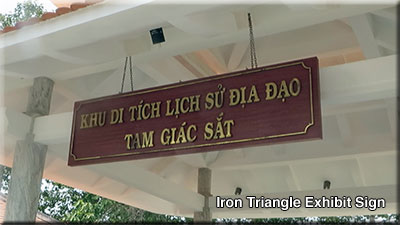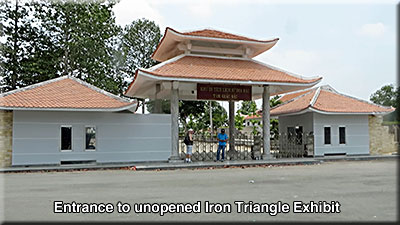 ...We passed through Phu Loi enroute Bien Hoa:
Bien Hoa is also a large modern city:
We crossed the Dong Nai River and entered Ben Hoa. About all you can see of the big airbase is the front gate or really big cement walls on all sides.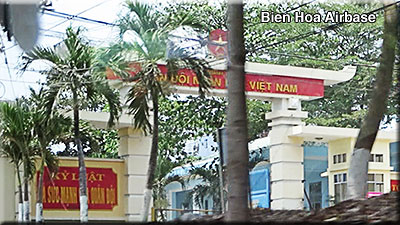 ...the Metro in Ben Hoa (saw one in Saigon too) is like a Costco or Sam's Club here. Wholesale goods and membership required. It was quite impressive.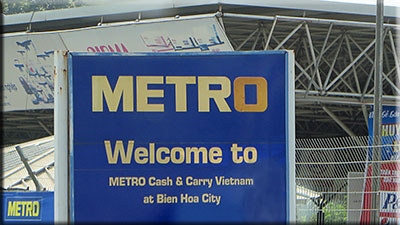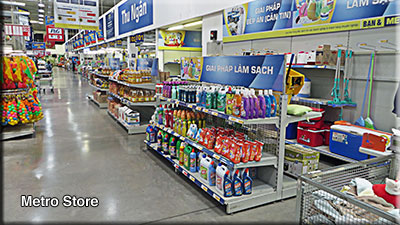 They are building a multibillion dollar overhead Metro Rail System. It is desperately needed.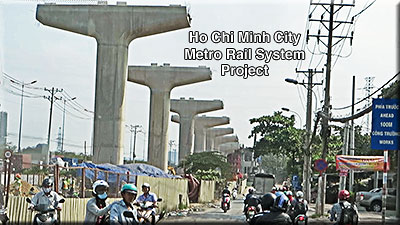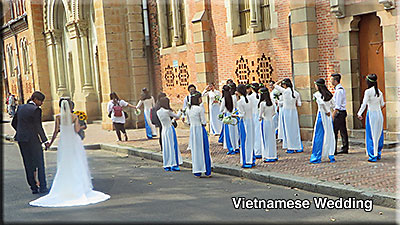 Jungle areas not destroyed by the war (Agent Orange, Rome Plows, B-52 Arc Lights) have been leveled by the next generation of Vietnamese for new farms, factories and villages. It is hard to find a road anywhere without village, farm, plantations or factories on either side; even in War Zone C and the Iron Triangle.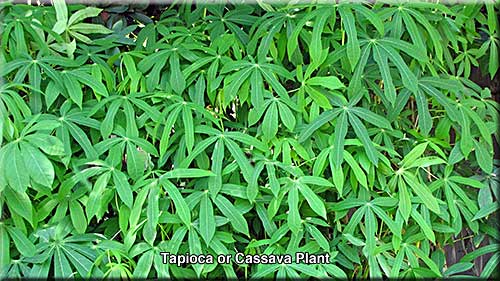 Where are the Rice Paddy Fields?
We saw hardly any rice paddies. Since they now rotate crops about three times a year, this may not have been the time for rice. The big crop now is Tapioca (Cassava is the root of Tapioca). It is everywhere. Even growing along side the road. It is used mostly for creating MSG (food flavor enhancer).
We only saw three black men while we were there, and we didn't find out what country they were from. White skinned people were mostly Australian, British and German. We did not speak to one American other than a couple of Vietnamese Americans who happened to be from Gilbert, AZ. This isn't a study or anything, just what we saw. Australians make sense because they are relatively close by. Maybe the trip is just too far for Americans or possibly Hanoi is a preferred destination.
Heat/Humidity: We wouldn't have made it through the humidity if we hand not been in a nice air-conditioned Milspec Van. Bottles of cold water were available at all times.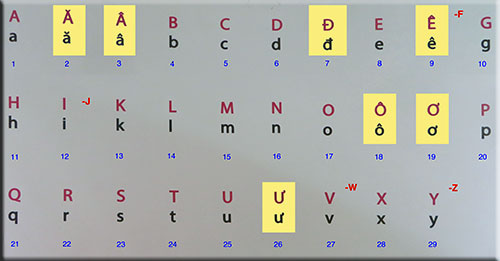 Vietnamese Alphabet: The language remains a mystery to me, however their alphabet is interesting and similar to ours.
Start with our 26 letter alphabet and remove the letters F, J, W and Z. Then add two additional versions of A and O; and one version of D, E and U. That produces their 29 letter alphabet.
Using the 3 versions of "A" the word Nam can be pronounced "Nam", "Num" or "Nom". Got it?
Malaria Pill: Areas outside of Saigon (Saigon is now like a section of the larger Ho Chi Minh City), like the Tay Ninh area are still considered to be dangerous by the CDC (Center for Disease Control) for two kinds of Malaria. One can make you sick; the other can kill you. Because of my Blood Cancer it was important that I take the Malaria pills. Sharon said the hell with them and just used bug spray. The pills must be improved since I had no trouble with them.
Ho Chi Minh Revenge: (food poisoning) It can happen. Drink only bottled water, clean your hands frequently, wipe surface of anything that is going to contact your mouth. Carry some kleenix to wipe off the top part of canned drinks.
The Antibiotic "Cipro" is recommended to have on hand just in case. After I read the specs on this prescription drug, it sounded slightly more dangerous than Rat Poison. So I also carried Pepto Bismol (pink pills). At the end of the last day I got Diarrhea. Pepto Bismol did the job. (I did carry the Cipro just in case.)
The incountry Milspec Tour people were first class: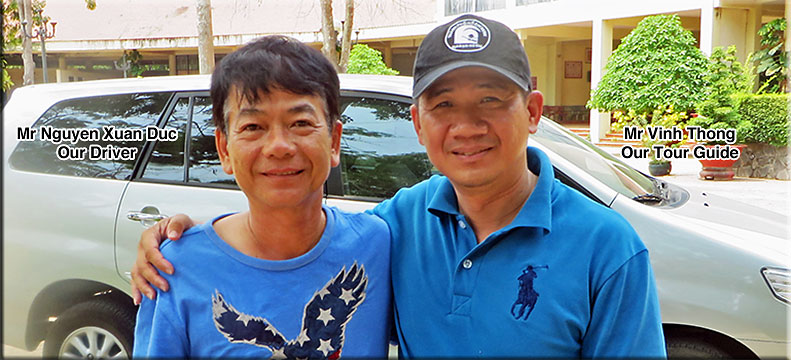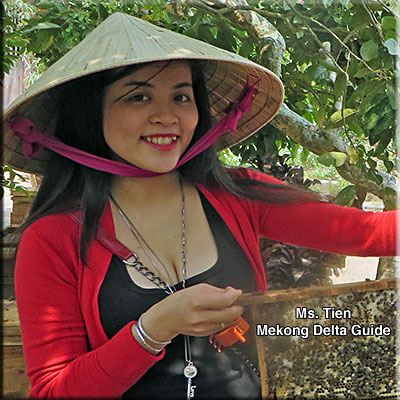 War Photos for comparison
The Cau Dai Temple at Tay Ninh
Below are three photos from 1966 (Reggie Slater Collection).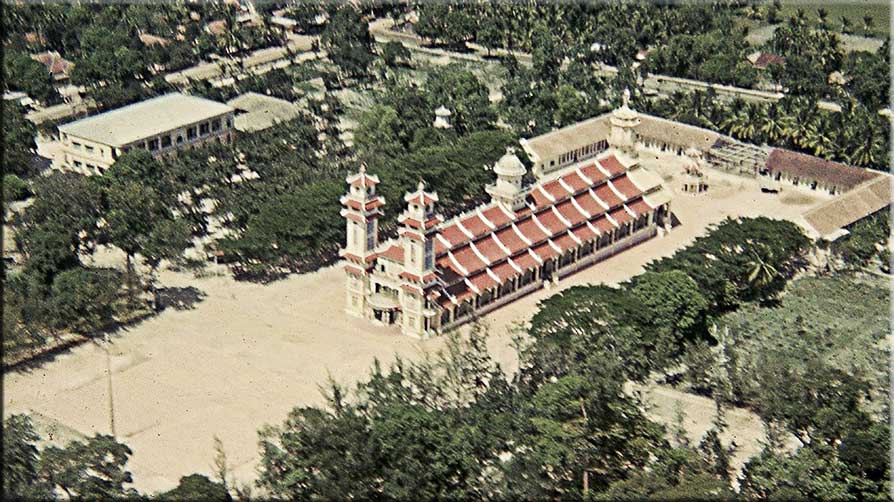 Note the Razorback mountains in the far background to the East Northeast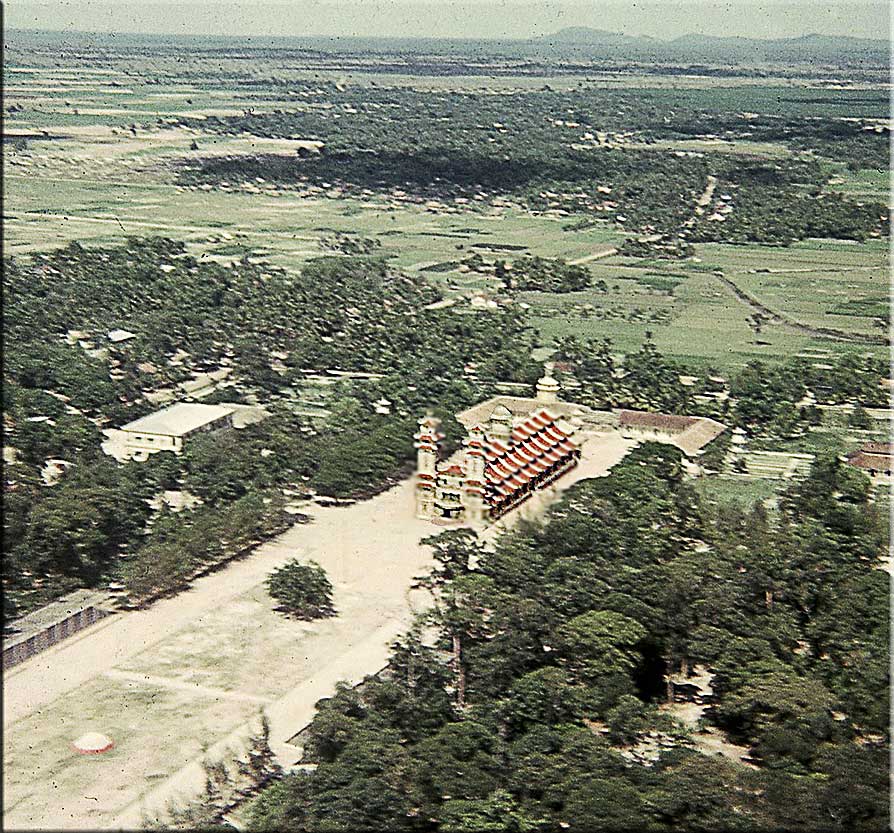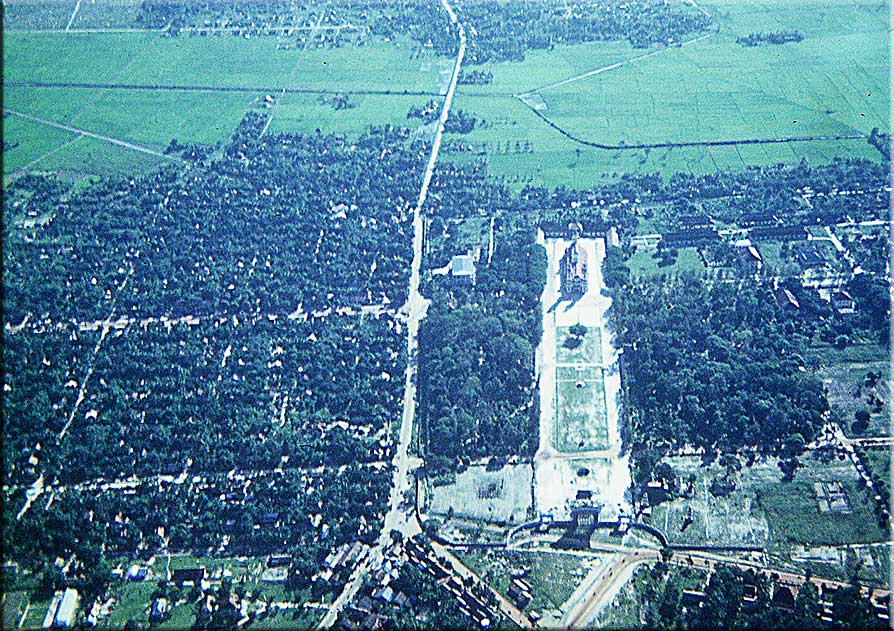 Here are two photos of the French built Go Dau Ha Bridge and one of the nearby ARVN Compound dirt strip where we spent many days on standby for the convoys from Saigon to Tay Ninh (1966).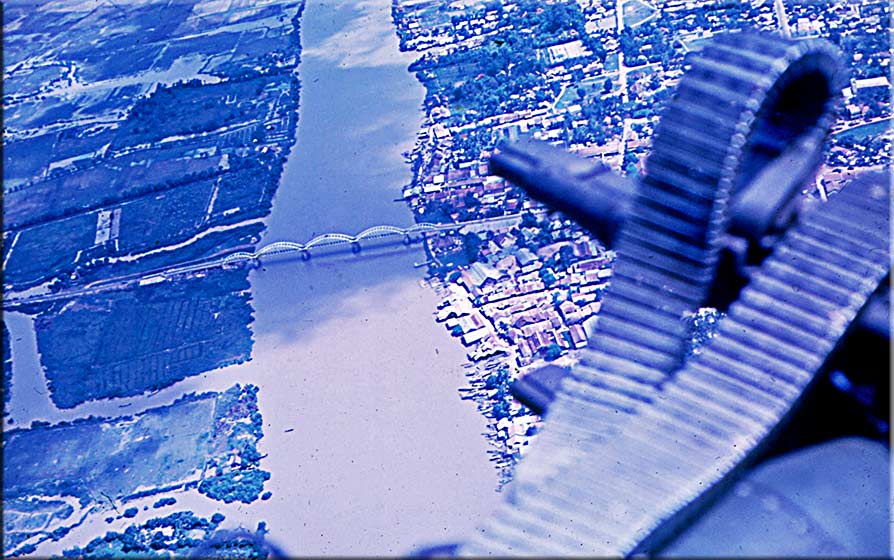 Yes, many scouts pilots flew under this.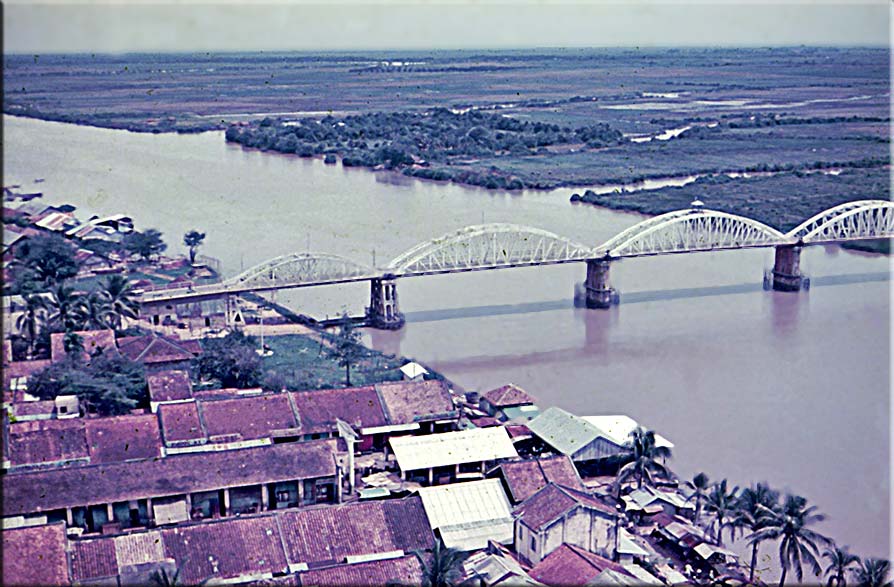 Refueling from 55 gallon drums of Mogas at the Go Dau Ha dirt strip in 1966. Note Nui Ba Den in the far distance to the North. (From Bob Graham collection)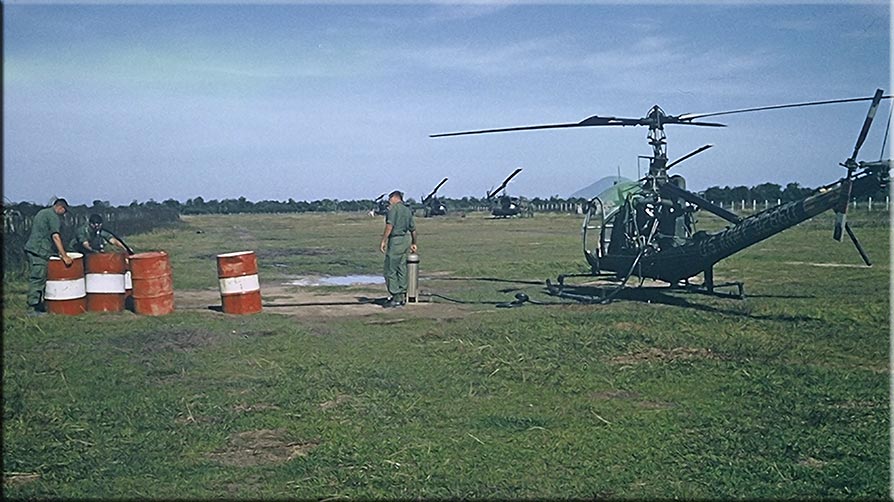 Cu Chi Area map from Google Earth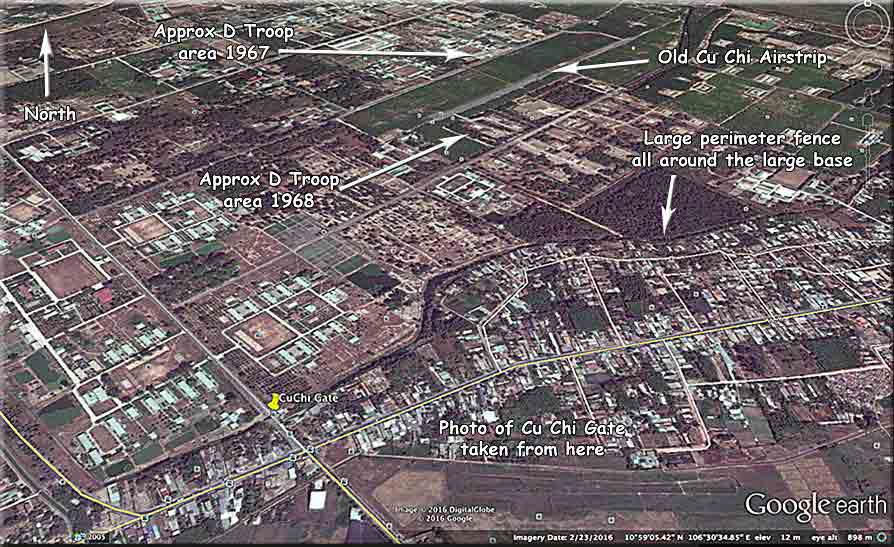 Nui Ba Den looking Northwest (1966).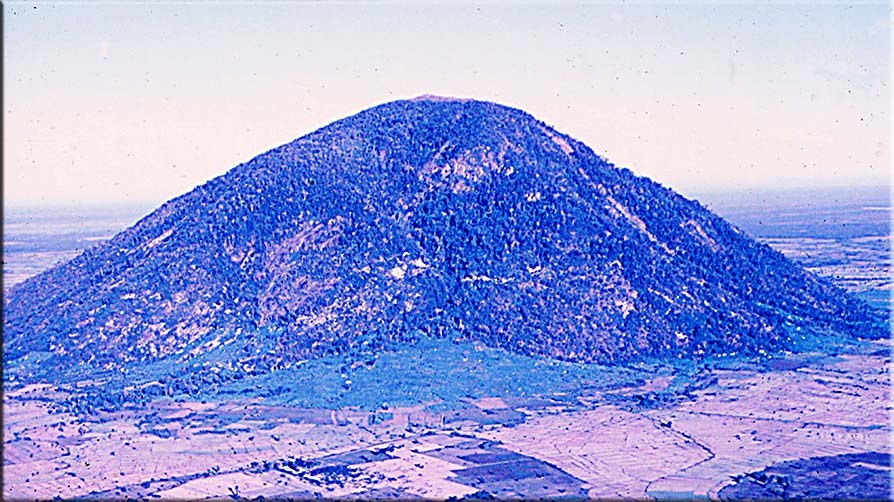 Nui Ba Den looking East Northeast (1966)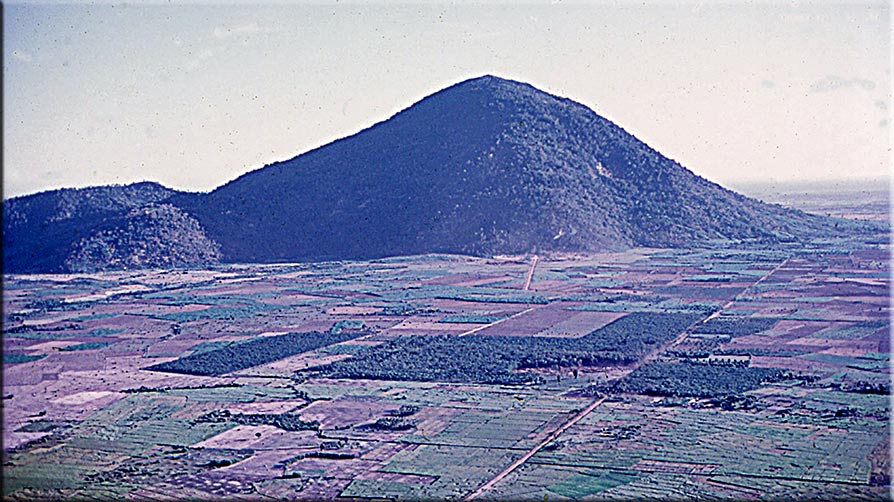 Nui Ba Den in a recent photo from Google Earth which I was surprised to see the hiking trail to the top.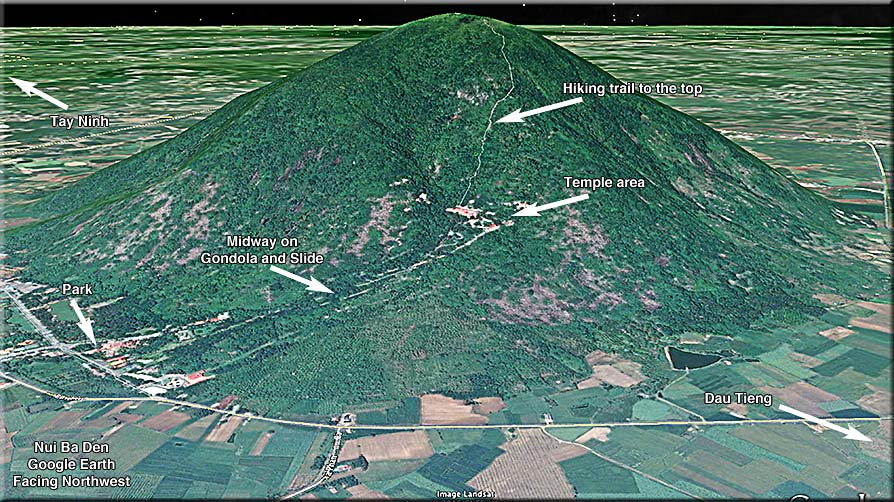 The old Soui Da Airstrip, about halfway between Nui Ba Den and Dau Tieng, now appears to be under water.. (see War Zone C Map)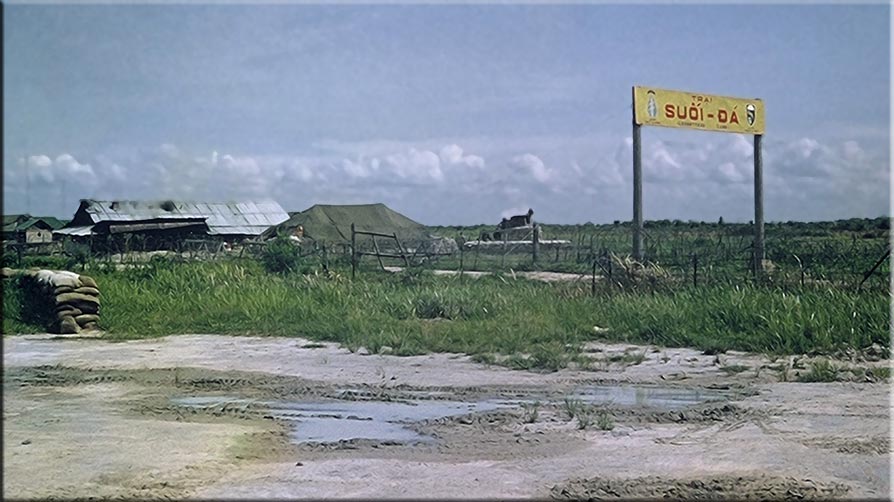 This Google Earth Map is from 2016 showing the large reservoir created by the Dau Tieng Dam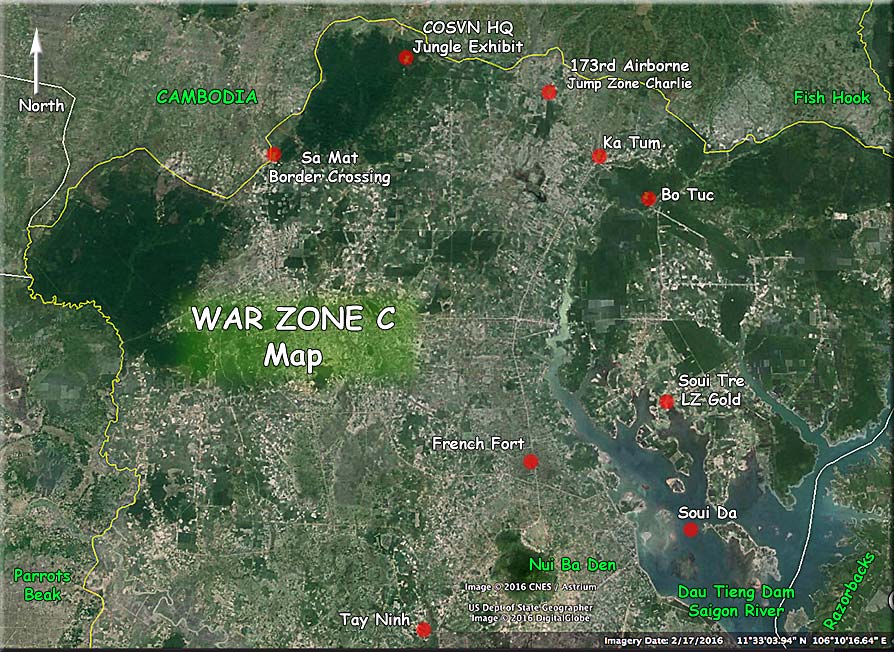 Iron Triangle Google Earth Map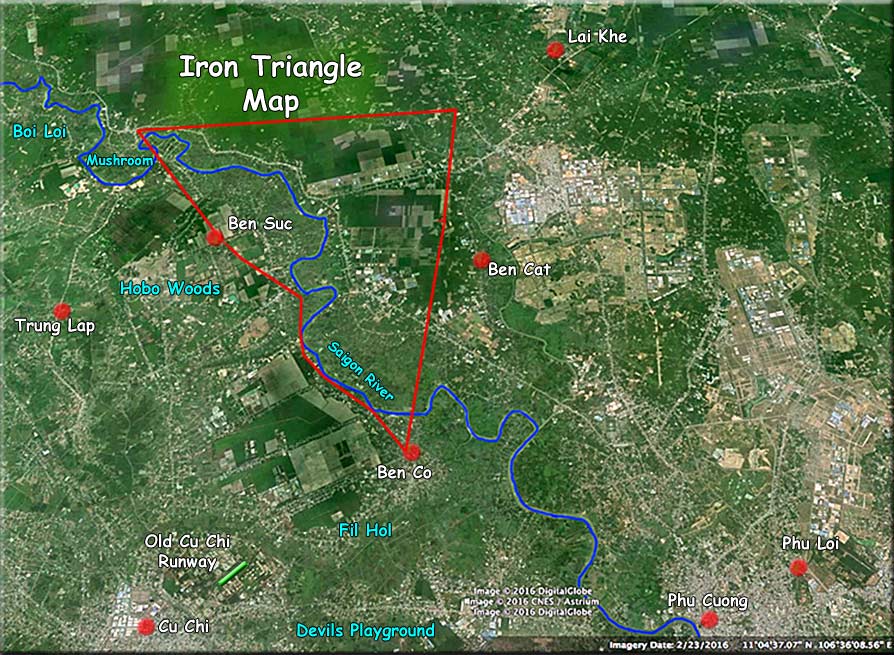 This old restored photo of the Dau Tieng pool looks a lot like the new one. Look closel;, looks like there is a smaller pool behind the big one. Also the high board is very basic.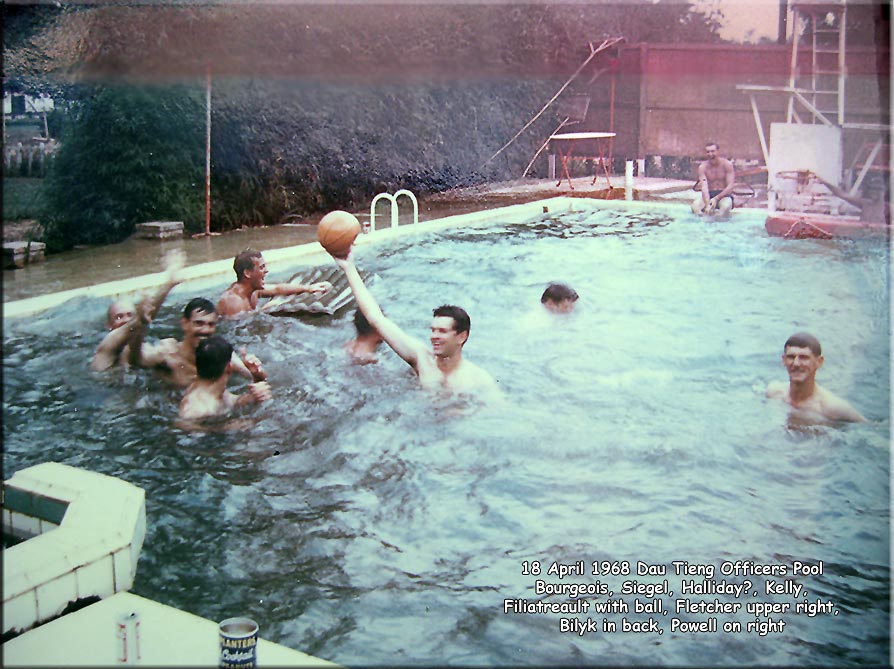 Our Mekong Delta Tour map from Google Earth.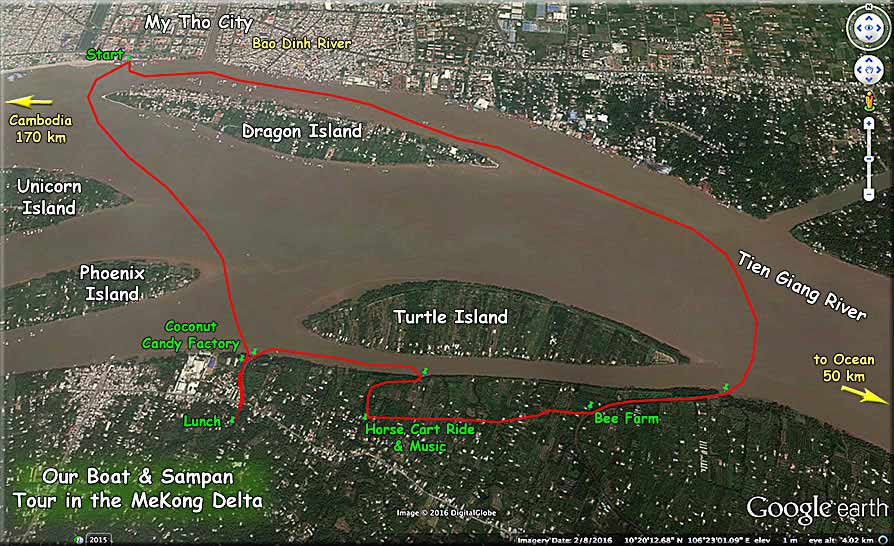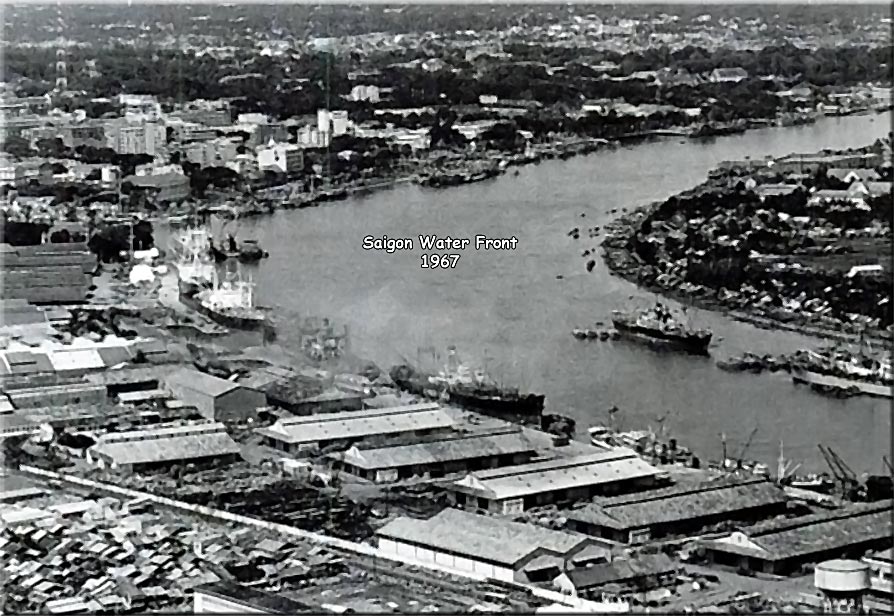 Where are the White Mice (police)?
More on Go Dau Ha area and airstrip
Military presence and Cu Chi Base
War history is being destroyed
VC Soldier meets Air Cav Pilot
The Mushroom (Hobo Woods area)
New highway from Trang Bang to Dau Tieng
Michelin Rubber Plantation and Razorback Mountains
Dam on the Saigon River (the Dau Tieng Dam)
Water Buffalo by the Dau Tieng Dam
The Cau Dai Temple at Tay Ninh
War Zone C, Ka Tum and 173rd airdrop area
COSVN Headquarters and Exhibit (War Zone C)
Cambodian Border Station (War Zone C)
Ben Suc and the Iron Triangle Exhibit
Ho Chi Minh City Metro Railway System and wedding
Wartime photos of above mentioned areas
Cau Dia Temple of Tay Ninh (3 photos)
Go Dau Ha dirt airstrip (Gunship standby and OH-23 refueling)