Rocket Attack Cu Chi - 9 May 1968
Those of you who may remember that 9 May 1968 attack please send in your notes.
Jim Messina, JimTraw, Jim Mahair, John Gough, Jim Kreil
.....................................................................................................................................................................................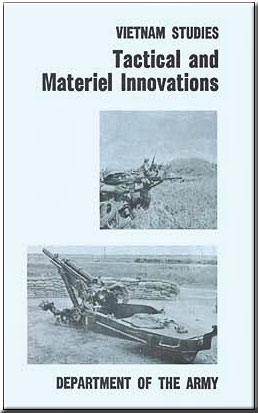 TACTICAL AND MATERIEL INNOVATIONS
by Lieutenant General John H. Hay, Jr.  
(Excerpts from the Cu Chi Chapter. Library of Congress Catalog Card Number: 72-600390; 1974)

The quiet of the 25th Infantry Division base camp at Cu Chi was shattered by explosions from incoming rocket rounds exactly one hour after midnight on 9 May 1968. Thirty rounds of 122-mm. and 107-mm. rockets, fired without warning from the surrounding area, rained down on the U.S. camp. The officer on duty at the 2d Brigade tactical operations center needed no confirmation from the bunker line as he switched on the base sirens and announced Condition RED. Forces on the perimeter were doubled, staffs of major units raced from their tactical operations centers, and troop units were readied to move to secondary defense positions. Word went out to a nearby fire support base, the local ARVN headquarters, and II Field Force headquarters that the base camp was under attack.
 
Two Cobra helicopters from Troop D, 3d Squadron, 4th Cavalry, in the air soon after the last rocket fell, radioed base camp defense and the artillery net. By this time the direction of the attack had been estimated, and previously positioned defense artillery had been fired. The two gunships searched the suspected enemy launch area and adjusted U.S. artillery accordingly.
 
As the battle quieted down, each sector of the bunker line called in to report all clear. An ARVN patrol in Vinh Cu, just south of the base, had had no contact. Nearby fire support bases, the Cu Chi subsector headquarters, and the units at Phu Cong and Ba Bep bridges reported that all was quiet. In two hours the camp commander decided that no ground attack was coming, and word went out to go to Condition YELLOW and finally, at 0300, to return to Condition WHITE.
 
The incident was another standoff attack.
 
Intelligence had forecast no high point of enemy activity, and there had been no indication of such. The rockets might even have been fired from unattended and locally fabricated launchers. According to a captured enemy rocket company commander............................................................
Jim Messina: I have my memories but they are fragile at best. I seem to recall, one hooch was hit and flattened. The Rifle platoon or LRRPs were out in the field that night so were luckily NOT home for this. Shrapnel was thrown into the next hooch which got Mahair (in the ass), and Traw (sucking chest wound) and some black fellow
lost an arm.
Jim S. Traw: SP4 LOH Crew Chief that was KIA during a 122mm Rocket attack 9 May 1968.
Jim Mahair: 1968-69, Service Platoon, Wounded 9 May 68 in 122mm Rocket attack. Need more info on him.
John Gough: (CE Guns) Someone remembered that he ran into the burning hootch during the attack to help. He had a cast on his foot and was awaiting an Article 15 for something. Is this true? Maybe that is where the term "Article 15 with V device" came in.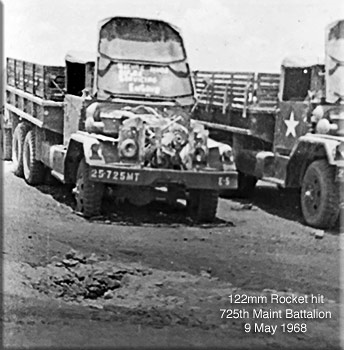 Jim Kreil: The rocket attack that killed Jim Traw also dropped a couple rounds into E Company, 725th Maint Battalion where I was. I believe two men were wounded. We were getting rockets every night. The two wounded men hadn't gone to bunkers as all were ordered to do. Their wounds were minor. They were given Article 15 punishment.