My Year in the Air Cavalry
Vietnam, August 1970 - 1971.
Article from Army Aviation Magazine - December 31, 1995
Vivid memories are now dimmed by a quarter century of mixed activities and the effects light has made on the somewhat limited pictorial memorabilia that remains of my first assignment as a WO1 aviator in the Republic of Vietnam. I do remember the anticipation I felt after receiving an RFO and subsequent orders to report to the 20th Replacement Detachment in Saigon, RVN, the home of the MAC V headquarters.
My class, which began in 10th WOC at Ft. Wolters, TX as class #70-19, had its ranks pared from the more than 300 who started to approximately 80 WO1 graduates. Being number eleven in a class allocated a total of nine AH-1, CH-47, or OH-6 graduate flight training slots prior to first assignment left me a UH-1D MOS aviator for assignment potential - not much potential, considering the UH-1H was the theater utility helicopter platform.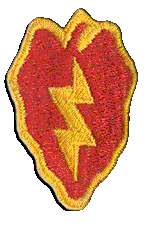 In country, myself and two other classmates, Ken "Bear" Kloppel and Kim Jacobsen, were befuddled by our assignment to the 25th Infantry Division. How were we incubating aces going to contribute to an Infantry Division nicknamed the "Electric Strawberry"?
During an evening hosted by the Chief of Staff, we had steaks, beer, and primaquine/chloroquine tablet hors d'oeuvres and learned a bit of the division's rich history. The division was supported by two general support companies made up of UH-1 (the Little Bears) and AH-1s (the Diamondheads), which were the crux of the maneuver brigades' airmobile operations. Suffering from the WO1/2LT Syndrome, I thought we surely would join the cast of hundreds. The 3-4th Cavalry was the division's eyes and ears. According to personnel strength, they were apparently a bit blind and deaf, which was a prefect MOS match for the previously mentioned syndrome. We were off to III Corps, Cu CHi, RVN.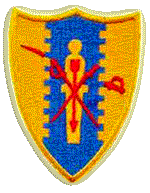 Our assignment to D Troop was sealed. D Troop was the sole Air Cavalry Troop typical to a Ground Cavalry Squadron (which had three ground cavalry troops plus a headquarters element). As we individually interviewed with MAJ Grof, our air troop commander, he confirmed our destiny. The unit's greatest need was for AH-1 and OH-6 pilots. What a relief our UH-1 mugs must have been. His decision assigned my two comrades to the Lift Platoon and myself to the AH-1 platoon, with plans to send me to Vung Tau for an AH-1 transition when a class date was available.
The next seven weeks were a blur. With one day to pack and travel to Vung Tau, I reported with 311 hours of AH-1 (copilot/front seat) combat flight time. The four week CONUS course was crammed into two weeks of fairly intense training. I remember with some jealousy how little trouble it was to get live fire areas for gunnery qualification. All of IV Corps seemed to be an impact area. During my back seat gunnery qualification, we were tasked inflight to respond and provide gun cover for a downed Australian OH-13.
We definitely had Charlie by surprise and outgunned. I remember the patience of my instructor who let me handle the 2.75" Folding -Fin Aerial Rocket (FFAR) portion of the firefight. I never vocally confessed to the background flight experience I gained in my unit prior to arriving at the course which was probably the main reason I was able to gain unusual IP confidence from the course's outset. I figure it was a matter of record, free to any IP who chose to scrutinize my flight hour worksheet. At any rate, I now confess to a fair advantage. I graduated a backseat combat veteran and was picked up by my unit's UH-1 maintenance pilot for the trip home.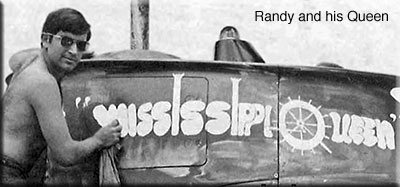 It wasn't long before I discovered the nature of the Cav. When we landed, I thought we were making an ash and trash stop. To my surprise, our flight ops clerk met us with a jeep and said my stuff was in the OP's office and I needed to get it out and take it to my hooch. Lo and behold, we had moved, lock, stock and barrel. From the tunnels of Cu Chi, the Iron Triangle, the Hobo Woods, the Angels Wing, Parrot's Beak, and Dau Tiang to the east to Camp Frenzell Jones. Three weeks later, I was an Aircraft Commander (AC) with my own crewchief, SP4 Gary Schmidt (Smitty) and 67-15546, the oldest AH-1G in our fleet.
(note added to this article: SP4 Jim Hoag was the crew chief of 67-15546 when Randy was assigned as Aircraft Commander.
SP5 Gary Schmidt took over the crew chief duties in Lai Khe when Jim Hoag left in Jun 1971. See Jim's comments).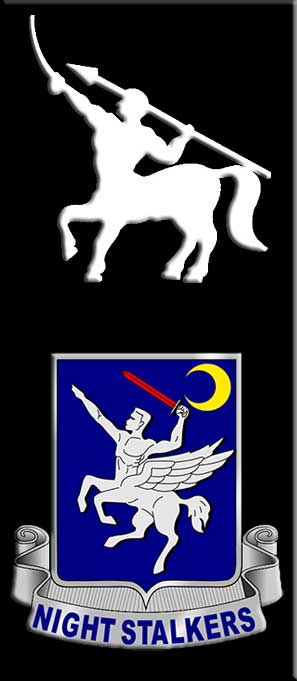 I did, however, reap an unanticipated reward. Two weeks later, my aircraft was called to depot to be modified with the more efficient tractor tail rotor design. Two weeks later I possessed the envy of the fleet. I was incredibly proud to become "Centaur 54", the callsign synonymous with our Troop, with the suffix indicating the fourth of nine AH-1 ACs.
Of particular note is the similarity of the Department of Heraldry's unit symbol for my Cav Troop (Centaurs) and my current unit, the 160th Special Operations Aviation Regiment (Airborne)'s Crest, approved 12 years ago.
Operations continued with redeployment orders to Hawaii for the division, all except for my Air Cav Troop. We covered the exodus of convoys to Bien Hoa and Ton Son Nhut. The division was soon gone, home for Christmas. We were redesigned F Troop, 4th Cavalry, and assigned to 1st Aviation Brigade, headquartered in Phu Loi. The Aviation Brigade had an Air Cav Squadron - three troops of 3/17th Cav.
The ensuing three months were filled with the most diversified missions of my tour: security gun cover for the Bob Hope Christmas tour, task force (25th INF and 11th ACR) encirclement of enemy forces around Bearcat, Visual Reconnaissance (VR), excursions for fire support, and BDA for artillery and B-52 Arc Lights. Xuan Loc was the eastern hub for our operations. March of 1971 arrived and over half my tour was over. Off to Hawaii for the renowned R&R and the fastest seven days time in grade acquisition on record.
Returning to Saigon from the mid-tour break, I found my faithful ops clerk with the same old jeep. He smirked as we passed through the gate to our old troop area. Did I say old troop area? You guessed it - the Cav had booked. However, this time, my "Queen", still in her revetment, awaited my spurs for reunion with my troop. The coordinates of our new home was the abandoned outpost of the renowned 187th Assault Helicopter Company, 173rd ABN, Lai Khe.
Operations resumed with first and last light VRs around our isolated outpost for security. Our Aero-Rifle platoon, dissolved by the 25th Infantry's redeployment to Hawaii, was tactically replaced by RVN forces not collocated with us. We were joined by another 3/17th troop at Lai Khe. Operations expanded to cross-border operations into Cambodia and Laos. Staging from border Forward Area Refueling Points (FARPs), we ventured with new tactics well over 100 NM into enemy territory. Phonm Penh was well in view on clear days.
VRs with two teams of one each AH-1 and OH-6 reconned adjoining sectors with a mutually supporting UH-1 High Bird C&C. (I ran across Glen White, classmate and 11th ACR C&C pilot.) Countering triangulated AA while covering downed Air Force crew extractions challenged our weapons systems and crews. Unintentionally taking on a Brigade-size NVA Regular unit after receiving a few potshots on the periphery of their troop lines contributed immensely to my education in humility and the significance of massing fires.
It also contributed to my commander's humility when he thought the WO1 may be slightly exaggerating the enemy troop strength, as I requested a follow-up Arc Light mission on the coordinates. Unfortunately, a costly mistake - another AH-1 (1LT Sandy McLeod) and an OH-6 were sent to confirm his doubt about the beehive we had just stirred up with 14 x 2.75" flechettes and about 30 x 17-pound HE while breaking contact. There was no shortage of survivors, and they were eager to atone for their comrades. Though no aircraft were lost, we lost an OH-6 CE and suffered another WIA.
Two of the last events I recall were a visit to my old Divisional turf in the Iron Triangle, and my first order to engage a friendly aircraft. Someone wanted a VR of the vacated Iron Triangle area (no friendly troops within the last six months). Guess who moved in? Some guy nicknamed "Chuck" - I wasn't on the initial VR, but like most ended up with the reinforcements when the AH/OH team encountered a similar force from which I gained so much humility. We were even less fortunate this time. The OH-6 was downed. "Chuck" employed classic bait tactics with the surviving crew and hammered away at the rescue force until we were able to mass our fires for his lesson in humility. The cost was the loss of the most experienced OH-6 pilot I knew (CWO Mortimer) in the Army at that time (three years in country and about 4,000 hours in the aircraft).
The last event was a cross-border downing of a sister cav troop's OH-6. We launched, covered the extraction, and I was bestowed the duty of aircraft destruction to prevent it from falling into enemy hands. This, I personally believe, is a somewhat less than noteworthy task.
My experience with the Air Cav is a an honored and viable tradition with continued application, successful through almost three decades of my career. In Vietnam, troop commanders were essentially limited to six month command cycles with the balance of their year-long tours in staff positions. I served under four troop commanders. The first, MAJ Grof, after his final two months of troop command, was KIA in his follow-on assignment in I Corps in the Ashau valley, the second, MAJ Hamilton, was a staunch and respected commander, with who I've since lost contact, the third, MAJ Bell, was relieved of command over the Iron Triangle incident, and the fourth, MAJ Gutierrez, was instrumental in my recall to active duty in 1972.
August 1971 finally arrived. My two flight school cohorts and I had survived. A final jeep and trailer convoy to Saigon to arrange hold baggage transport and our freedom bird flight to Oakland, CA. There we went our separate ways _ I to Ft. Dix for ETS and they for leave. I did run across "Bear" doing USAR time in Europe in 1978. Haven't seen Kim since Oakland. Hope all is well. Pete Ward, Guy Blevins (the only other classmates encountered since), and I crossed paths at Ft. Campbell in the '80s. All other classmates are retired, in the Guard or Reserve, ETSs, or sporting different wings.
I regret the many things I've not done in life more than those I've done. I don't know the end of this tale. My unit's colors were retired I think after Lam Son 719 took its toll. Upon returning to active duty, an assignment in the 101st Airborne Division, and a tour in Europe, I was privileged and flabbergasted to be selected to transport my "Queen" to my unit of reassignment, B Co, 229th ATK HEL BN, 101st ABN DIV. I was united with my aircraft 67-15546 in the States. She returned to me after depot rebuild as as AH-1S. She had been harbored in Alaska. This was 15 years ago. CPT Rudy Parris, my ex-Vietnam gun platoon leader turned CW2, was assigned to a sister company in the 229th. Rudy was lost within a short time in the tragic Gander accident. My lack of revisitation over the years prohibits unerring recollection. For the most part, though, I like the memories.
I apologize for any misspelled names for persons, places, preventative medications, or culinary teats, should they have appeared in this article.