The Flores Tragedy - 1969
David Olsen - A Troop, 1st Platoon (Edwardo Flores)
.....................................................................................................................................................................................

On 25 March 69 A Troop ¾ Cavalry 1st Platoon was engaged in heavy contact with NVA soldiers in trenches. The firefight for the 1st platoon happened late in the afternoon and I was to the left of Track Commander Thomas Robertson's APC on vehicle number A18 as a right side M-60 gunner. The left side gunner was Spiro Farrugia. It was getting late in the afternoon and our unit had come upon a large force of enemy NVA soldiers dug into a dense hedgerow. The 1st platoon got online and together we started towards this hedgerow.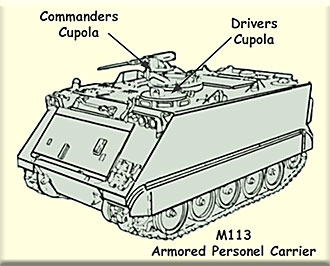 Robertson took a direct RPG hit into the Commanders cupola area of his APC. I thought for sure he was KIA immediately however he hung on and died of these wounds days later on 12 April 69. Mort as we called him had been through many firefights and just happened to be in the wrong place at the wrong time. In civilian life he was studying or working as a mortician thus his nickname "Mort". He was getting short but did not want to leave the field. The explosion was terrible and I still remember it as if it just happened yesterday. His driver began backing up and the person riding on the back left side was PFC Edwarto Flores. He was from D Troop and was blown off behind the APC after the RPG hit. As the vehicle was backing up Flores was run over like a rag doll and possibly killed by being run over. I will never forget these two events as they haunt me to this day.
By this time it was nearing sunset and we never attempted to retrieve Flores. He was too close to the enemy hedgerow and I suppose further lives would be lost trying. We had never ever left anyone behind before and I just could not understand why this was being done. In hind sight in all of the confusion our leadership was probably unaware Flores was laying there. He was a D Trooper and had been extracted from a LRRP or Aero Rifle team and these individuals were just riding on various vehicles to be taken back in.. We were expected at fire support base Wood several miles away to provide their security that evening. We never traveled much at night on the roads because it was too dangerous. We finally arrived at our destination FSB Wood without incident.
I did not sleep much that night thinking about Flores out there alone and either dead or dying. I would like to think that the shrapnel from the RPG killed him and maybe being run over finished him off if he was not already dead and suffering. I also had a terrible headache as I always got after one of these firefights. I probably smoked too many cigarettes trying to calm my nerves.
The next day we returned to the battlefield location on 26 March 69 and his body was recovered by someone. It was not until some forty years later that I was able to figure out that his name was Edwardo Flores since at the time I never knew who he was.