Forward Air Controller Coordination - 68
For a while in 1968 the Centaurs and the Air Force FAC's worked together, out of channel, with great success.
..................................................................................................................................................................................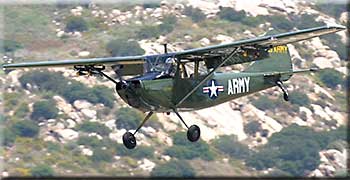 During my first tour flying Birddogs in the Central Highlands, at a very small advisory outpost, we had a very good working relationship with the Air Force Forward Air Controllers ( FAC's) also stationed there. There were times we would FAC for them if their planes were broke or they would a recon for us if our planes were unavailable. We would chat back and forth keeping each other apprised of what we found. So as the Centaur Operations Officer I wondered if we could have the same sense of cooperation with the Air Force contingent just down the runway from the Corral.
So I went down to their operations officer to touch base on ways of working together.

I explained to them that we usually had six scout teams up every day looking for the bad guys. When we did find a target we could engage it with Cobras or artillery but sometimes the preferred elimination would be by airstrike. What we were trying to do was set up a system that if a FAC had an unused airstrike getting low on fuel, could we let those aircraft engage our target. "What a great idea" he said. Normally the procedure would be to go through Division (the Air Force LNO), he would send it to Saigon for approval. All this took time and with no certainty of approval.

We came up with a simple system of exchanging frequencies and if we found a target we would query the FAC's if they had anything available. Sometimes the FAC's would call us to let us know they had a flight nearing Bingo fuel and did we have a target?. The advantage to the Air Force was they would get instant feedback with an on the spot BDA (Bomb Damage Assessment). We both figured it would be a better used of assets rather than dumping the bombs in the South China Sea or go unused.

So we put the system into effect. We briefed our respective pilots and we were off. The results were almost immediate. Most days there was a least one airstrike. Some days there were more than one. It was turning into a very effective way of engaging an elusive enemy.
We briefed Squadron on what we were doing, in which they fully agreed, and sometimes came up with targets of their own. Everyone was happy. The FAC's were building up their body count and we were eliminating pockets of resistance.
In fact it was so successful than a Big Cheese from the Air Force came up from Saigon to give the FAC's an attaboy for having a consistently high positive BDA. As he was reading the citation he was really pumped up. Then he asked what was the secret of their success. The FAC commander said it was because of their excellent working relationship with the Centaurs and explained how that relationship worked.
Well, the Big Cheese from Saigon was aghast that we would work "out of channels" when there was such a well established bureaucratic procedure in place. The bottom line was he shut down a very effective system because things had to be done "by the book." (Don't ever tell somebody from the Cavalry they had to do things by the book.) As you can imagine all pilots from both services were disappointed and we all shook our heads at those weenies in higher headquarters. I thought we were on the same side here.
...........................................................................................................................
What is a FAC? from Wikipedia:
In the Vietnam war, Forward Air Controllers were VNAF (Viet Nam Air Force) pilots until 1963 when the USAF 19th TASS (Tactical Air Support Squadron) was deployed to Viet Nam in the month of June.
The United States unleashed a tremendous amount of air power during the Vietnam War. It would be controlled by the most widespread forward air control effort in history. The rugged jungle terrain readily hid communist troop movements. American fighter-bombers were so fast that pilots had great difficulty in distinguishing between enemy troops, friendly troops, and civilians. Forward air controllers directing air strikes thus became essential in usage of air power.
Visual reconnaissance formed the core FAC mission during the Vietnam War, as the FAC flew light aircraft slowly over the rough terrain at low altitude to maintain constant aerial surveillance. By patrolling the same area constantly, the FACs grew very familiar with the terrain, and they learned to detect any changes that could indicate enemy forces hiding below. Tracks on the ground, misplaced vegetable patches, an absence of water buffalo, smoke from cooking fires in the jungle, too many farmers working the fields—all could indicate enemy troops in a vicinity.
Flying low and slow over enemy forces was very dangerous; however the enemy usually held his fire to avoid discovery. Each of the O-1 FAC aircraft originally used carried three different radios for coordinating with everyone involved in an air strike: an FM radio for the ground forces, a UHF radio for the fighter aircraft, and a VHF radio for contact with the Air Force Tactical Air Control Party to coordinate approvals and requests for air support. The FAC radioed for strike aircraft after spotting the enemy. He marked the target with smoke grenades or white-phosphorus rockets to pinpoint targets. After directing the fighter-bombers' attacks, the FAC would fly low over the target to assess the damage.
.