Easter Offensive - Woods 1972
Mike "BG" Woods Centaur 45 - also see Ken Mick story
.....................................................................................................................................................................................

To pass on my account of F/4 actions during the 1972 Easter Offensive, I have to start at the beginning of my second tour in Vietnam. I was assigned to F/4 in October of 1971. Hostile action was winding down and only two US ground unit Brigades remained in Vietnam. The 1st Air Cavalry Brigade in III Corps and the 196th?
In I Corps. F/4 was located in Lie Khe with a 4th Cav light ground troop. That was the 1st Infantry Division headquarters while the 1st Division was in Vietnam. We were supporting the 1st Cavalry Brigade located near Bien Hoa also the ARVN Airborne Division in Cambodia near the Chup Rubber Plantation and other areas.
Several times during the Troops stay in Lai Khe, a CIA agent by the name of Felix would visit and direct us on various missions in the Iron Triangle region. Several large bodyguards always accompanied him. He always knew where the NVA were and rode in our lead Loach. We always got a lot of shooting and enemy contact with Felix. Years later, I saw him testifying in the US Senate Iran/Contra hearings as Felix Rodriquez. He wrote a book called Shadow Warrior not to many years ago. Very interesting individual. Big Cuban.
Before the end of 1971 or early 1972, the Troop moved to Long Binh. We felt more secure because at Lai Khe we had to provide our own security. The NVA could have over run our Lai Khe base camp if they had a mind to.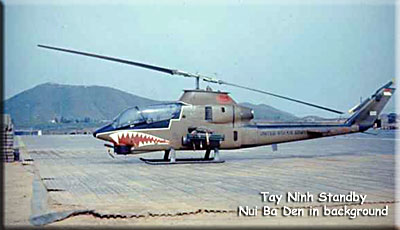 The missions with the ARVN Airborne Division in Cambodia near the Chup Rubber Plantation were mostly uneventful. We flew each morning to stage out of Tay Ninh City and awaited our daily mission orders. Our VR's in and around the Chup and above the FishHook area produced a lot of trail activity and track vehicle tracks on the roads. Probably signs of many of the units that later were pounding An Loc when the Easter Offensive began.
 
One day while returning to Long Binh from Tay Ninh City we lost a Loach crew in the Iron Triangle. CPT James M. Hamrick and Sp4 Don H. Ware lost their lives in that February 20th action.
CPT Angel Arzate and I were flying the Cobra's. CPT Ron Radcliffe was in one of the other Loach's. I can't remember who else was involved. It was a sad day
During our time in Long Binh, we were at 200% strength most of the time because of all the aviation units that were standing down during early 1972. Any pilot that had less than 6 months in country was infused into the remaining aviation units. Many pilots came through F/4 that I never got to know very well. Personnel movement in and out of most remaining aviation units was very active indeed.
One of the strangest and scariest moments happened one day while we were staging out of Tay Ninh City. Several of us pilots were standing around the MACV TOC for the ARVN Airborne Division advisors. All of a sudden, none other than Vietnam President Thieu walked up to us and began shaking our hands and talking with us. I looked around and there must have been a half dozen well-armed big Chinese bodyguards in and around our location. It made me very nervous because we were all armed and if the bodyguards got nervous, someone could have gotten hurt. He was quite short and older looking than his pictures.
We were amazed and scared but not surprised when the Easter offensive began. Are VR's were seeing a lot of heavy activity including Tank Tracks. The action was real hot along the DMZ and F/4 was selected to re-locate to I Corps to reinforce the aviation assets already there. The An Loc battle had not yet begun or we more than likely would not have moved to I Corps. We will never know.
Move North. F/4 moved nearly all the aircraft up to Marble Mountain in one day. Ken Mick described that well. I do remember that F/8 was in a lot of activity and lost a UH-1H crew on April 2nd. The Hunter Killer teams were telling us how hot it had been the last few days. They had a lot of combat damage and were glad to see us. F/8 shows us the ropes. Feeling our way after the move to Phu Bai from our brief stay at Marble Mountain was quick and eventful.
I recall a firebase below or near Dong Ha that was receiving an intense artillery barrage. I never saw anything like it. The barrage was accurate, intense and lasted several minutes. It looked like a fire power demonstration. I don't know what it was like in An Loc at this same time but what we experienced in I Corps was a real honest to goodness front line battlefield. We knew where the line was and it moved daily up to the fall of Quang Tri.
FSB Bastogne was a real hopeless situation. Peter Arnet interviewed Frank Walker and me about Bastogne. Ken Mick described the situation well. Mike has a copy of the Arnet article.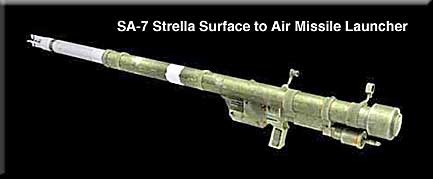 First SA-7 Strella missile fired was at one of our UH-1H flown by I believe Cpt Voorhees. I saw a rocket fired from East to West at Vorhees tail. I yelled "rocket" at Vorhees and told him to dive. As he did, the rocket, with a tell tale white smock signature, past over his Huey. We did not know what it was but soon found out the NVA had these SA-7 weapons. This caused us to change our tactics to Nap of the Earth VR patrols.
 
The low-level tactics pretty much made us safe from the big AntiAircraft weapons. The thing that got you from then on is the small arms ground fire. It seemed like after every mission there was at least one bullet hole in the aircraft after post flight inspection.
The tactics that were developed consisted of two Loach's conducting a VR in a circle pattern with one Loach conducting the recon and the other covering his wing. Two Cobra's would be in a tree top racetrack pattern with one Cobra inbound toward the two Loach's and the other outbound. The fifth aircraft was an UH-1H with a fire team of Blues on board.
The CE of the UH-1H was the mission commander. He directed the VR and also was responsible for crew extraction when any aircraft got shot down. I can draw this tactic if necessary.
Going home almost. Ken Mick described this event well. While we were in Long Binh, CPT Martindale and WO1 Haines were killed on April 28th. I don't remember if they were recovered right away or not. I do know that the aircraft was not extracted until after the recapture of Quang Tri or shortly before. Ken and I thought we were going home but I was going to be re-assigned to a ARVN Armored Unit back in I Corps. Both Ken and I begged the Squadron Commander, LTC Duggan, to send us back to F/4 if we were not going home. We got our wish and returned shortly there after.
CW2 Jesse and WO1 Petrilla and SP4's Morgan and Porterfield were lost by a SA-7 Strella while Ken and I were in Long Binh. They are listed as 187 AHC in the directory but I always thought they were with F/4. Maybe they just flew missions with us. Can someone enlighten me on this action? The Troop 1st SGT was fragged during our stay in Long Binh. Pappy Jones can give you a better account of that sad event.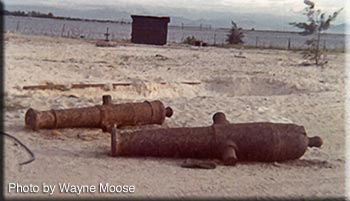 Recovering an ancient cannon was an extra activity that Ken Mick and I were discussing last week by telephone. We kept seeing this object in the Bay after our move to Tan My Island. We got a UH-1H to pull it out of the bay. It was quite a struggle but it was a success. The UH-1H lowered it at our base and that is the last I can recall. It is probably still sitting there.
 
A day or two before the fall of Quang Tri, we were on a VR mission West of Highway One below Quang Tri. 1LT Frank Walker was piloting one of the Loach's but I do not recall who was in the other Loach. Chuck O'Connell was in the other Cobra and WO1 Vickers was in my front seat. As the VR moved further West, the NVA opened on all five aircraft at once.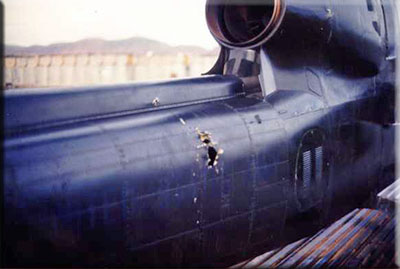 I heard loud gunfire. It was .51 cal. I later learned. Two rounds hit the main rotor, one more in the doghouse and two in the tail boom. One of the rounds that hit the tail boom hit the main support and put an exit hole in it the size of a basketball. I pulled so much collective that the low RPM warning audio came on. I regained my composure and lowered the collective to gain RPM and speed. We made several gun runs on the suspected locations of the ambush. We left the area and re-fueled in route to Phu Bai. That's when I discovered the damage.
When we landed, their was a West German news crew filming our arrival. This was the Discovery Channel segment of me getting out of the Cobra. I think the hovering Cobra was O'Connell. Vickers and O'Connell were in the other shots with me. We exhibited an attitude because we were getting the shit shot out of us daily and we were running out of luck. We all took hits daily. I sure would like to get the total film of that scene. Maybe The Discovery Channel still has the outtakes that were not used.
It was only a few days later that Quang Tri fell to the NVA and the mixed civilian and military convoy was attacked on Route One with devastating effectiveness. Weeks later as the ARVN counter offensive to retake Quang Tri did we see the massive destruction of that convoy. I know there were some news articles written about that tragedy. We knew that the unit we tangled with in the ambush was the NVA unit that did the ambush on the Civilian/ARVN convoy a few days later. (see more photos in the Wayne Moose slide show)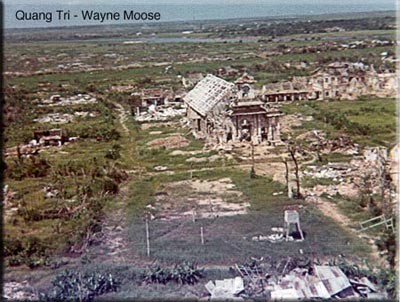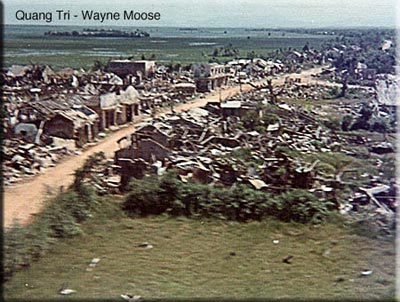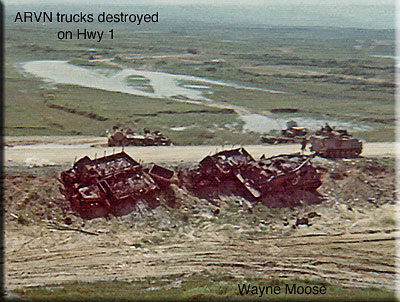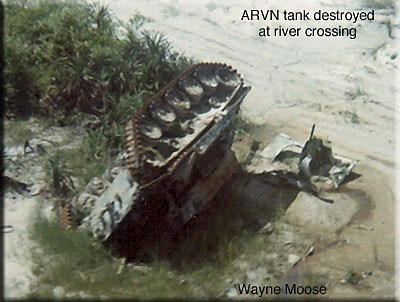 Major Spencer; our Troop Commander was quite a guy. He experimented with door mounted mini guns and even a .50 Cal Machine gun. I do not know what ever became of him after he DEROS'd. Pappy again has more info on him. Pappy flew right seat on several missions with him.
When Quang Tri was about to be over run, I was there on the ground waiting for a mission at the MACV TOC when this Air America Huey landed. Out of the Huey steps Ed Eneboe, a WO Scout pilot that I flew with in 1969 with D Troop ¼ Cav, 1st Infantry Division out of Phu Loi. We were both with Hugh Mills that year. Hugh was with C/16 in the Delta in 1972 but we never crossed paths.
Several days later, Quang Tri was surrounded and we had to evacuate the MACV compound. The Air Force did a great job getting everyone out. F/4 had a liaison officer in the compound, a Captain by the first name of Bruce. Pappy and I remembered his name at the Nashville reunion but now it escapes me again. Pappy or Ken will remember. He lowered the American flag as the evacuation took place. He was sure glad to get out of there. I believe he went home early right after that.
The re-taking of Quang Tri was a massive undertaking. The ARVN military used their three best divisions, the 1st ARVN Division, the Airborne Division and the Marine Division and most of their elite Ranger Battalions. I can still remember long columns of troops moving up both sides of Triple Nickel, Route 555. It was a real waste of the backbone of the ARVN military. They should have by passed Quang Tri and just starved the NVA out. It was a political move to re-take the provincial capitol and a waste of lives. I will never understand that mission.
James R. McQuade, F/8 sadness. I was in the middle of that action with Ken Mick and Frank Walker. It was June 11th and one of F/8 Loach's was blown out of the sky on a VR West of Camp Eagle as I recall. The crew of three were down. Ken Mick described the action very well. The one thing that I can remember as though it was yesterday was kneeling beside 1LT McQuade during the briefing to return to the area to rescue the first crew. I did not know Jim but I can still remember how young he looked and probably very new in country. We flew back to the area and all hell broke loose. McQuade was in the lead Loach with Walker covering his wing. McQuade was taking heavy fire but kept flying toward the still burning first Loach. He was determined to get to the downed crew.
As he approached the downed Loach, his aircraft exploded and crashed almost on top of the first downed Loach. McQuade was fearless and paid the ultimate price. That was true bravery. We must have located a Regimental unit or higher. We all began firing our rockets all around the area where we were receiving fire. Enemy fire seemed to be coming from all around us. We expended all our basic load and had to retreat. We were going to attempt another mission but the area was just too hot and darkness was setting in. I don't know if those five brave crewmembers were ever recovered. I don't know if I could pin point the location after all these years. It was a sad day. This may be the memorial with the five Cav Hats. I believe we were all impacted with the DFC.
Navy Jet Crash. We were flying up the beach parallel to Triple Nickel (Route 555). Out of the corner of my eye, I saw this big splash out in the South China Sea about a half-mile out. I suspected it was a fighter splashing into the drink and looked up to see two chutes coming down. The Scouts with the Cobras right behind went out the lend a hand. The pilots were OK and a Destroyer came over and got them out of the water. They were OK.
We all worked with Sandy/A1E1's and Jolly Greens. I vaguely remember a pilot recovery one-day. I recall a reference to dropping knock out gas and a recovery of the pilot. Once the recovery was complete, the SAR (Search & Rescue) team departed and I never knew the outcome.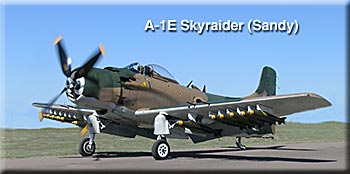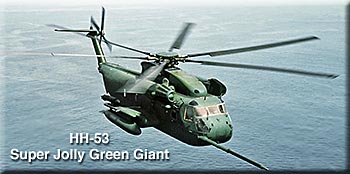 Ron Radcliffe was a special guy. A real hero's hero. It was a real blow to the Troop moral when he was wounded and was evacuated to the States. He always said that he was too smart to got shot. I sure miss him and wish he would come to one of the reunions. He was Army Aviator of the year and deserved a CMH for his actions with the NVA tank where he dropped a grenade down its hatch.
Ripple fire behind lines. One of our favorite things to do at the end of almost missions was to ripple fire our rockets behind enemy lines. The Cobra's were all nap of the earth at this stage of the war and we would pull our nose up and ripple fire all we had two or three clicks behind the lines. I don't know if we ever hit anything, but I am sure we scared some NVA units.
Arc Lights were very plentiful during the Easter Offensive. We saw more and more Arc lights as the ARVN took to offensive to retake Quang Tri. I recall early on before the fall of Quang Tri that several went in out by Cam Lo west of Dong Ha. An ARVN Armor unit was in heavy contact and at least 4 arclights went in less then an hour. We were not sure which direction to work our VR that day. Lots of fireworks.
The last mission that I flew in late September was a VR up the beach. It was my last mission of my second tour and I was nervous about completing it in one piece. I don't recall who was on the team for that mission. The two scouts had been working for 30 minutes or so and I could tell the lead Loach was taking fire but he wasn't saying anything to me. I asked him if he was taking fire and he said Yes. His door gunner was returning fire and I was already in bound firing rockets. We shot the area real good and returned to Tan My base. A day or two later the ground advisors in that area brought us word that we got 17 KBH. A great way"