This is a Memo that I wrote in my notebook as a later reference for writing awards for the incident.
Crewmembers: AC Bruce Wood, Pilot Howard Anderson, CE Sidwayne Collins, Door Gunner Kenneth Wilson, Rescued man Arthur B. Lyon
Click on the link below to go directly to the related news article
Tropic Lightning News Article Nov 20, 1967 Vol 2 No. 46
........................................................................................................................................................................

Memo: 20 Nov 1967 - Hobo Woods - Dog Team Rescue
I was leading a heavy scout team on a troop operation Northwest of Trang Bang, when Centaur 6 called and released us to help "C" Company 2nd of the 14th who were in heavy contact in the Hobo Woods. Upon reaching the area we began a high recon to establish visual and radio contact with the "Dragon Company." The company commander was trying to locate all of his ground troops for reorganization and to set up for a sweep of the woods to their Southwest. I talked directly with Dragon Charlie 6 to determine where we could safely fire without injuring any friendlies.
After we had dropped several white smoke grenades to mark the far limits of the unit, and had confirmed all locations, we dropped down to 500 feet and began to recon by fire. We drew fire once but were unable to determine the location. We continued to recon by fire and take proper evasive maneuvers. My wingman (WO1 Wood) spotted two charlies. He thru smoke immediately, to mark, and broke left. My pilot whipped our aircraft around and began a rocket run. The smoke was about 150 meters from the known friendlies so I said "Hit it!". He fired one rocket and made a direct hit on the trench near the smoke. My door gunner raked the trench while I hit it with the mini-gun. We broke quickly so as to not over fly the target.
I told my wingmen that I would pick up his wing and for him to strike at his discretion. He elected to make one pass without any heavy ordinance to be sure the friendlies hadn't moved in any closer. It was then that he spotted two bodies. The bodies were 50 meters to the South of our firing. I went in low and checked. They looked like american troops. I called Dragon Charlie 6 to reconfirm the location of his point element and see it he had all personnel accounted for. He wasn't sure. My wingman spotted a dead scout dog on his next pass. I had a sick feeling that some of our stray rounds had zapped them.
We dropped smoke several times trying to direct ground troops to the location. We had faint hopes that one or both might possibly still be alive. We made lower and slower passes to check the bodies closer. The web gear and weapons appeared to be missing and the bodies appeared blueish. they were dead. The ground troops were on the right track so we broke off to escort a Chinook who had been calling me for cover. This was about one mile away. After the Chinook was safely down. We returned.
My alert wingmen managed to spot a wounded G.I. who was half hidden on the edge of a wood line. I circled and spotted him also. He was in a bad spot. After reporting to Dragon Charlie 6 we began to screen the area around the wounded man. I estimated that it would take about thirty or forty minutes for the nearest ground unit to rescue him. My wingman called and asked for permission to land. Since he had the strongest aircraft and two hundred pounds of fuel less that myself, I told him he could if all of his crew would volunteer freely, and that they understood that even if they could manage to land in the wooded area that they might not be able to get back out.
Without hesitation they shot an approach to a small cleared off area. Unfortunately the closest landing area was 150 meters away from the wounded man. Even before touchdown the crew chief (SP5 Collins) jumped out and ran to his aid. The extra weight out of the aircraft enabled my wingman to hover above the scrub trees to better cover his crew chief. While doing this he also maneuvered to a closer location; one which was better for take off also. I continued to fly close cover with my mini-guns and door guns trained on possible enemy positions. The rescue aircraft crew chief provided cover on the take off while he was catching his breath.
The aircraft commander made a most difficult and commendable takeoff out of the confined area. No fire was received during the pickup. The coolness and professionalism demonstrated by the crew in the Viet Cong's own backyard is worthy of an award of valor for each man.
Side Note: During the rescue, and out of no where, another helicopter tried to cut in and make the rescue himself right in the middle of Mr Wood's final approach. Nearly botched the operation. I chased him off. Some VIP looking for a medal no doubt. If he had contacted us and given me the status of his aircraft, we could have used him in the rescue. They may have been well intended, but certainly not smart.
I put Wood and his crewmembers in for valor awards.
Bruce Powell, Centaur 20
...........................................................................................................................................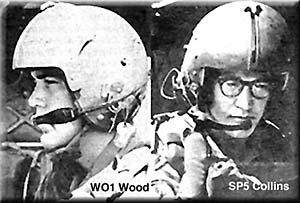 Nov 20, 1967 Vol 2 No. 46

Chopper Finds, Rescues Wounded GI
By SP4 George Hairston
AC WO1 Bruce Wood, Pilot WO1 Howard Anderson, CE SP5 Sidwayne Collins, Door Gunner SGT Kenneth Wilson, Rescued man was PFC Arthur B. Lyon of the 2nd Bn, 14th Inf
Circling 300 feet above the HoBo Woods, 54 kms northwest of Saigon, the crew of a 25th Div gunship spotted a wounded man in the dense jungle below.
Rolling in for a closer look, the aircraft commander WO Bruce Wood of Fresno, Calif., from Delta Trp (Air), 3rd Sqdn, 4th Cav, scanned the terrain.  SP5 Sidwayne D. Collins, the crew chief from Pennington, Va., spotted the infantryman waving his arms.  Collins threw a smoke grenade signaling that he had spotted the wounded man.  "He looked seriously wounded, but he managed to drag himself into a small clearing," Collins said. "Then he threw a smoke grenade to mark his position for us," he continued.
Circling the area five minutes before the sighting, the gunship had received several rounds of automatic weapons fire.  The wounded man, PFC Arthur B. Lyon of the 2nd Bn, 14th Inf, was also under fire.
The gunship fired rockets and miniguns into a trench where several VC had been spotted. Lyon killed one VC himself.
This is remarkable as Lyon had crawled and pulled himself through thick underbrush all night after his ambush patrol had suffered heavy casualties.  He had been wounded in the leg, lost a great deal of blood, and was unable to walk.  In the face of imminent danger from point blank enemy automatic weapons fire, Wood took control and eased the helicopter into a clearing 100 meters from the wounded man.  Before he had a chance to ask his crew, they all volunteered to go in after Lyon.
"I was proud of my crew and especially Collins who said over the radio that he insisted on going to get Lyon," Wood said.
The next three minutes were critical.  Wood maneuvered his ship among the trees at a three-foot hover.  WO Howard Anderson, the pilot from Marathon, Fla., said, "The landing zone was small and full of stumps and small trees.  We could not land the craft."
The door machine gunner, SGT Kenneth Wilson of Rosamond, Calif., gave his M-16 to Collins who had volunteered to get the wounded man.  Wilson said, "Collins was gone a minute or so into the thick brush, then he came back carrying Lyon.  He could have beaten the 4-minute mile easily."
Covering Collins, Wilson scanned the brush looking for signs of the enemy.
After Collins carefully placed Lyon in the ship, Wood and Anderson coaxed the helicopter up over the tree tops, the skids dragging branches.  The ship was carrying more than its normal load.
The Delta Trp gunship carried Lyon to the "Tropic Lightning" Div's 12th Evac Hosp in Cu Chi.  The trip took five minutes.
Wood said, "Lyon thanked us for rescuing him.  He didn't really have to.  I got all the thanks I needed when I saw the expression on his face after we picked him up."