Photo Story "Hog Mower - Jul 1967"
Terry Vaughn, Bill Whitmoyer, Steve Sanford, Dave Bossory, Rick Arthur, Willi Williams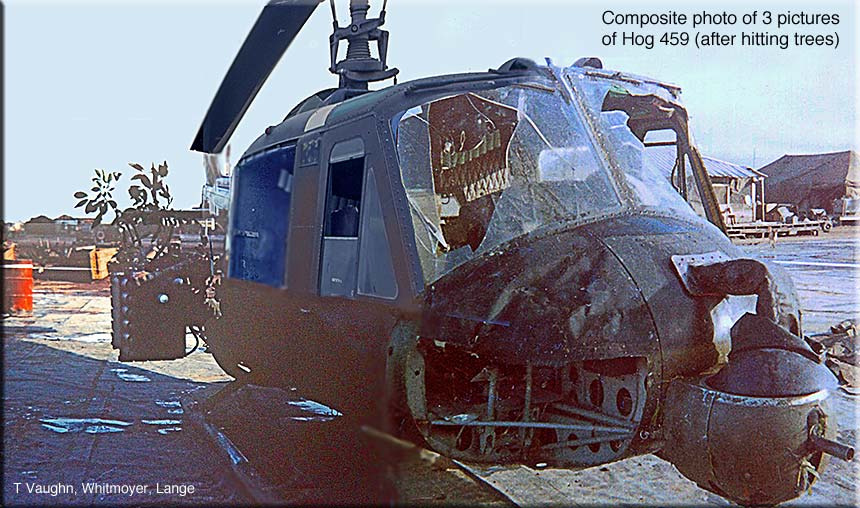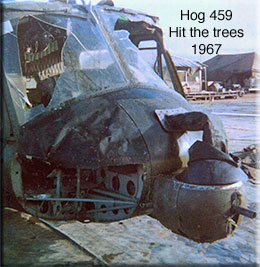 The small photo on the left from Terry Vaughn is combined with two other photos (not shown) to create the composite photo above (a photo from Bill Whitmoyer showing the rocket pod with tree branches sticking out and one from TJ Lange's 462 to make the top of the helicopter).
Normally we use a collection of story snippets (text) to create a more complete story. With this example a collection of photos is merged with Photoshop to create a more complete photo of the damaged Hog.
We do not have a photo of the severely damaged rotor blades or internal firewall damage. Until we do the photo parts from 462 will have to do.
Rick Arthur provided the Accident Report:
Accident Report (case number: 670718071):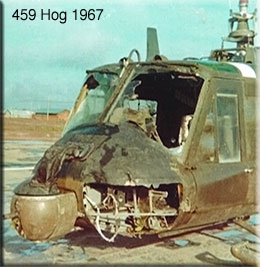 Information on U.S. Army helicopter UH-1C tail number 65-09459, Date: 07/18/67
The Army purchased this helicopter 0266 costing 11575
Total flight hours at this point: 00000807
Crew Members:
AC O2 SANFORD SD
P W1 COCHRAN GC
CE E5 LANGSTON DR
G E3 BOSSORY DM
Accident Summary:
While flying as wingman in a light fire team escorting a dust-off, the co-pilot observed enemy tracers during a turn. Coming out of the turn the crew chief warned the pilot of trees. Observing the trees, the pilot flared and pulled pitch while continuing into and through the trees. Weather was considered a factor because of light haze, ground fog and darkness.
Dave Bossory: The mentioned ground fog / haze was a CONSIDERABLE factor.  Seems like yesterday,  this kind of thing has a tendency to stick in your mind!
Rick Arthur: I remember walking out to the flight line as you 'all landed with this. As I recall there was only one of the four tail rotor control pedals remaining functional. Lt Stanford explained he put one foot in front of the pedal and one behind so he could push and pull to keep tail rotor control. Don't know why he hovered into the Corral that way instead of landing on the runway?
Dave Bossory: Please see attached (below) [attachment lost], somewhat accurate, but does not come close to painting the picture!  (CPT Wilde had me write the initial accident report ).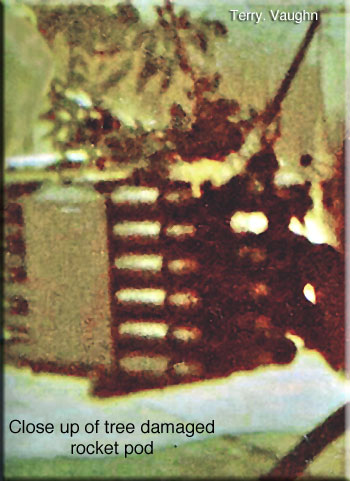 Terry's photos are accurate, however it's unfortunate we didn't take any photos of the rotor blades, that's where you can see how luck and a good airframe were with us that night! 
Willi Williams: On that night 461 and crew were flying wing for the hog. I think we were on counter mortar when we got the call to go support some APC's and tanks that got hit really hard on the MSR around GoDaHa. I do remember the low clouds forcing us to work pretty low. I also remember having to dodge flair canisters. Some would burn all the way to the ground others wouldn't. We came close to several flairs (at least I thought we did) and we were looking for those little yellow and green ball called tracers while looking for spent flairs also. About the time the Hog hit the trees we had spent most of our ammo and were able to do a "gunship medivac" of to tanker guys that were severly burned due to a RPG hit to their tank. I do remember going out to the flt line the next morning and seeing branches stuck in the fire wall and thinking how lucky they were just to make it back.
Bruce Powell- 9/13/12: Willi (deceased), I don't remember Lt Sanford as a team leader. Could you have been flying in lead ship instead of wing? Any recollection of your pilots?