Photo Story Cobra Revetment Crash - Jan 1969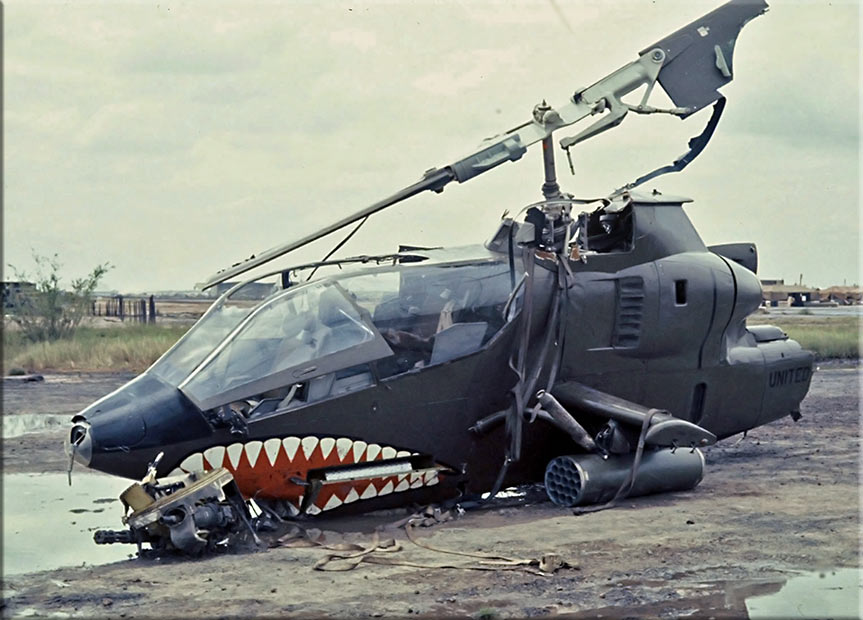 This photo came from the Craig Peterson Photo Album img 2 of 31.
Dale Dow reports: If the VHPA list of helicopters is correct, that is AH-1G 67-15554.

On 25 Jan 69, a test pilot and mechanic from E/725 Maint were called over to D-3/4 to check 554 for "RPM bleed-off" that had been written up by the Centaur pilot. The maintenance pilot decided to give it a test flight. Because of wind direction, the pilot elected to hover out of the revetment. The ship started turning to the left and tried to control with the pedal. It didn't work and the ship started rotating to the right. After several 360 degree rotations and bleeding off the RPM, the ship settled 20 feet to the ground. The left side struck the ground, damaging the left skid, gun turret, rocket pods, and "sync-elevator".
Not sure why the accident report didn't mention the loss of the tail boom.

554 was sent to Texas shortly after. It returned to Nam in Nov 69. In May 1970, 554 was destroyed in a mid-air collision and both pilots were killed.
Tom Meeks and Moose Marcinkowski verified that this was not the Cobra that they crashed in (Aug 1968).