A very common and necessary thing that occurs heavily in every war. Tell your remembrances below..
Powell, Siegel, Brosh, T Vaughn, Bacon, Alto
also see LRRP Scrounging War Story
………………………………………………………………………………………………………………………………………
Bull Hull (Apr 2012): I know we did some strange things to stay sane and we used some strange things to just get by but I thought this might remind us of a few of those antics. I recall buying a case of kotex to use to clean the M79 barrel. Of course I have no idea how a pallet of plywood from the Air Force storage yard in Saigon got on my truck.
I think we each have some 'interesting' stories of our endivors that may be of interest if not embarrassment. Now that the statues of limitations have run out. I recall having my cousin in the Air Force fly in some Swisher Sweet cigars from Hawaii for Frank Delvy when the  PX ran out.
Bruce Powell (Apr 2012): Ever wonder where that nice 3/4 inch mahogany plywood came from that was used to build the cabinets in the flight ready room? (new area between Opns and Flight line). In early 1968 SGT Chapman (Motor SGT) and I, with some of his crew, took a 5 ton truck (may have been 2 1/2 ton), over to the Cu Chi Lumber yard in the middle of the night, busted the gate lock and crow barred a whole pallet of plywood of off a big stack and down onto the truck. Almost lost it in our panic hurry to not get caught. When we got back and discovered the next day that it was Mahogany, I got very nervous. Several nights later the lumber yard burned down during a mortar or rocket attack. That gave me the nerve to uncover the hidden plywood and begin building. I would have made a poor thief.
Mike Siegel (Oct 2012): Bruce, This series of emails jogged my memory a little bit.  Wasn't there a night of visiting another O club (possibly some adult beverages consumed) and all of a sudden "D" troop was plus one small truck (Can't remember what they were called but it was like a big pickup).  My fog lifted a bit to reveal that you just may have had something to do with the acqusition, and that there was some rush the next morning to paint our unit ID on the bumpers.  Do I have this somewhat correct?
Bruce Powell (Oct 2012): Mike, I wish I could remember. I faintly remember finding a regular jeep. I thought Dallas St John stole it on his Saigon scrounging trip. 
Bill Hull (Apr 2013) :  Then there was SSG Graziano, Supply Sergeant. Initially he was a bit imposing but I learned from him that he saw his job as to take care of HIS people, that meant the whole unit, every man in it. For us supply clerk it meant that his job was to train us to do his job, to replace him if needed. We learned by rote but were expected to think. I won't say that we broke any 'rules' but we did bend some to accomplish the mission, to get what the unit needed. Maybe that is where I learned the art of 'scrounging'. SSG GRAZIANO prided himself in taking care of the unit and the people in it.
Joe Brosh (Dec 2013): Bruce,  Yes that appears to be me (below pic). i think this is the only trip I took off post because I didn't have a slot opening in Armament, so I was driving jeep for the CO; Anyway several of us took a ride to Saigon on the supply truck with one of the cooks? The booze and a box of oranges went to a lady while we waited in the back. The Vietnamese kids were jumping around yelling at us. I gave a fistful of piaster for a zippo lighter, and the kid laughed in my face " you gave me way more than I would've taken"! Yeah it brings back memories!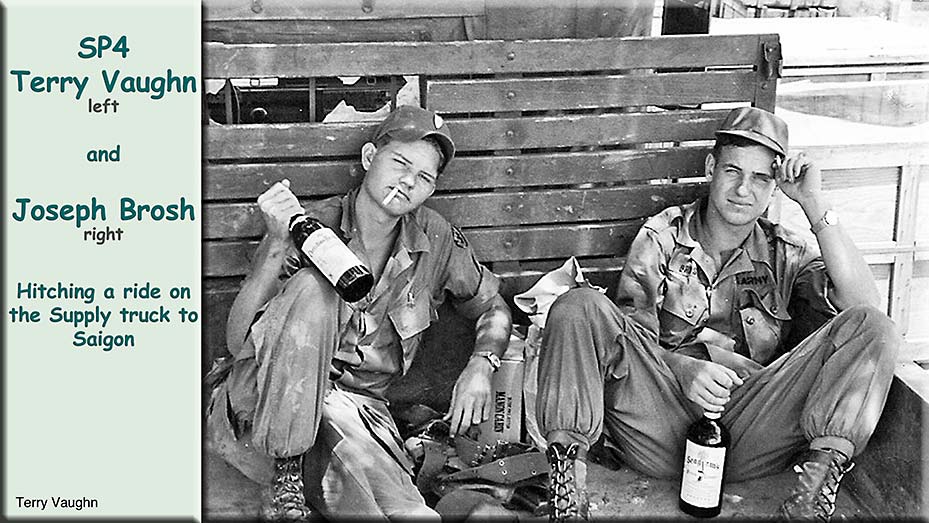 Terry Vaughn (Dec 2013): Bruce and Joe,
As I recall.....This was a scrounging trip organized by SGT Chapman, the motor pool Sgt...He took me as one of the drivers, we took 2 Duce n a half trucks to Siagon..(Unknown where in Saigon)....As I recall we came back with several cases of steaks (maybe that's why the cook was there?) and a conex of beer....Schlitz I think.....
Cary Bacon (Jan 2016): I seem to recall Chu Chi was closing down in November - December 1970 and a few of us were sent ahead to Long Binh Compound Camp Frenzell-Jones to hold down our the real estate. I went on a quick R&R and came back to the unit pretty well moved in.
Back in Chu Chi the engineers left a lot of materials that some of we shady characters managed to through in vehicles like Huey's etc. The PX lights looked good in the new digs.
John Alto: For sure the world class "resource king" of the early years was Bob Dunbar.
I remember Bob coming into the compound with huge mega a watt diesel generator he conscripted from the Air Force in Saigon. Col Pete was so nervous he was going to get in hot water for having a huge generator, bigger than Division headquarters, that he had us stay up most of the night painting it Army green over the Air Force grey, and creating a US ARMY decal.
Cut loose Bob, it is important, and do not forget the pig which I have pictures of!
Bob could turn a captured weapon into a container full of beer. trust me