Once in a while everyone messed up. Sometimes funny, sometimes near tragic.
Jack Nemeyer tells about Rat Pack gun support getting a little too close.
………………………………………………………………………………………………………………………………………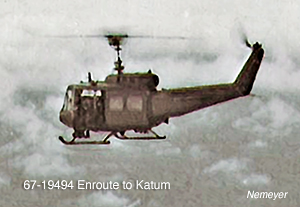 D-Troop was called for a night extraction of a LRRP team somewhere North of TayNinh (?). The Gun Cover was the "Rat Pack" (187th Assault Helicopter Company) out of Tay Ninh . I they may have had a Cobra with a 20mm cannon.
Our slick 494, with SP5 Robert M. Johnson as the Crew Chief, was in the LZ on the extraction when Rat Pack rolled in and shot up their Tail Boom.
As I understand it Rat Pack was ordered not to do any night covers for a period of time after that incident .
Years ago I located the Rat Pack website and left a message telling this story on their "Guest Book". I got a couple replies but nobody fessed up to the incident. Maybe one of our pilots can recall what happened that night and give a few details.
Thats why 494 has the really ugly Tail Boom! Its not a good gloss finish; stands out like a sore thumb . The finish on the replacement boom was OD , but a flat finish and the color was way off. Wax didn't help either; turned it all white because it was too ruff to buff.
D Troop; TAIL NUMBER: 67-19494; PURCHASE DATE: 1168; BEGIN IN UNIT: 6812; BEGIN HOURS: 0; FINISH IN UNIT: 7010; FINISH HOURS: 2048; TOTAL HOURS: 2048; REMARKS: My Page entry shows that Sergeant Calvin Williams was crew chief for UH-1H Huey "Slick" #67-19494. Military Aircraft Serial Numbers—1908 to Present for 1967 shows: Bell UH-1H Iroquois 67-19494 converted to UH-1V [served with California Air National Guard]. Currently undergoing restoration at Gillespie Field, El Cajon, California, in preparation for static display at the San Diego Air & Space Museum. MASN for 1967 shows: Bell UH-1H Iroquois 67-19494 converted to UH-1V.