The Engineer - KIA - 15 Aug 1967
Bryan Bledsoe, Bill Whitmoyer, Tom Fleming
Bryan Bledsoe OH-23G Helicopter Crew Chief 1966-1967
I was the crew chief/door gunner in the right seat assigned to the OH-23 that WO Walt Baum was piloting. A Captain, from the Engineers, with eight days in country was in the other seat. We flew along the highway toward Tay Ninh and then back through a free fire zone. We were the lead helicopter and I believe the helicopter following was piloted by CPT Joe Stephenson.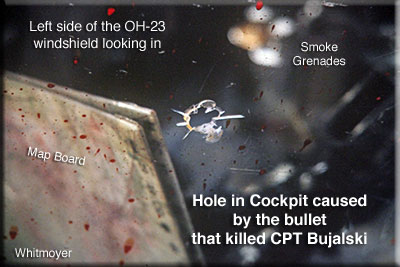 We spotted several Vietnamese looking up at us in a rice paddy and they took off running into a tree line. We dropped down and hovered at about tree top level. I couldn't see any of them and then I heard a loud pop. Glancing to the left I saw the Captain waving a .45 pistol in the air. Immediately the pilot said to fire in there. As I was firing the M-60 the helicopter pulled up and away. Blood sprayed throughout the cockpit. There was no way to reach the Captain, as he was in the left seat and the pilot was in the middle, to put pressure on what I later learned was a shot to his femoral artery.
I have no idea how long it took to get back to Cu Chi. We landed at the hospital where troops were lined up to be seen. I yelled at them to bring a stretcher. We loaded the Captain onto the stretcher and looking at him I knew that he was dead. At that point I am not sure that I even knew his name but I did know that he was married with two children and was a West Point graduate. No one ever asked me to write a letter to the family or give an account of what occurred. It was only after my tour in Vietnam ended and I was assigned to a small base near Pittsburgh, PA where I participated in many military funerals as a member of the Honor Guard, that I realized the importance of closure to those families.
In 2006 I received an email from one of the members of the ¾ Cav Association regarding purchasing memorial bricks for soldiers that were killed in our unit and it took me back to this day in 1967. I had previously tried to figure out who the captain was but had been unsuccessful. I stayed up most of the night Googling and finally found "West Point graduates killed in Vietnam". It had a spreadsheet of all 333 West Point graduates killed in Vietnam.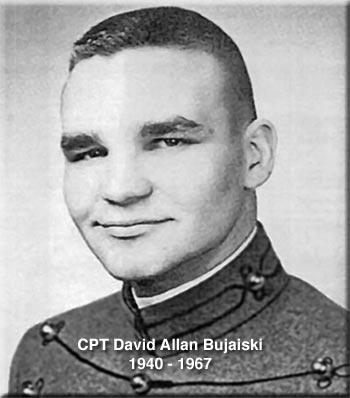 At that point I couldn't recall the exact date so began sorting by year, 1967, and rank, captain and cross referencing with the Wall records. There were 30 and then I found David Allan Bujalski serving with the 65th Engineer Battalion 25th Infantry Division who was KIA on August 15, 1967. Looking further on the West Point site I found a eulogy that confirmed the circumstances of his death and I knew he was the one I was looking for. I contacted the man who wrote the eulogy and he told me that a brother had also graduated from West Point.
Ultimately I communicated by email with his brother who put CPT Bujalski's former wife and children in contact with me. In addition, I was able to answer some questions that a young grandson had in regards to the death of his grandfather.
On March 27, 1968, a sports field at Fort Huachuca, Arizona was dedicated "Bujalski Field", in his honor.
Bill Whitmoyer: OH-23G Helicopter Crew Chief 1966-1967
I don't recall the date, but I do recall it was within the first couple of months that I arrived in country (Jan 67 - Jan 68). One of the routine patrols we maintained with the OH-23 was to fly perimeter patrol in the morning and again in the evening. These flights were often uneventful and routine as we typically found ourselves flying at higher altitudes seldom going lower except to check ground activities or unusual movement. With only our personal weapons aboard the aircraft, we were limited in any offensive actions we could take.
On the day in question, as I was getting my aircraft ready for flight, Walter Baum the pilot, asked me if I would mind giving up my seat to an officer (I think he was an engineer) that wanted to ride along. I obliged and went to work on the flight-line.
Sometime later, there was a buzz in the maintenance shack that an OH-23 had taken a hit with someone killed and that it had just landed. I immediately stopped what I was doing and began walking/running down the flight-line where I saw my aircraft sitting in its bunker space with rotors barely moving; it has just landed with Walter in the pilot's seat. From a distance I could see the bubble was bright red and as I got closer to the cabin area I saw the cover of blood over much of the interior…it was a sickening smell. There was a bullet hole in the front of the bubble, to the left of the pilot. I asked Walt if he was OK and he said yes but he had little else to say. Others began to group in the bunker as he exited the aircraft.
I recall it took me the better part of two days to clean the cabin area and probably another week to get the remainder of the blood from the cracks and crevices in the cockpit. I will never forget the smell of dried blood as I cleaned the inside of the bubble and from the cabin area. It was shortly after that incident that it was decided to arm the OH-23s and while we were still primarily used for observation purposes, with a skid gun, a door gunner with a M-60 and another individual with a M-79, there was a sense of more control and purpose when flying our missions.
I wasn't the author of flying Engineer Officers on First Light MSR Surveillance mission (another program that didn't work).  When I first arrived I heard the grumbling from the pilots that they were just taking up space getting Air Medal time.  That all came to an abrupt end when one of them flying with Walt Baum was told to fire on a VC who Popped up on his side in the free fire zone by Trang Bang. Apparently the Engineer froze letting the VC shoot him hitting him in his femoral artery.  Walt raced him to 12th evac, but he had pumped out all his blood on the way there. The first I knew of it was in the Corral an OH-23 was landing and its bubble was all opaque.  I walked over and was about to chew the pilot out for painting up the bubble like a clown ship when I looked in the cockpit and saw Walt sitting there shaking with blood dripping off his face I backed off and got some crew chiefs to help him out and clean up all the blood that had splattered all over the inside of the bubble.