Some had experiences with this tracked vehicle in Nam, used as a ground weapon rather than the Anti-aircraft role that it was designed for.
Two 40mm Cannons, One 7.62 Machine Gun, Six man crew, 45 mph, 100 mile range
20.8 ft long, 10.6 ft wide, 9.3 ft tall, 24.75 tons ………………………………………………………………………………………………………………………………………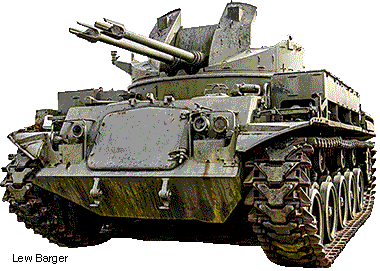 Lew Barger: I remember flying cover over a Duster mission after we had discovered a concrete bunker, out on the edge of the Iron Triangle.
The Duster guys said they could take care of that with no problem. We, not thinking at all apparently, flew out in front of the Duster and damn near got shot down by the rounds and chunks of concrete ricocheting from the bunker. They took it down to the ground in about three or four minutes.
Pat Eastes: One night or early morning, taking off from the Arm Pit, a duster on the preimeter opened up right in front of our nose. They probably fired for a couple of seconds, and it was clear that 40mm tracers were a LOT bigger than AK or 51 rounds. We were barely missed, and thoroughly scared. I don't know if the gunner on the duster was drunk, incompetent, or mad at Hueys, but he sure got our attention.
Bruce Powell: In our many days of gunship convoy standby at Go Dau Ha we were able to chat with the crews and play with the Duster that was often also on standby at the Northwest corner of the dirt airstrip. Below is a photo of Rick Arthur in one.