Bruce Powell, Bob Taylor, Tom Meeks
Additional mask info in this pdf file: http://www.wood.army.mil/ccmuseum/ccmuseum/Library/Masks_History.pdf
also see Gas Mask - Ground Operations
.......................................................................................................................................................................................................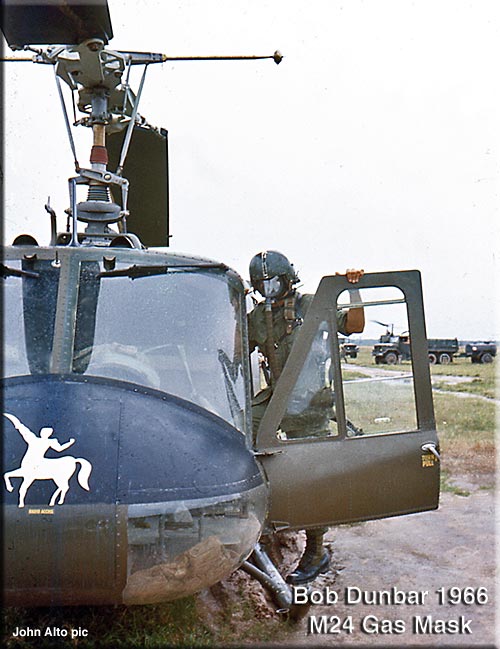 In the early years, Centaurs were provided with the U.S. Army M24 Aviator Gas Mask. Do you remember having or flying with one on?
Bruce Powell: Mid 1967 or so, during the Pacification period, we were not allowed to fire from our gunships unless fired upon. You pretty much needed to come back with a hole in the aircraft to prove that you were engaged. The VC knew it and quit firing at us so as not to give away their positon or to bring our wrath upon them.
This was back in the day when scouting and recon was being done by two Huey gunships. We began experimenting with CS Gas grenades to flush the VC and hopefully start a fire fight.
It was the low bird, usually a Heavy Scout covered by a higher Heavy Weapons gunship, who had the job of collecting a bullet hole so we could shoot things up. The term "Magnet Ass" was often used to describe the successful lead aircraft. I was very proud of my collection of bullet holes.
When CS grenades were used we usually kept up some airspeed to stay out of the gas. Nobody liked to have to use the Gas Mask. It was hard to get on and uncomfortable. I can't remember how we were able to talk over the radios, but the manual says it did have a mic jack.
One day a Major from higher was sent with me and my crew to observe this seemingly silly tactic from the low bird. After finding a suspicious area I circled back and told my crew to mask up. We had been practicing this, just for this occasion. Everyone put their mask on. The Major did also, but it was apparent that he had never had one on before. I came to a very low hover while both the gunner and crew chief tossed CS grenades into the dense foilage below. The idea was to hover and use the rotor wash to blow the gas down fruther into the foilage; which it did. However, it also immediately sucked it up into the aircraft. This turned out to be not a good tactic. Had we not practiced with the masks we would have been in real trouble; like the Major was.
We did draw some fire but could not do anything about it because we had to get the Major back to 12 Evac Hospital, frequently crabbing the aircraft to help blow the damn smoke out. We never told him that a couple of us had mask leaks too or that we had never tried the "hover" thing before; so I'm sure that his report strongly recommended that no sane person should ever fly with the friggin insane Gunpilots.
Bob Taylor: see his Agent Orange comments.
Tom Meeks: I was talking to Bob Taylor this afternoon and he nor I remember that aviation mask that Bob Dunbar is wearing. I'm not sure if what we had was the regular grunt mask or what but what I really don't remember is that oxygen hose hanging down. Maybe ours didn't have that hooked up??