Info Sheet - CPT Robert W. Simmons
Died 13 July 1995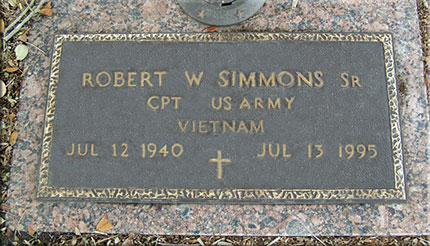 Robert W. Simmons CPT "Centaur 5", 1970, died 13 July 1995. We have no photos of him. He has been listed in our "Wanted" Memory Jogger section since 25 Jul 2019 (MJ056) - The only info we have on him up until now is "CPT 1970 Died after tour 95/06/13 VHPA". John Moore has located an old newspaper article and photo of Bob's gravestone that we have used to create a Deceased MyPage for him. Eric Brethen remembers him as the Troop XO. Terry Branham remembers him and makes comments on the Deceased Obit page. Mike Holder mentions in his reunion video that Simmons checked him out in an LOH in one flight. Surely someone will spot a photo of Bob so we can properly honor him.
DFC announced in TWS 3Aug70
https://www.25thida.org/TLN/tln5-29.htm
This information was provided by SSN deceased search
More detail on this person: Robert W. Simmons DEATHS Corpus Christi Caller-Times (TX) - Saturday, July 15, 1995 PORTLAND - Robert Williams Simmons, helicopter pilot and Vietnam veteran, died July 13, 1995. He was 55. Survivors include a daughter, Robin Simmons of Little Rock, Ark; three sons, William, Patrick and Robert Simmons Jr., all of Raleigh, N.C.; his mother, Fran Simmons of Portland; and a sister, Linda McAda of Portland. Services will be at 2 p.m. July 15 at Maxwell P. Dunne Funeral Home, Portland. Burial will be in San Patricio Memorial Gardens.
This information was last updated 08/18/2020
Mike Holder mentions him in his reunion video
SIMMONS ROBERT W
CPT Robert W. Simmons was a potential VHPA member who died after his tour in Vietnam on Theat the age of 55.0
Raleigh, NC
Flight Class 65-21
Date of Birth 07/21/1940
Served in the U.S. Army
Served in Vietnam with D/3/4 CAV 25 INF in 70
Call sign in Vietnam CENTAUR
This information was provided by SSN deceased search
This information was last updated 01/08/2023
Please send additions or corrections to: HQ@vhpa.org VHPA Headquarters
Terry Branham 25Jul2019:
to mholder2, garyjonesslt, jecraig129, Brethene, me
Hi Bruce, Mike and Jack
This is strange
I went thru my copy of the VHPA and Bob is not in there. I do believe he
was on his second tour with us and was the best XO we could ask for
He was always out there in a LOH when the shit hit the fan and he wanted to know
that his guys were being pulled out if shot down.
He was a little crazy and Mike and he were close friends and I will let Mike share
his stories about Bob. Well lets just say they shared some wild adventures
Jack, Do you remember Bob?
Eric Brethen 25Jul2019
to meI remembet Captain Simmons too. I was there 5/1969 to NewYears eve 1970. Does this fit the time frame you are talking about?