Info Sheet - Edward Woodrow Risner Jr.
Deceased 6 March 2011
comments: Bob Tegelman, John Alto & Bill Watkins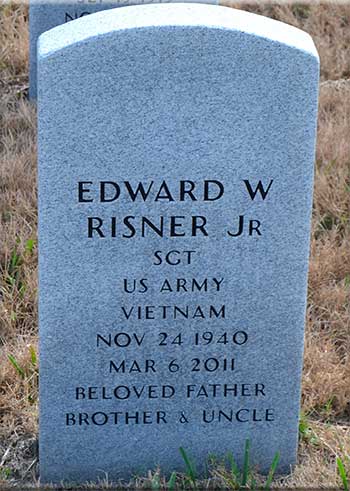 SGT, US ARMY VIETNAM - Aerorifle Platoon 1965 to Mar 1967
Edward Woodrow Risner Jr., 70, Hernando, died March 6, 2011, at Avante of Inverness.
A native of Tampa, FL., he was born Nov. 24, 1940, to the late Edward and Mable (Vance) Risner Sr. He was a U.S. Army veteran, serving two tours of duty in Vietnam. Mr. Risner worked in the automotive painting and body repair business.
He is survived by his son, Lawrence Risner, Homosassa; daughter, Karein Wright, Wesley Chapel, FL; 2 brothers: Larry Risner, Webster, FL; Dean Risner, Hernando; 5 sisters: Carol Glass, Homosassa; Marilyn Montgomery, Crystal River; Donna Stephens, Oviedo, FL; Nancy Swilley, Inverness; and Deborah Webb, Hernando.
Following cremation, Mr. Risner's urn was interred at the Florida National Cemetery.
Published in Citrus County Chronicle from March 8 to March 13, 2011
Bob Tegelman: I used to help him repairing and painting cars in Hawaii.
John Alto: See the War Story "Return to the Devils Playground".
It was his first day with the rifle platoon I think Sgt Petty had transferred him to us.
He was the only one wearing a flack jacket that day because they retained too much heat
He had it unzipped it which allowed the enemy machine gun rounds to pass through the front opening and hit the inside of the port side of the jacket which sent him spinning no blood.
Bill Watkins: Risner was in our squad and pound for pound one of the strongest people I have ever worked out with. We did workouts back by our houches. I did 20 chin or pull ups with two hands and he would do 50 one handed ones with either hand. I could do 50 one hand push ups and he would do 100. if I did 100 push ups he would do 200. I was strong but he had me beat. I really liked him a lot. He was very nice nd east to get along with.