Deceased 28 March 2018
see Obituary
………………………………………………………………………………………………………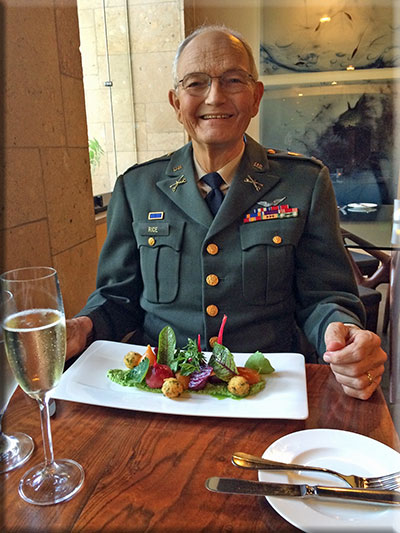 Charles M. "Charlie" Rice: 1LT Light Scout Section Leader 1968 has passed after an unbelievably long battle with prostrate cancer.
In January of 2002 Charlie was told that he had 2 or 3 years to live (Prostate Cancer). He and his wife Shellie, both being strong willed fighters (he was a SWAT Team Lieutenant and she was the teams Hostage Negotiator), decided to not let this cancer take him down. Over the years they both became experts in this field and managed to give Charlie 16 more years of life. The cancer led to a brain tumor discovered in 2015. It took a combination of the two to finally take him down on 28 March 2018. A book should be written about this amazing story of mental strength and will. He was 72 years old.
Charlie had a Home Funeral and was then cremated. His wishes were that if anyone wanted to do anything for him that they would just do a Random Act of Kindness to some one; no flowers or donations.
Here is a quote about Charlie from the book Winged Sabers "The Air Cavalry in Vietnam" by Lawerence Johnson III, page 34:
"In D-3/4 Cavalry, only one aeroscout pilot survived six months, while Charles M. Rice, of the same platoon, may hold a record for number of forced landings on a Loach - nine, including six to hostile fire!"
Please send any Eulogy comments for his InfoSheet.
May God rest his warrior soul.
Moose Marcinkowski: Charlie (Crash) Rice. Another young dynamic officer. Always ready to take any mission and do an excellent job. He did have a tendency to wind up on the deck either due to enemy fire or aircraft troubles. Didn't bother him. "What's Next?" As he was getting short we sent him to Vung Tau for a few days to relax. We sent an aircraft to pick him up and wouldn't you know but they had to make an emergency landing outside of Cu Chi thereby keeping his streak alive. Scouts always had more fun and he embodied that attitude with Taco nights and frying pizza in their hootch. He always had a positive mental attitude which I think helped him in his fight against cancer.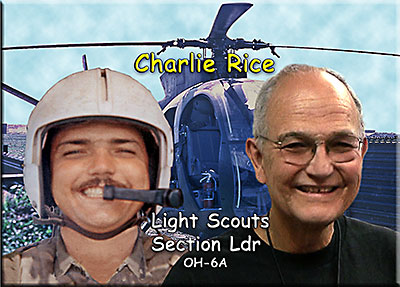 Rice, Charles M. USA, CPT
Flight Class: 6720
RVN: 68-69 DTRP 3/4 CAV 25th INF DIV
Awards: SS, BS, PH, AM, CM
Callsign: Centaur 11
Charles "Charlie" Rice passed away peacefully in his home in Napa, CA surrounded by his loving family on March 28, 2018.
Charlie was born on August 2, 1946 in Oakland, CA. He was a military brat and graduated from Kalamazoo Central High School in Kalamazoo, MI in 1964. He returned to San Jose, CA to attend college.
Charlie enlisted in the U.S. Army in December 1965. He trained as a 67W20 crew chief and mechanic at Ft. Eustis, VA. He subsequently moved on to become a CH47 crew chief and mechanic then attended OCS at Ft. Knox, KY.
He served in the Vietnam War as a Scout Platoon Leader from '68-'69, then in Ansbach, Germany as Operations Captain from '69-'71.
Charlie served his community admirably through his career as a Public Safety Officer (Police/Fire) for the City of Sunnyvale from 1971 to 2002, retiring as a Lieutenant. In retirement he enjoyed wrenching on vintage cars and motorcycles, working on house restoration projects, and living each moment to the fullest with his loving wife of 25 years, Shellie Rice.