Info Sheet on Roland Royce Petty
Deceased 11 October 2007 at age 80
Bill Hull comments; America's Youngest Warriors article
………………………………………………………………………………………………………

CSM Roland Royce Petty (deceased.) submitted the following on the old guestbook forum on 08/13/2005:
"I was promoted to E-8 First Sgt. and transferred from the 25th Aviation Battalion to "D" Troop (Air) around April 1964. Stayed with them and took them to Vietnam in 1966. Got promoted to E-9 and had to leave the troop for another assignment. Col. Peterson was C.O. when I left. I attend some and most reunions now and see some of the old Troopers. We had the most troopers at the last reunion."......................................................................................................................................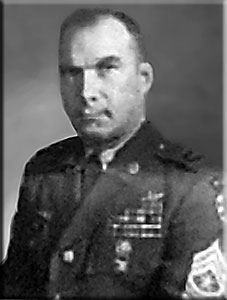 Obituary (Ft Worth, TX):
Roland Royce Petty Sr., 80, faded away Thursday, Oct 11, 2007.
Roland was born to the late William and Annie Mae Petty on Dec. 30, 1926, in Nolanville. Roland joined the U.S. Navy in 1942 at the age of 15. He served aboard the amphibious ship LCS-31 in the Pacific theater. He witnessed the two flag raisings on Iwo Jima.
After the Navy, he enlisted in the Army and in 1947 and met his beautiful, loving wife, Kuniyo. In the following years, he served in Korea with the 53rd Air Medical Detachment and two tours in Vietnam with the 3/4 Cavalry D Troop (air), 25th Infantry Division. He received the Bronze Star, Purple Heart, two Air Medals and Master Crew Member Wings, and had a total of 22 other medals. He rose from the rank of private to command sergeant major in 28 years, finally retiring in 1971.
He was preceded in death by two brothers.
Survivors: Wife of 59 years, Kuniyo Petty; children, Rumi Petty, Naomi Moller, Roland Royce Petty Jr. and wife, Deirdre, and Edwin R. Petty and wife, Nina; 11 grandchildren; 10 great-grandchildren; one sister; five brothers; and numerous nieces, nephews, other relatives and friends.
Bronze Star award listed at: http://www.25thida.org/TLN/tln1-37.htm
......................................................................................................................................
Bill Hull: "1SG PETTY was a good match for Capt Delvy. Both were harsh, fair and demanding. Fast to pat you on the back or put a boot where it would do the most good. I think from them I learned the importance of dependability; you always knew where you stood with 1SG PETTY and that as long as you did your best and took reasonability for your actions, he would have your back. Cross him and you would pay for it. He had high standards both on duty and off duty. You were a member of D TROOP and you did not discredit D TROOP."
......................................................................................................................................
From America's Youngest Warriors Vol II
Roland R. Petty
Age 16 - United States Navy
I was born in Belton, TX, on 30 December 1926. By 1943, there was a lot of pulling and picking going on in Belton, as the weeds and grass grew, the corn turned brown, and the cotton turned white. My brother William, who was a year and a half older than I, got his draft notice. William and I were very close and I couldn't see him going any place without me. So after giving some thought about how I could go with him, I unhitched the team from the wagon and headed for Temple, TX, to enlist in the Navy, because that's what my brother was drafted into. The recruiter found out that I was too young, but he told me what I had to do in order to enlist.
I soon became of age by signing my mother's name as good as she could, if you know what I mean. So, I was sworn into the Navy on 2 November 1943 and was off to San Antonio, TX, and then put on a troop train to San Diego, CA. I believe we were assigned to Company 511, but I'm not sure. I am sure that the date was 22 November 1943. I had beans for my first meal at 0530 in the morning - and we thought we had had it rough on the farm!
After boot camp, I was sent to the University of Illinois for training at the signal school and brother William drew amphibious training off the CA coast. From Illinois, I was sent to Maryland for amphibious training, then to Portland , OR, to pick up a new ship. I was assigned to the LCS(L)-31. The letters LCS(L) stand for Landing Craft Support (Large). Actually, our ship was a 158-foot gunboat whose purpose was to move in close to shore and lay down a barrage of rockets and gunfire in support of ground troops.
We sailed down the CA coast for more training, off to Hawaii for more training, and then to the hot sports which included the Marshall Islands, Saipan, Tinian, then Iwo Jima and Okinawa. I saw the flag go up on Suribachi.
At Okinawa, my ship was assigned to Radar Picket Station #1. We were to take on the Japanese aircraft before they reached Okinawa, and boy, did we ever take them on! We shot down eight aircraft, but three hit us mid-ship. I was on a 50-caliber machine gun at first, then moved to a 20mm antiaircraft gun. Of the twelve men manning guns in that area, eleven were killed in action. I was the only one to survive from that group.
The attack lasted about two hours, but the major portion of the action took place within 18 minutes. Within that short period of time, we were hit by three kamikazes and we shot down six enemy aircraft. Those 18 minutes earned the LCS(L)-31 a Presidential Unit Citation. When the attack was over, our ship was dead in the water. We were towed to Okinawa by another ship, after transferring our dead and wounded. My brother William was also at Okinawa, aboard the USS Bell Grove. He came aboard my ship to see me and to look over the damage.
From Okinawa we went to the Philippines to get ready for the big one - the invasion of Japan. One night all hell broke loose and we found out that the war was over. We went to Japan to clear mines from Wakayama Harbor, then on to Korea to collect all the Japanese small arms and take them out to sea and dump them overboard. We left Korea at Christmas time in 1945 and went to Tsingtao, China. We headed home after a stop there. We had to stop in Hawaii to replace our worn-out engines, them went on to CA. I was discharged 25 February 1946 at Houston, TX.
I stayed out of the service for three months and 20 days, then enlisted in the US Army and stayed in until 1971. During this time I served five years in Japan, six years in Germany, three years in Hawaii, two years in Vietnam, and at a number of bases in the States. I served with the engineers in Korea, switched to aviation in 1952, and played the helicopter game in Vietnam. I retired as a command sergeant major.
All of my eight brothers served in the military. Three of us served over 20 years and retired. We were represented in the Army, Navy, Marines, and Air Force. My only sister married her high school sweetheart, and he spent 22 years in the Air Force.
Roland Petty was awarded two Air Medals and earned Master Crewmember Wings in addition to the Presidential Unit Citation he received while he was in the Navy. After he retired from the Army, he went to work as a painting contractor, then into the civil service, and then back to farming. He and his wife Betty have two sons, two daughters, and eleven grandchildren. They live in Fort Worth. TX.