Info Sheet/Obituary - CW2 Thomas V. "Tom" Meeks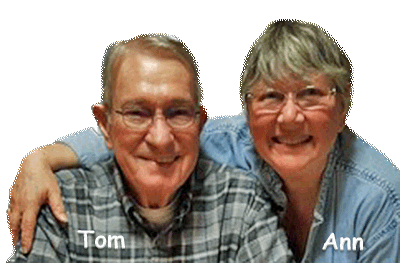 Tom passed away Tuesday 28 March 2023 on Hospice in Bremerton, WA with his wife, Ann and son Tom nearby.
Obituary: https://www.kitsapsun.com/obituaries/pbks0481470
It is with profound sadness that I announce the passing of my dad, Thomas V. Meeks, on 28 March, 2023 with his wife of 56 years and his son at his side. He was born 25 March, 1943 in Nicholls, Georgia to Thomas M and Vera (Melton) Meeks. He graduated from Bartow High School (Fla.) in 1961. He joined the Army as a private and retired as a Major. During his military career, he rose through the ranks to become a CWO and was later commissioned. He attended flight school and eventually flew helicopters. He was one of early pilots to fly the "Cobra" in combat in Vietnam. He had two birds shot out from under him and survived with minimal injury. He married Ann (Flindt) in 1966 in Aalborg, Denmark. He was the first in his family to attend college. He earned a Bachelor's degree (Cum Laude) in Business Administration from the University of Albuquerque. He retired from active duty in 1981. During his military career, he was awarded numerous commendations including Purple Heart, Air Medal (with Valor), Distinguished Flying Cross and Bronze Star among others. Civil Service seemed to be his calling. He went back to work at Fort Lewis. He earned an MBA from the University of Puget Sound. He eventually became the Deputy Garrison Commander for the base. He retired from Civil Service in 2002 only to take another position at South Com in Miami where he became part of the SES (Civilian equivalent of a General Officer) community. Ann and Tom retired from there to Beverly Hills, Florida where they built their retirement dream home. They returned to Washington to be close to their grandchildren when their son started his practice in Kitsap County. Despite all that he accomplished in his career, he was a very humble man. He was quiet and soft-spoken but when he talked, you listened. 10 years ago, he was diagnosed with cardiac amyloidosis. He received a heart transplant on March 20, 2014 at the Mayo Clinic which saved his life and made national headlines. That heart gave him 9 years to watch his grandchildren grow up. That is what truly made him happy. He is preceded in death by his parents, brother Jimmy Meeks and son Michael Lee Meeks. He is survived by his wife Ann, son Dr. Thomas (Emily), grandchildren Stephen, Madison, Alexa, T.J., sisters Linda Meeks (Lakeland, FLA.), Debbie (David) Rogers ( Bartow, FLA.), and brother Narvin Meeks (Bartow, FLA.). He chose to be cremated and will be interned at Tahoma National Cemetery with full honors on June 16, 2023 at 1430. There will be a small service for family and close friends. He didn't want people to make a fuss over him. In lieu of flowers, donations can be made to CUREMDS.org to help find a cure for MECP2 duplication syndrome.
Posted online on May 03, 2023
Published in Kitsap Sun
Interment of Ashes - 16 Jun 2023 - Centaur Thomas "Tom" Meeks Interment of Ashes took place 16 June 2023 at the Tahoma National Cemetary at Kent , Washington (Mt Tahoma) with Presidential Military Honors.
Comments: Go to Tom's Obit online to leave your condolences to Ann and Tom's family.
Bruce Powell: Tom was the closest friend I ever had. He arrived at D Troop, 3/4 Cav, Cu Chi, Vietnam in October 1967 already trained as a Gunship pilot from Flight School. I believe his was the first class that they did that with. He was assigned to me in the Gun Platoon. I felt an instant bond with him for some reason. I assigned him to Mark Schmidt, an already highly qualified Aircraft Commander, and close friend, in the Gun Platoon. Tom became an Aircraft Commander and Team Leader in a real short time. We flew together a lot and discovered that we both thought and reacted similarly in almost all situations, combat and otherwise. This was very useful and a real confidence builder when we flew as a team; particularly after we got the Cobras.
After Vietnam our bond grew. Tom and Ann were Best Man and Maid of Honor when Sharon and I were married. We went on so many adventures together and played Army Pinochle at every opportunity.
Did you know that Tom went into the Army as a Private and retired from the military establishment 44 years later as a Senior Executive Service (SES) rank equal to a General Officer in the Army. He was Deputy Post Commander of Fort Lewis at one time, and moved up from there.
I have never met a more brilliant, super intelligent and kind person in my life. It is hard for us to imagine going forward in life without him. God rest his soul.
Rick Williams: Like all of who knew Tom, I am greatly saddened by the news of his passing. We lived in the same hooch at Cu Chi for 11 months of my 12-month tour, and since we were both gunship pilots, we flew many missions together. When we were not flying, there were countless pinochle card games and lots of laughs and good times as our sense of humor was very similar.
When Tom got his new heart, he said he was going to be the first person to live to be 100 with a heart transplant. He didn't make that goal, but the extra years from the transplant were all precious to his family an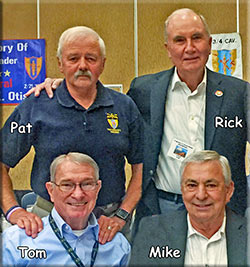 d friends. When I corresponded with Tom last year, he had developed cancer and was undergoing radiation and chemo. Tom fought both heart disease and cancer, but in the end, "Father Time" is undefeated.
We enjoyed reminiscing at reunions, and I've included a picture from the Colorado Springs reunion of Tom, Pat Eastes, Mike Siegel, and me. My lasting memories of Tom will be of a man who was a patriot, a brave pilot, and just a good person of whom I was proud to call my friend. I shall miss him.
Pat Eastes: So sorry to hear this. TV was a great guy. He got some extra time with his new heart, but it is a sad day for all who knew him. It was always fun to be around him in RVN, his sense of humor was contagious. We lost a good comrade today.
Condolences to Ann.
Tom Fleming: I am saddened by Tom Meeks passing. He was a great member of the Centaur brothehood. My thoughts and prayer go out to Ann and Tom's family and close friends. The have my most sincere condolences. Tom fought the good fight and now is with the Lord.
Mike Seigel: Terrible news about Tom Meeks, but in a way he cheated death for many years and in many ways. 
Joe Owen: Tom was a great person
We will miss his shy smile at the reunions
Rick Arthur: Very sorry to hear. Tom was a great man. I've always held him and now his memory in high esteem. He was certainly a brother in arms for many of us.
Kind regards,

Larry Patterson: Great aviator!!!
Shellie Rice (Charlie Rice's wife): I was sad to see that Chuck Johnson passed in February. I remember Charlie talking about him saying he was the nicest guy. I do remember meeting him at a reunion. Also, I was shocked to see that Tom Meeks passed.... Charlie also really liked him. He died on March 28th, Charlie died on March 28th five years prior (2018). Yes, it's been 5 years. Sometimes it feels like yesterday. Well, I truly believe both of those guys were "met" by Charlie and Bill Cirincione when they left this earth. The bond of the band of brothers never breaks...