Info Sheet - John Michael Hohman
John Hohman's LOH was shot down by enemy fire on May 30, 1969. He died of wounds (primarily 3d degree burns)
on 31 May while being treated at the 12th Evac Hosp at Cu Chi.
D Troop Aero Rifle Platoon Slick Pilot (First Tour) & Light Scout Pilot (Second Tour)
Also KIA in that crash were WO1 Thomas Earl Hays, and SP4 Larry C. Vallelonga
Comments: Charlie Johnson, Rick Arthur, Michael Banks, Bruce Karn, Jim Kreil, Steven VanRie,
Mentioned: Richard Stegner, Darrel Leland, Tom Sinclair
………………………………………………………………………………………………………………………………………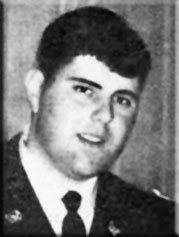 Nancy (John's wife): 3/29/14: You paid the ultimate with your life. 45 years this year and my heart still grieves for you. Until we meet again. With all my love forever
Charlie Johnson
John Hohman was a Centaur Slick Pilot/Aircraft Commander in 1966-67 and a Centaur Light Scout (LOH) Pilot on his second Vietnam tour with D Troop.

John was my first Aircraft Commander when I was assigned to the Aero Rifle Platoon the first few weeks of my tour with D Troop in June 1967. He was a superb pilot and a good man to have in the pilot seat when things got busy. He did his best to teach me how to fly the underpowered D Model Hueys with a load of Infantrymen on board.
 
One of my lasting memories of flying with John was my first night formation flight during the rainy season (of course). It was so dark I could not see the UH-1D that we were flying formation on and could only occasionally see the navigation lights on the top of that helicopter. My instinct told me that if I flew too close to that aircraft bad things were likely to happen to me. Think images of intermeshed main rotor blades, etc. John's idea of night formation flying was: If you can't see the other helicopter's NAV lights which you are supposed to use as your guide, you aren't flying close enough. Get closer and you will see the lights just fine. So, when we were close enough that John could see the other guys NAV lights I was in that pilot's flight mode roughly translated as "You couldn't drive a ten penny nail up my ass with a five pound hammer." Maybe you have had some experience with that particular flight mode. We survived that first night formation flight and others so John was probably right - but I sure didn't fully believe him at the time.
 
The world is a lesser place because of John's absence. It would be a lot of fun to have a beer or three with John and listen to him talk about how he survived all the new Centaur Lieutenants and Warrant Officers that he was given to train. I was pleased to learn that he was an Instructor Pilot back in the Land of the Big PX between tours. I'm sure the newbie pilots learned a lot from John about flying but also benefited from his combat experience with D Troop. - Charlie Johnson
Eugene Carolan - Remembering John
John Hohman was beginning his second tour as I was in the middle of my 1st and only. I was on my way to Vung Tau for Cobra transition when John came into the 3/4 Cavalry. John was 2nd tour guy. Are you kidding me! He survived flying slicks and then came back as a scout pilot, which was the most dangerous flying duty in the Nam. After my two week transition I returned to Ch Chi base camp and was told that John has been killed! Are you shi..... me! He was too good to be dead. What we heard in the unit is that his crew chief was shot and dropped a grenade inside the OH-6A and John went down in a ball of flames. He succumbed to his burns the next day. Now, he is a name on a list. A name on a black wall that few will know or care about. But, Hohman, I still remember you! You will always be with me. - Eugene Carolan
Email: ecarolan@aol.com
Relationship: Served together
Date December 11, 2011
 

Rick Arthur adds some comments about John Hohman. Excerpted from Rick's email message.
 
I knew John and flew a lot of missions with him. He was an exceptionally brave and skilled pilot. One of the best I have seen in my 30 years of flying Army helicopters.
 
I flew gun cover for some night LRRP extractions where John was the extraction slick. More than once I watched him disappear into the dark, his helicopter blacked out, landing into a triple canopy jungle with only the beam of one of the LRRPs flashlight inside the barrel of an M-79 to guide his approach. I would completely lose sight of him, tracers flying in seemingly all directions, no way for me to help him. But here he would come up out of that black hole in the jungle with all of the LRRP team aboard. We could all start breathing again and go home.
 
He was no doubt a true American Hero who lives in my mind. - Rick Arthur
 

Michael Banks adds some comments about John Hohman. Excerpted from Michael's email message.
 
I remember John as a slick jockey in D/3/4/25 while I was there. I think he arrived and DEROS'd on a schedule about two months behind mine, which was mid July 66-67. He returned to Rucker and I went to Wolters, but we kept in touch for a little while after that. I heard later that he had been on his 2nd tour when he gave it all. A sad day, for sure. Good to see his smiling face again - thanks. - Mike Banks - Centaur 38
Bruce Karn
I remember John. If I am thinking of the right person, he came to the unit from Fort Rucker of Hunter -Stewart where he had been a slick SIP. As I recall he had been married fairly recently and only had months left in the Army and was sent back to Viet Nam. He sat in my room one evening and told me about this. He was a scout pilot and was lost in the spring of '69.
He was shot down someplace up around the mushroom. He went down on fire and when they picked him up they said he had most of his clothes burned off and only had his belt and boots left. (They did not have nomex flight suits his size.) He lived a short period of time but didn't make it. He was a nice guy and it was really a sad deal.
I can't remember if he came in OH-6 qualified or if I qualified him in the aircraft. I think he was qualified but I am not certain of that. I qualified a lot of people that year. I think I have a picture of him. The picture I have shows him sitting on a cot and reading "Pilot" magazine. The picture is not labeled but I think that's who it is and what his name was. And telling you this I really hope I have the right person. Thanks, Bruce Karn Centaur 13 June '68 to June '69.
Mike, Holman was flying in what we called Loach Alley on the 30th of May, with crew chief Hayes, and a PIO (Public Information Officer) from squadron, when his ship came under fire. The ship caught fire and went down, and all were badly burned. Hayes died from his burns that day. Holman had 2nd/3rd degree burns over 80% of his body, and bullet wounds, and died the next day. The PIO had 55% burns, but I do not know what eventually happened to him. The slicks that went in to get our guys also came under fire. They restricted flying low level in that area for a while after that. Jim
Jerry Odom: I remember John well. When he got to VN he only had about 6 months left in the Army. He did not want to be there for his second tour because he had recently married. Why the Army sent him with just 6 months left we'll never know. I think the other fellow Hayes was a recently arrived WO fresh out of flight school who was flying with John as door gunner to learn the ropes from the experienced pilot. They are both immortalized in the Life Magazine from June or July which showed all servicemen who were killed that particular week. It is a very sobering statement from a very turbulent time in American history. I was on R&R with my wife that week and remember well being picked up at Long Bihn and learning of this tragic loss. When I got back to Cu Chi the pilots and crewmembers of the Scout platoon were very upset about having to still fly in Loach Alley. I told Major Laird that I couldn't in good conscious keep sending people into an area where you were almost guaranteed to be shot at. What was the point? Our job was to find the enemy and identify his location. We had done that. Now send in the troops and wipe them out. We had already B52'd the area into the stone age. Laird was not happy with me or the Scouts but the higher ups eventually decided to briefly suspend Scout missions in Loach Alley. By the way there was a reason they named this river bed Loach Alley. Jerry Odom Scout Platoon Leader at the time P.S/ I just found the information on "Hayes". His name is Thomas Earl Hays (no e) and he was a Warrent Officer.
Jim Kreil: Hey Jerry, Thanks for the clarification on Hays. I had the basic info in my diary, but the name "Hays" didn't ring a bell for me (that isn't such an uncommon situation over the last few years!), so I assumed he must have been a new CC or observer. I did have in my diary how we (scout crews) were up in arms about it.
How they should never have sent the LOH into that area with that crew. Turley and Matthews got hosed down in the Alley on the 29th, the same day T-berry and Evans got hosed in the Michelin.
April and May '69 were bad days for Scouts. What's the story on how Loach Alley got its name? Best, Jim PS, I also apologize for getting John's name wrong in my previous post. I had it as Holman in my diary, and kept writing it that way even when I now knew it was Hohman. I remember John Hohman was new in the troop in april First Lt Odom took me out then John and later Mr. Evans. That day I remember Mr. Hohman was taking out a new warrant Mr. Hays who we had just met. For some reason they took an information person with them instead of ce or gunner. I was on the flight line when the scramble siren went off. CPT Sinclair was motioning me to get in his Cobra , I did but did not have my helmet. We circled the aircraft they said two were dead but Mr. Hohman was up and about ,I thought he would be alright. He died later. there was alot of grumbling about incident from most of us. Jim Kreil ce
Sunday, February 23, 2003

 

Stephen Van Rie adds some comments about John Hohman. Excerpted from Stephens email message.
 
Mike Vaughn and I have conversed about John before. I was a door gunner/crew chief (Feb 69) but I knew a great pilot and person when I came in contact with John Hohman. The following is my thoughts on John that I sent to Mike Vaughn in 2009.
 
For the last 40 years I have been putting the Viet Nam era out of my mind. Since I have retired I have been trying to clear some things up. The person that I have been trying to remember was John Hohman. He was an IP when I first met him and I was a door gunner then. John was on a qualifying flight with the new pilot and John would say that he would put the toe of the skid right on the runway end line and he did. What this is leading to; I have been trying to remember John's name. With the information from D Troop's web page and 'The Wall' website I was able to come up with it. You see, my gunner, Jerry Ackerman and I were assigned to the Dust Off mission on the Stable Boy slick and were the ones that brought John's badly injured body back to the MedEvac Hospital that fateful day in May 1969. He died of his wounds shortly after.
 
John will never be forgotten. - Stephen Van Rie - D Troop Feb '69 Aug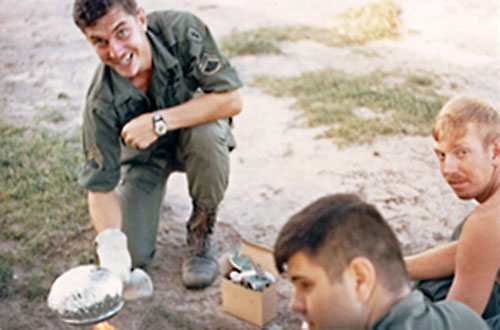 Richard Stegner
(D Troop Apr '65 - Mar '68) - Slick Door Gunner

Richard adds this photo of John Hohman (back to camera) with Richard (left) and Slick Crew Chief Darrell Leland (right) taken in July 1967.