Info Sheet / Obituary - Ronald Orr Godman

Born 21 April 1932 - Died 29 May 2010
Distingusihed Flying Cross Award - Comments from his Grandson ………………………………………………………………………………………………………
Funeral for retired SFC Ronald Orr Godman, 78, Lawton, Oklahoma was held at Becker Funeral Home Memorial Chapel with the Rev. Stanley Baker, Pastor of Northside Baptist Church and the Rev. Cliff Gravitt, officiating.
Burial with full military honors was held at Sunset Memorial Gardens.
He was born April 21, 1932 in Fort Scott, Kan. to Roy Britton and Caroline Melinda Orr Godman. He graduated from Yukon High School in 1950 and shortly after joined the US Army.
He was stationed in Germany for two tours, stationed in Japan, and served in Korea and Vietnam where he served three tours. He retired on June 30, 1973, at Fort Sill.
While in the service he earned the following awards, KSM / 1 Bronze Star, VSM, NDSM / 1OLC, GCM / 2nd Award, VCM / 60 Device, AM / 1OLC, ARCOM, GCM / 3rd Award, 6 Overseas Bars, AOM (Germany), DFC / 1 OLC, Bronze Star, UNSM, ARCOM / 3OLC with V Device, AOM (Japan), Combat Infantry Badge, GCM 4th Award, 6 Service Stripes and Sharpshooter Badge with Rifle Clasp.
After his retirement from the Army he went to work for the US Postal Service and retired after twenty three years. He married Beverly Bouteller on July 7, 1956, in Amarillo, Texas. He was an avid carpenter, loved fishing and was a Member of Northside Baptist Church where he was a Deacon.
He is survived by: his wife of the home; three children and their spouses: Neal and Katreena Godman, Daleville, Ind.; Frank and Terri Godman, Muskogee; Valerie and Peter Mahre, Plano, Texas; two sisters: Betty Thompson, Amarillo; and Barbara Thomas, California; five grandchildren: Ronald N. and Jennifer Godman, Ind.; Gary D. and Monica Godman, Tulsa; Nicholas P. Godman, Norman; Christopher R. Godman, Muskogee; Andrew Mahre, Plano, Texas; one great grandson, Adrian Godman, Antigo, WI.
He was preceded in death by: his parents; a son, Roy Dean Godman; a grandson, James Lyle Godman; and his twin brother, Roy Britton Godman.
Ron Godman (Grandson): My grandma says that he first went over in 1965 for a year, was home for a month, and went right back for another year and came back for a while and went back for another year.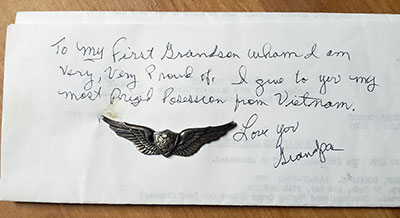 She knows he went back another time later on, but isn't sure of the year, which has to be 1970 because that's when he received his DFCs. I also remember him mentioning an OV-1 mohawk. It's hard for me to tell because he has a lot of pics taken with a lot of machinery, but the loach, the cobra, and the mohawk are what he mentioned the most. As far as where he lived, he grew up in Yukon Oklahoma, and once he joined the army and went off to korea he lived in Lawton (FT Sill) for the rest of his life.
Award of the Distinguished Flying Cross
This is an oakleaf cluster (second) award. The first has not been found. Neither are in his records.