InfoSheet /Obit - Adolfo Eschenwald Jr.
Died 16 September 1985

Adolfo "Ric" Eschenwald III, the son of Adolfo "Pancho" Eschenwald, Jr. says his father was killed by a drunk driver on 16 Sep 1985 on his way to his job at the VA Medical Hospital i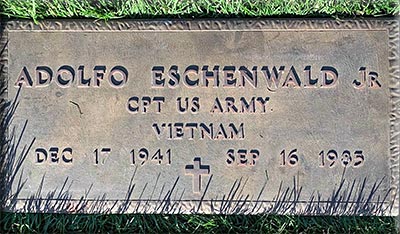 n Coatesville, PA.
Jose Eschenwald Jr. (son): My dad started a group V.V.V. (Voice of Vietnam Veterans). He was the founding person of this group and he met with political figures in DC to help the Vietnam Veterans in any way possible. There is a small group that have a plot of land in Townsend DE that have a full size Huey on the site. It's in memory of my father. There are a few Vietnam Veterans that are constantly there. George Webb was the person I contacted there. He was not a pilot but a great man who had a great friendship with my father.
Tom Fleming: I am deaply indebted to CPT Adolfo "Poncho" Eschenwald. I was, and still am, saddened by his passing. see War Story B57 Bomber Crash
Bruce Powell: I flew several hot missions with him while I was in training to move from the Scout platoon to the Gun Platoon. He and the Gun Platoon leader, Frank Delvy, were my trainers. I never knew his first name then; I was just "Powell" and he was "Captain". He was one of my favorite pilots to fly with. He was fun to be around and one of the best gun pilots ever. I was flying with him as his copilot when we got shot up at night over an area called the Horseshoe (Near Duc Hoa - mid to late 1967). see The Xeon Light Test Story
Bain Cowell: I'm saddened to hear about CPT Eschenwald, whose name I had forgotten but whose fine character and good judgment as a gun team leader stuck with me.
Jose Eschenwald Jr. (son): I was employed as a Delaware State Trooper. While on patrol I ran across a man, unfortunately I didn't get his name, he was wearing a long sleeve shirt with LZ Eschenwald stitched on the sleeve at the wrist. I asked him what that was about and he responded "it was in memory of an amazing Helicopter pilot that he had the privilege of flying with. I showed him my name tag on my uniform and he dropped to a knee in tears. He then stood up and gave me a big hug which is a big No No for me while in uniform but I could tell how genuine it was. I wish I had gotten his name but unfortunately I was a bit too busy at the time.