Info Sheet/Obit - John Alto
Died 25 January 2021 - Pancreatic Cancer
....................………………………………………………………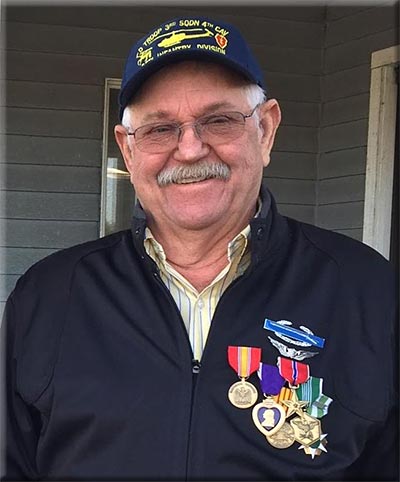 Amanda (John's daughter):
He was a proud Centaur through and through. We recently began in home hospice for pancreatic cancer and he was doing well, though on the morning of 22 January, he suffered a debilitating stroke. He stayed with us, but was moving toward a beautiful new world where we will one day reunite, no doubt finding him surrounded by scores of new friends, because he had a knack for creating enduring relationships wherever he went.
He was not able to communicate with us, but we told him stories, read him messages, and he provided us a thumbs up or two. He waved us goodbye and we know he was ready. We kept him comfortable and surrounded by love.
His proudest accomplishment was his year in Vietnam. A twenty-something young man assigned as platoon leader to a rag tag group of 45 soldiers, in a totally new regiment they had to make up as they went. They provided aero rifle support from Huey's when guys on the ground needed rescue, and often landed for dangerous recon missions. By my dad's count, they saw over 100 combat missions in one year. Remarkably, every single one of his men made it home. My dad said it was by the grace of God. I also know it's because he earned his men's trust, thought fast, ground it out, sucked it up, never hesitated and as he said, "did what needed to be done."
I often think of all the families these men went on to form, with spouses, children, grandchildren. I am so proud of the sacrifices he made and strength he showed, so they could all go on to build legacies far from the fields of Vietnam.

My father has had a wonderful life with no regrets. I know he was an important person to many, and I thank you all for keeping my family in your prayers as we sat and watched this last chapter with light and love".
He passed late on the evening of 25 January, with mom and family by his side and his 3/4 Cav Centaur hat on pillow beside him. No service plans due to COVID and will keep all posted if we can have a celebration of life later in the year.
Thank you again for protecting and caring for each other.
Tom Fleming:  You were a great leader and inspiration for all who served with and under you.  Your legacy lives on today and into the future.  You were always Prepared and Loyal.