by Tom Meeks
see AH-1G Tail Numbers & Photos.....also see Cobra War Stories at bottom, and Cobra inventor Mike Folse
Note: There were 824 AH-1G's sent to Vietnam; 303 were lost; 235 pilots & 12 crewmen were KIA (VHPA)
The AH-1G Cobra was introduced to D Troop, 3/4 Cav in June of 1968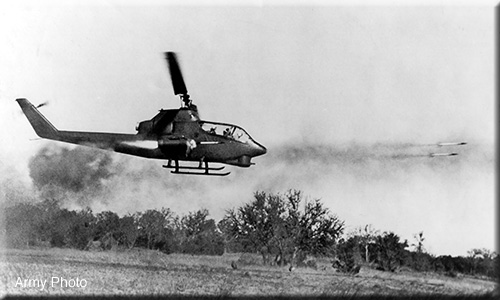 The  AH-1 Cobra (company designation: Model 209) is a tandem seat, two-blade, single engine, attack helicopter with a crew of two manufactured by Bell Helicopter. The AH-1 is also referred to as the Huey Cobra or Snake. It was developed using the engine, transmission and rotor system of the Bell's UH-1 Iroquois.  In January 1965 Bell invested $1 million to proceed with a new design for an attack helicopter; mating the proven Huey transmission, and the "540" rotor system of the UH-1C augmented by a Stability Control Augmentation System (SCAS), and the T53 turboshaft engine of the UH-1.  On 3 September 1965 Bell rolled out its Model 209 prototype, and four days later it made its maiden flight, only eight months after the go-ahead.
Video of Mike Flose, inventor/developer of the Cobra. After Bell lost a contract to Lockheed for production of an attack helicopter, Folse started working on a conceptual sketch of a new warbird.
Less than six months later, the Cobra prototype, known as Model 209, made its maiden flight at Fort Worth's Amon Carter field, launching a new breed of military helicopters. Thanks Mike!!! See Article
In Vietnam, events were also advancing in favor of the Army purchasing the  Model 209.  Attacks on US forces were increasing, and by the end of June 1965 there were already 50,000 US ground troops in Vietnam. 1965 was also the deadline for Army's selection for a new attack helicopter.  Several companies were competing with design submissions to the selection team.  The Bell company was one and it's model Bell 209 was ultimately selected.  
The AH-1G Cobra was introduced to D Troop, 3/4 Cav in June of 1968. 
Bruce Powell: We received word that our new Cobras were due in on 14 May 1968. There were initially nine on the list, but political battles were being fought over how many of them D Troop would receive. They came in late. I went to Vung Tau and picked up the first Cobra to arrive for the Division on 30 May. I test flew it after it was unloaded and assembled from the Corpus Christi Bay ship. I flew 1.3 hours that day. Damn near wrecked the thing trying to do all those test pilot maneuvers. We ended up with six Cobras and the Diamond Heads (25th Div, Aviaton Battalion) got 6. SP5 Warren Waite and I had #540 up and flying unauthorized missions in a few days. We finally got caught. I have never been more excited in my life then those first few weeks with my beloved Cobra.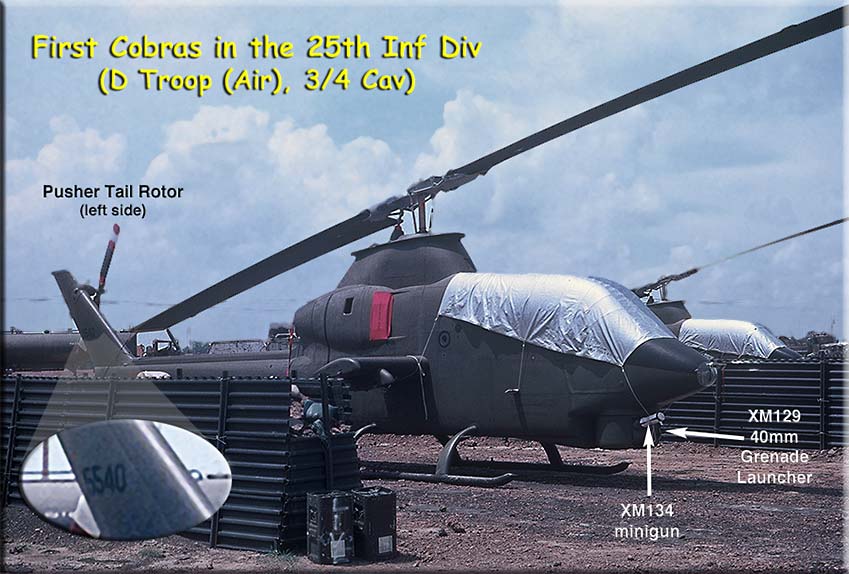 The Troop originally received six aircraft with the remaining five being sent to B Company, 25th Infantry Division Diamond Heads.  D Troop's first AH-1G pilots were 1LT Bruce Powell and CWO Tom Meeks who were transitioned earlier in country at Bien Hoa, Viet Nam by the AH-1G New Equipment Transition Team (NETT).  The maintenance crews began arriving just before and at the time of receipt of the aircraft.  The Cobra platoon's first AH-1G crew chiefs supervisor was Specialist Warren Waite.  Other, crew chief, maintenance, and weapons personnel were assigned to fill out the TOE requirement over the following months.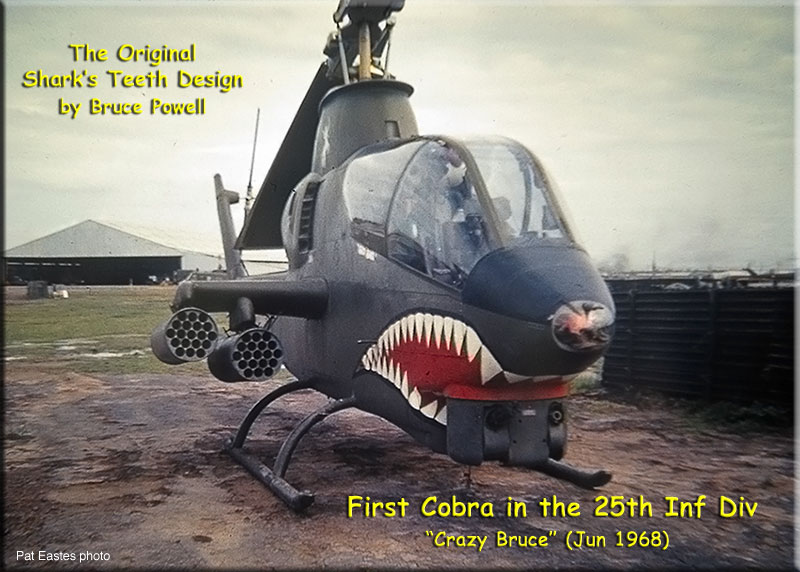 The AH-1 Cobra assigned to D Troop had small stub-wings that carried several armament systems, which included folding-fin rockets (7 or 19 rockets) or minigun pods (XM-18) and was fired by the pilot from the rear seat. Additionally, the Troop's version had the XM-28 turret system mounted beneath the nose that housed either two miniguns, or two 40mm grenade-launchers, or one of each  and was controlled with the M73 reflex sight from the front (Gunners) seat.

We put a couple XM-18 pods (fixed place miniguns) on at least one aircraft (not sure if there were anymore). Only used them a few times as they had a tendency to jam all the time (I had a couple incidents). They would also "run away" and continue to fire when the trigger was released (I also had this happen a couple of times). The only way to stop it from firing was to pull the circuit breaker. After a few incidents of all that, we pulled them and installed rocket pods. The tech rep was looking into the problem but don't remember if they every came back to us with a problem fix. Think we found the rocket pods more to our liking anyway. Vaguely remember we put the smaller rocket pods on because we didn't originally have many 19 shot pods. Don't remember when we finally got enough to put the 19 shot pods on all the aircraft but know we eventually did.  
Armor protection was provided for the crew in the form of carbon fiber side panels and seats, with other vital areas of the helicopter protected by panels of the same material.
These helicopters were equipped with the Lycoming T53-L-13 engines, with 1400 shaft HP, limited to 1100 shp (50 psi torque) because of the power train limitations. They also had the same tail boom as the UH-1C with the tail rotor mounted on the left side. The tail rotor was later mounted on the right side of the tail boom due to numerous accidents.
 
The 25th Infantry Division celebrated this beautiful new aircraft by creating a calendar photo for the month of July 1968. Photo by Robert B. Walker; Cobra pilot flying was CPT John Whitehead Gun Platoon Leader.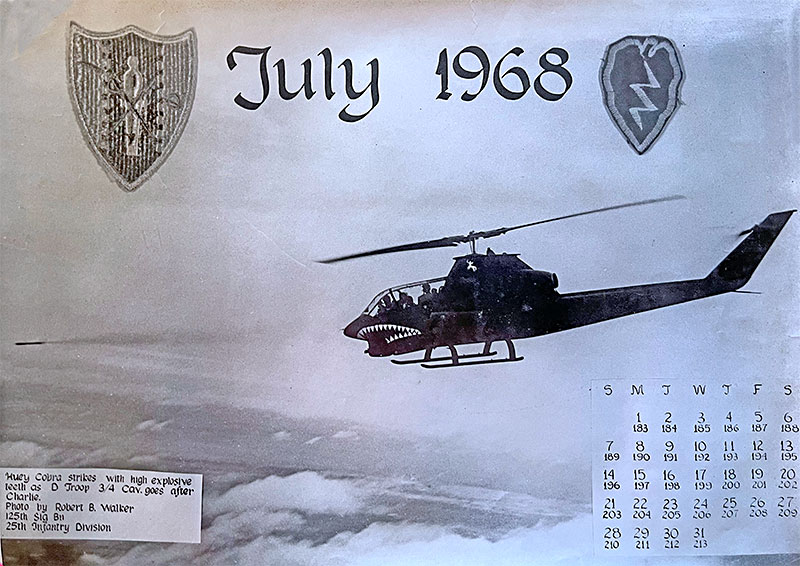 AH-1G Cobras were in use by the Army during the TET offensive in 1968 and through the end of the Viet Nam war.  The AH-1G was the backbone of the United States Army's attack helicopter fleet for many years.  Upgraded versions continue to fly with the militaries of several other nations.  AH-1 twin engine versions remain in service with United States Marine Corps (USMC) as the service's primary attack helicopter. The last flight by AH-1 Cobra helicopter by an active duty Army unit was Monday March 15, 1999 at Schofield Barracks, Hawaii.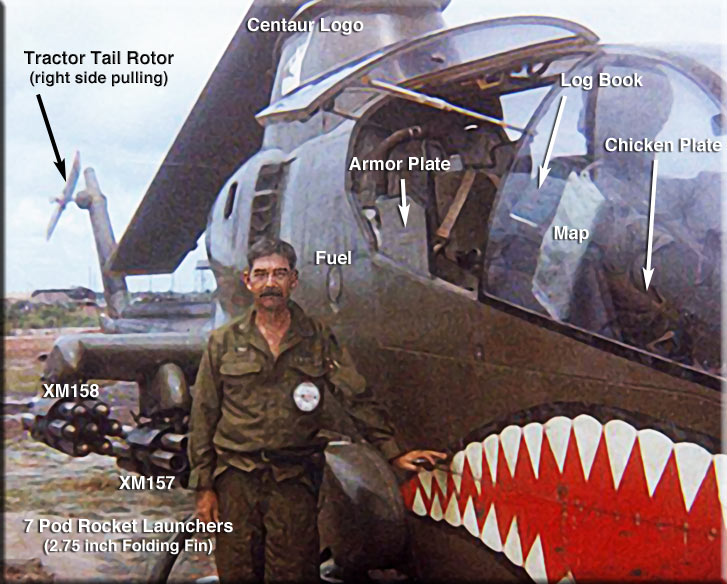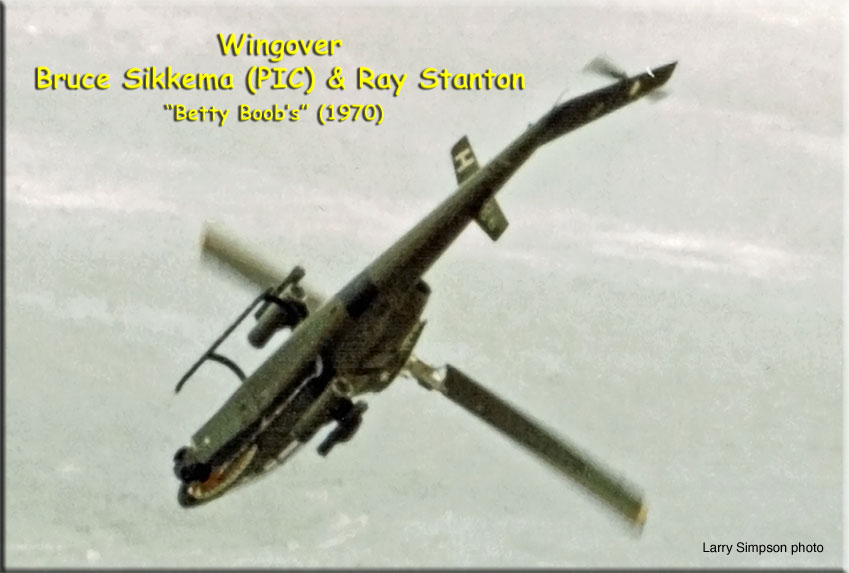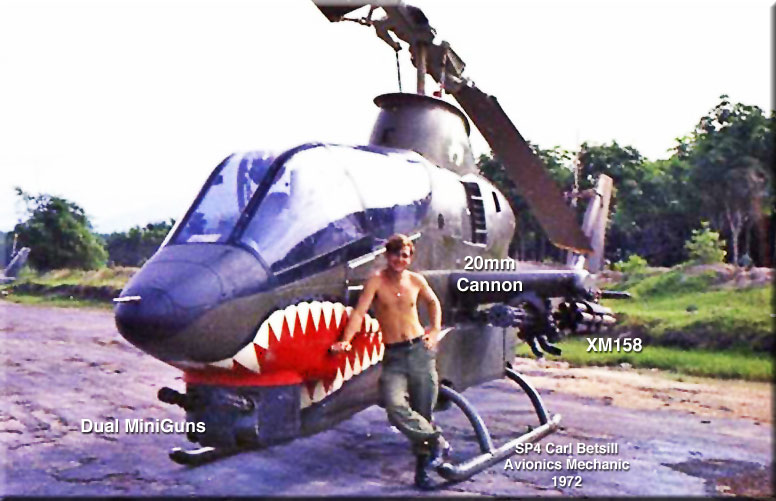 Carl Betsill: Vibration from the 20mm Vulcan Gatling Gun often caused UHF & FM radio problems. We had old tube type radios and they did not like that heavy vibration.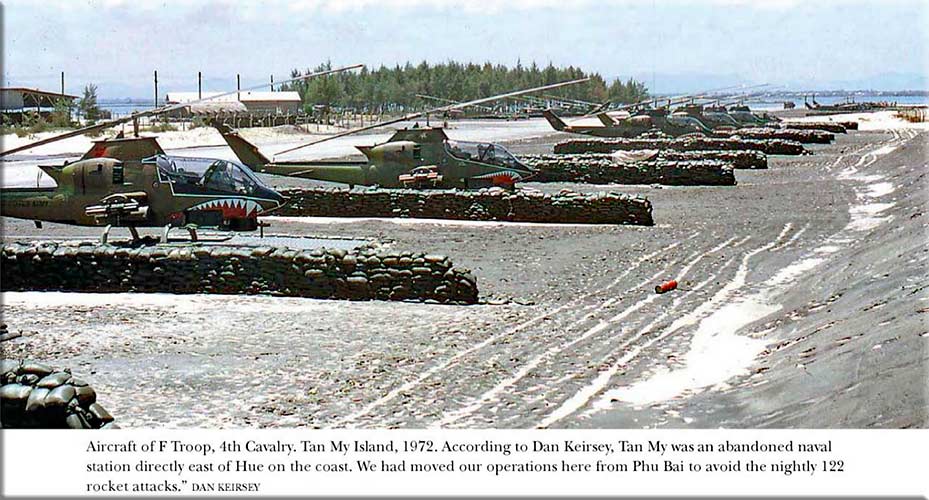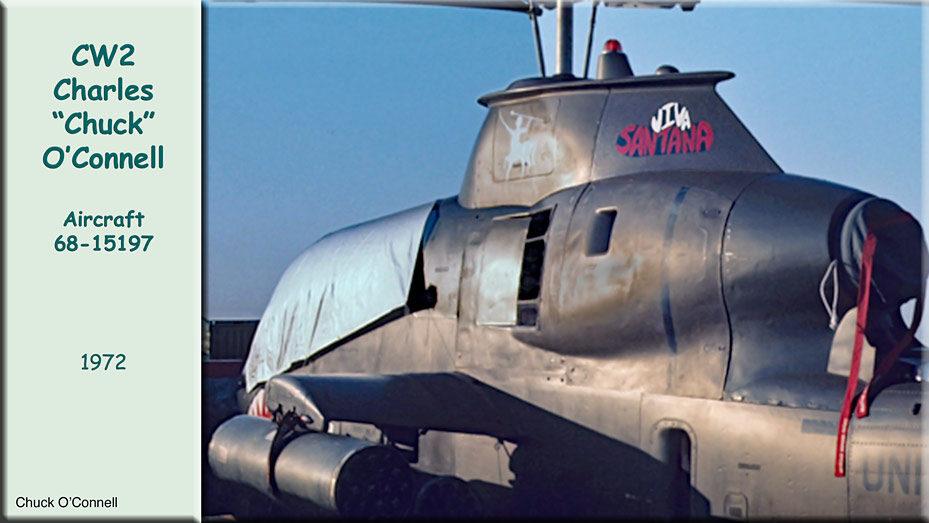 Chuck O'Connell remembers his Cobra named "Viva Santana" 68-15197
Tom "Sam" Dooling: As I recall, with the standard configuration of 52 rockets, we used 1,200 lbs of fuel as out fuel load (even with the 17 pounders). With the 76 rocket configuration, I believe we used a fuel load of 1,000 lbs. I don't remember ever having to do a running takeoff with a Cobra - but I do remember occasionally seeing the torque meter right up there near 50 lbs at a hover on a hot day.
Sharks Teeth Tale - Bruce Powell 1968
Cobra Rescue - Tropic Lightning News - 1969
Cobra Wingover- Bruce Sikkema 1970 
Cobra Discussion - Accidents/Aerodynamics- Several Centaur Cobra Pilots/Crew 
Too Steep - Bruce Powell/Tom Meeks