Info - Charles "Chuck" Martin
Former Hughes OH6A aka "LOACH", "CAYUSE" Tech Rep assigned to the 3/4 Cav at Cu Chi in 1968.
His new email as of Mar 2013 is crowsnest at reagan.com
………………………………………………………………………………………………………

22 Nov 2012 (Cobra Shark's Mouth artwork)- Hi Bruce,
This is Chuck Martin, former Hughes OH6A aka "LOACH", "CAYUSE" Tech Rep assigned to the 3/4 Cav at Cu Chi in 1968. I arrived in country Oct. 67 with the 7/17th Air Cav, Pleiku and Chu Lai, and later reassigned to Cu Chi. I worked with Maint. Capt. Blair and W.O. John Brown and troops with the Loaches, travelling to the Michelin Plantation operations and recall flights supporting action during TET 68. My second 6 month (1968) tour was spent as a travelling troubleshooter and visited Cu Chi the day a new 25th Div. Commanding General was being familiarized with the Cobras interacting with the Scouts.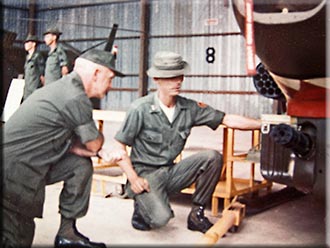 During my reunion with the troops at the flightline, the General came back from the demo flight in the Cobra and wished to go out in the Scout. The Cobra pilot invited me to ride in the front seat, and that was my first and only ride in the Cobra. Very exhilarating to say the least. I was a fixed wing pilot at that time and after finishing 18 months as tech rep., back in California, I got my Commercial fixed and rotary pilot certification and spent the next 25 years working with the H500's in various operations around the world. I was tracking my travels through Viet Nam when I ran across the "Centaurs" Website and found your great story. Thank you for that and your service. - Chuck
Photo: General Ellis W. Williamson being briefed by CPT Powell on the new Cobra, early Aug 1968

23 Nov 2012 - ...If you ever get back in contact with Bill Blair, please let him know that I would really like to see him again.
If you like, I can put your name out to our Centaur Society in case there are others who might remember working with you. - Bruce Powell
5 Dec 2012 -....I had been president of "So. Oregon Warbirds" ( I was in the Air Force 4 years 1952-56) but had to drop out when my wife had a stroke 2 years ago. Recently I got involved again and have just been asked to take over as Historian and update the ancient website. That'll be a challenge.
After finding your website, I called up the 7th/17th Air Cav Blue Ghosts and found photos of me and others taken after we had moved to Chu Lai. After viewing this history I couldn't sleep for a couple of nights. I remember my stay at Cu Chi and bunking in a hootch that had a room they gave me off one side close to the front entrance. Most days and nights I was with Capt. Blair, W.O. Brown and maintenance troops. Spent days at Dau Tieng (rubber plantation) and nights getting ships ready for the next day. Remember troops cleaning dirt out of a swimming pool at the plantation managers compound and getting water into it. Also remember taking 3 showers between midnight and first light one night. It was rainy season and the shelter ditch in front of the hootch was half full of muddy water so each time we had incoming we got muddied up. After that night I found sand bags and elevated my bunk in the room using steel planking I appropriated over the foundation of bags and placed the folded cot on top. Then when the rockkets/mortar came in I just rolled out and under. Also remember when Capt. Blair was in the hospital with kidney stones and we found out he was being fed as much beer as he could drink. Mr. Brown and I visited hoping to help him drink the beer. Fortunately he did pass the stone and was back to work. Great people to work with. The Hootch had a t.v. and I recall the troops favorite show was "Combat"!! I have visions of the interior wall of the hootch being decorated with empty beer cans. When I revisited we had a gathering at the O club and I was preseented a plaque from the 3/4 Cav. I was very proud of that one and one 34th Group gave me upon leaving country and hung them on several office walls I occupied on into the 1990's. Unfortunately when I took a project with the Nigerian Air Force in 1986 I put most belongings in storage at the marina my boat was at and the storage was broken into and I lost the plaques and other valued items. I lost the plaques but the memories linger on. I'd be pleased if you would put my name out to the Society and extend my best wishes to the membership. - Chuck
12 Dec 2012 - Hello Dale,
Thanks for the information. Originally I was assigned to the 7/17th, arriving in country 1st of Nov. 67. Helped off load OH6A's from carrier at Quin Nhon and flew into Camp Enari, Pleiku. Shortly after, C Troop (Blue Ghosts) was transferred to Americal Div. and the C.O. asked me to go to Chu Lai with them. Spent Nov., Dec., and part of Jan 68 there until 34th Group re assigned me to 25th Div., 3/4 Cav, at Cu Chi. I worked with Maint. Officer Capt.Bill Blair, W.O. John Brown, and maint. troops. Spent days at the Michelin Plantation, nights repairing Loaches. Lived in a hootch that had a room off one end that I had a cot in. Recall Capt. Blair being in the hospital with kidney stones and they were feeding him beer. It worked and he passed the stone. The hootch also had a T.V. and the favorite program was "Combat". During TET I remember flying with Mr. Brown recovering disabled ships around Saigon. Also recall numerous mortar/rocket attacks. Three one night during rain season when our bunker (sand bag covered ditch) was half full of muddy water resulted in three showers. It also prompted me to elevate my cot with a base of sand bags topped with steel planks. Subsequent night raids, I rolled out and under, keeping dry. B-52 strikes shortly after were almost as intimidating as the Charlie action because the cement floor of the hootch would roll under me. Several years later I experienced a similar movement during an earthquake in Los Angeles. Prior to Googling the 3/4 Cav., I called up the "7th/17th Air Cav. Blue Ghosts, Chu LAI" and the web-site appeared. Seeing faces and names from the 60's really surprised me. Even found 2 photos of myself at Chu Lai when clicking on McKenzies Raiders. I don't remember taking pictures at either base, those were very busy days. After leaving Cu Chi, the next 6 months I was a travelling rep, covering the country, carrying up-grade kits and helping with new track and balance equipment being distributed. I visited Cu Chi soon after they got the Cobras and a new Commanding General. Got a ride in the Cobra. Also received a "Plaque" from the 3/4 Cav acknowledging my work with them. Unfortunately that disappeared with other stuff when a storage locker I kept was ransacked. I know I had a picture of my office wall (1980's) showing the plaques, etc. and I'm still looking for it.
I'm a past Pres. of the So. Oregon Warbirds and working on producing a photo gallery of members to be installed at our library now housed in the Douglas County, Roseburg, Oregon, Historical Museum. Recently a former WWII Veteran, B-17 Pilot, loaned me a book he had just read about "Dust-Off", "Rescue Under Fire", by (Lt.Col.) John L. Cook. Very informative.