Test Flight Mast Bumping - 1969
by Tom Dooling
.....................................................................................................................................................................................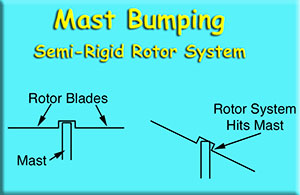 CPT Bill Malinovsky was the Cobra Platoon Leader for much of my tour in Cobras and he and I worked pretty closely together as I was the unit/division Cobra SIP. 
We really didn't have maintenance test pilots for Cobras in the unit for much of the year, so the test flying duties were divvied up amongst the aircraft commanders — and Bill did more than his share.
On this occasion, he was topping the aircraft (engine) - a procedure that demonstrates that the engine is capable putting out maximum power for a given condition. For the Lycoming T53-L-13 engine, 50 psi of torque up to a determined Outside Air Temperature and Pressure Altitude). The procedure involves determining an approximate pressure altitude where the engine will no longer make its 50 psi of torque (generally ~ 3,500' in Vietnam).  You then fly to a position about 500 feet lower than that estimate, set the altimeter to 29.92 (so you have Pressure Altitude), and pull in ~48 psi of torque.  As you climb, the engine will start losing power producing capability (as all turbine engines do) and as you hold your power in, the N2 will start to bleed off.  You bleed off (reduce) about 200 RPM, check the EG (Exhaust Gas Temperature), OAT (Outside Air Temerature), and torque to validate against a chart.    This tells you that the engine is producing its designed power (or not).
Now, as you might imagine, this Cobra just came out of maintenance, so it is unarmed and may not have a full bag of fuel.  The recommended airspeed for this maneuver is 80 KTS, so as you complete this maneuver, you are climbing like a bat out of hell — and now you have to transition back to normal flight - i.e., reduce power, increase airspeed to normal cruise (100KTs).  If you do this too quickly, you have the potential to do what Bill did — get into mast bumping at about 5,000' off the ground!!!  The MTF (Maintenance Test Flight) checklist has a warning about this.
The fact that Bill recognized and recovered from this situation and was able bring the aircraft back to mother earth safely speaks volumes to his skill as a pilot (to say nothing of his innate sense of self preservation). Inspection revealed the mast had bumped twice & one blade was warped. Bill did not know when mast bumping occurred.
As I recall, his first stop after landing was his hooch to change his underwear!!!
Military Aircraft Serial Numbers—1908 to Present for 1967 shows: Bell AH-1G Cobra 67-15797 converted to AH-1F and noted in storage at Fort Drum, New York May 21, 2001