by Michael Peake and Lin Riniker
comments: Richard Parrish, Lin Riniker, Kenneth Hundt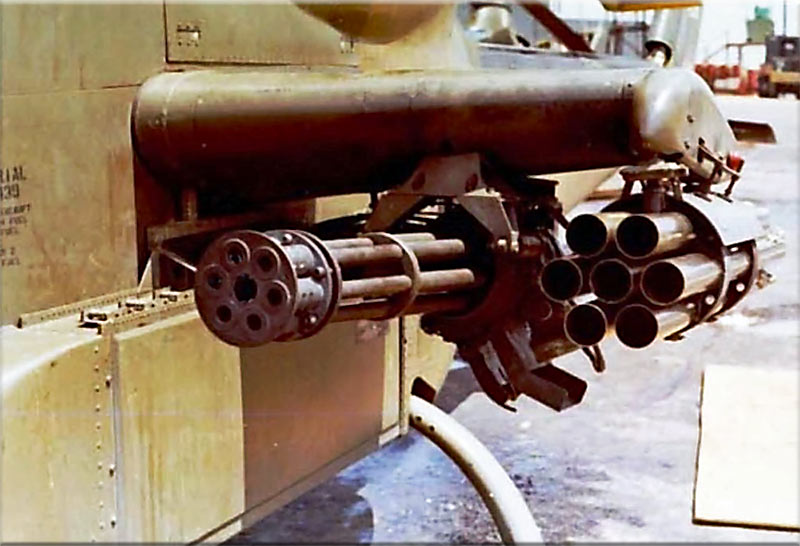 Image courtesy of Linford E. Riniker

Rate of Fire—650 to 850 Rounds per Minute (Typical 750 Rounds Per Minute).
Range—3,500 Meters Area Fire and 2,000 Meters Point Fire.
Muzzle Velocity—3,200 Feet Per Second.
Ammunition—M56 HEI (High-explosive Incendiary); M53 API (Armor-piercing Incendiary)
The M35 Armament System mounted a modified M61 Vulcan 20mm Automatic Cannon designated M195. With much shorter barrels than the M61, the rate of fire for the M195 had to be drastically reduced for helicopter use to 750 shots per minute from the Vulcan's normal rate of fire of 4,000 to 6,000 shots per minute, but even at that the vibration of the weapon was tremendous.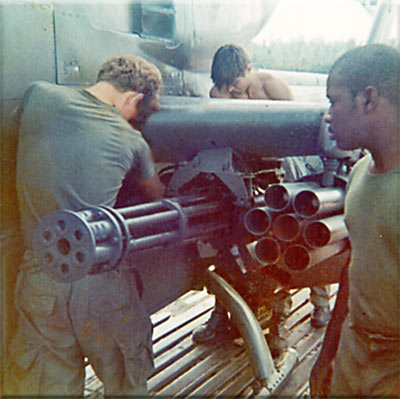 Introduced to Vietnam in late December 1969, the M35 armament system weighed in at 1,239 pounds fully loaded with 950 rounds. The ammo was delivered to the gun from two saddle ammunition containers affixed each side of the fuselage above the skids and connected by crossover feed chutes. Due to the explosive muzzle blast from the M195, extra plating had to be installed on the left side of the aircraft to protect the wiring, flight controls and fuselage.This weapon system provided Army aviation assets a long range suppressive fire system to counter .51 caliber Machineguns and other NVA anti-aircraft systems prevalent in South Vietnam areas of operation. The Centaurs of D Troop made first use of the 20mm cannon on AH-1G 68-17107 "Lady Godiva," flown by aircraft commander Captain Marvin E. Runyon. In January 1972, F Troop accepted delivery of AH-1G 69-16439, a Cobra that obtained near legendary status as a Super Scout since deployed in 1970.
Centaur armorers left and right,
439 crew chief center,
in October/November 1972.
Image courtesy of Michael A. Peake.
The new Cobra 439 arrived in country in late 1969, for the 3rd Squadron, 17th Cavalry operating in the Pleiku region, configured with the M35, three 7-tube rocket pods and twin 7.62mm Miniguns in the nose turret. Under the command of CW2 Dave Tela, a three-time recipient of the Distinguished Flying Cross, the gunship saw extensive service in Cambodia during May/June 1970, and remained with the 17th Cavalry in the same configuration until transferred to Troop F, 4th Air Cavalry Centaurs in 1972.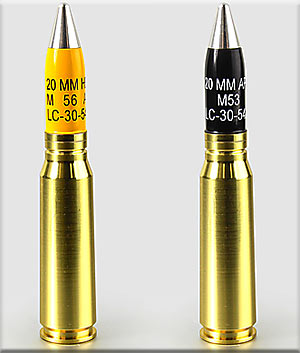 The first modification the Centaur armorers made to 439 replaced the turret's left hand minigun, prone to persistent jamming, with the M129 40 mm grenade launcher. To maximize effectiveness against NVA armor and light vehicles, including T54 and PT76 tanks, armorers altered the high explosive incendiary ammunition load for the 20mm with an armor piercing incendiary every third round.
Image courtesy of Linford E. Riniker.
With the target rich environment diminishing by May 1972, 439 often returned with the right hand ammunition box at full capacity. From that time until the cease-fire, the aircraft flew missions with 500 rounds in the left-hand box. To compensate for the weight differential and to give the aircraft added punch, a 19-tube rocket pod replaced the 7-tube launcher mounted inboard right side.
UH-1 Slick "Pinball Wizard" Crew Chief SP5 Jack M. Nemeyer, of D Troop in 1970, captions Image #43 in his Photo Album, showing left side wing store of a Cobra mounting a 20mm cannon and 7-shot rocket pod, with "This [is] the Cobra we had with the 20mm installed...#107... ".
That aircraft, AH-1G Cobra #107, named Lady Godiva was flown by Captain Marvin E. Runyon, who passed away peacefully at home on August 11, 2019 after a 7 month battle with lung cancer.
REFERENCES
Vietnam Choppers and Their Crews, Jonathan Bernstein/Gordon Rottman, Osprey Publishing Ltd. (2007).
Vietnam Order of Battle, Shelby L. Stanton, U. S. News Books (1986).
Richard Parrish (July 2019): When I inherited Cobra 439 from CPT Martindale (KIA), it had minigun and 40mm in turret, but the 20mm cannon on wing didn't work until I took it to Air Force C130 ordnance in Danang to rebuild overnight( for my beer ration cards) in Spectre C130 shop.
Lin Riniker (19 Jul 2019): LT Parrish! Great to hear from you. The situation you described with 439 had to have happened after my DEROS in Nov. 72. That was my pet A/C. The only issues I had to troubleshoot with the 20mm was a bad feeder solenoid and a relay in the starting circuit that also powered the gun went bad. We had gotten another snake from the 220th that once had an M35 system and I swapped relays with it. All this was during the time CPT Danny Tyner was the primary pilot. I overhauled the gun 3x during my time in F4, once while we were in Long Binh, second at Phu Bai, and the last time at Tan My during a cyclone at CPT John Mackey's insistence. I never figured that one out. It sounds like it just had a build-up of sand and grit in it.
Richard Parrish (July 2019) Lin, I think maybe you can correct me. Maybe I got 439 after Tyner derosed. The main thing done for me by Spectre ordnance was rebuilding of bearings that it rotated on. When ever it was fired, it torqued the airframe so much, that front seater hatch often opened in flight. Also the AC 's torque meter fell out of instrument panel. It would be nice to shoot it again , wouldn't it?
Kenneth Hundt (Sep 2020) I had the good fortune of flying #439 a few times. Not sure how I got that lucky but I do believe it was after Paul Martindale and Bill Haines were shot down. Rich Parrish is correct. In that when fired –it shook the aircraft so bad the front seat had to hold his canopy closed as it was prone to open up. I don't remember any time it didn't work for me—though I can understand sand being the problem as we were on the beach at Tan My.
Lin Riniker: (Sep 2020) Danny Tyner was probably the sole advocate for 439. He actually liked flying it and using the 20. I got to experience the vibration and arm on the canopy latch during test fires with him. When we got to Phu Bai I remembered seeing 20mm API ammunition in the ASP from when I was there earlier with the 101st. I got our ¾ ton truck and hauled out every can I found and talking with Danny, began breaking down belts of 20mm HEI and inserting an API every 3rd round. Danny was careful to sparingly use it since the API was out of production. The stuff we had dated back to the 50s. I believe he put some rounds into a PT76, so it got some use.
I was always amazed at the reliability of that 20mm. Despite the sand and dust that would have shut down a minigun, the Vulcan kept on rotating. I tore it down three times during my tour with F4: once for want of something to do while in Long Binh, again while we were in Phu Bai, and the last time was during a cyclone at Tan My. In all cases, the tear down was due to the ship going in for PE and not due to operational needs. It seems more than a coincidence that in 1977 I became platoon leader of a Vulcan air defense platoon where I spent a few more years associated with that great weapon.