Mini-Cav - 1969
"Take a Hunter-Killer Team, add a couple Slicks with troops and you have a MiniCav" bap
Thread started by Dan McIntyre with the Thunder Magazine article "Mini-Cav"
Tropic Lightning articles Mini-Cav Brings Maxi-Smoke of Foe and Mini Cav: A Real Life 'Dirty Dozen' were found and posted here.
CPT William H. Dawson Aerorifle Cdr and SP4 John T. Speaks Gunner are mentioned in article
see also Mini-Cav Story by Tom "Sam" Dooling
The "Thunder" article says that this term and tactic was created by the D Troop Commander; however It appears that D Troop was not the only Cav unit to use the term. The 1st Brigade, 25th Inf Div (a non cav unit) claims that their Commander created the concept. There are also many references to "Mini-Cav" in units of the First Cav Division. Several Cav related books also mention it (like US Army AH-1 Cobra Units in Vietnam by Jonathan Bernstein)
The concept of "Mini-Cav" appears to be similiar to what we called an "Eagle Flight" (1967-1968). Small fast unit to swoop in and take care of business quickly then get out; like snatching up some suspects. But even the term Eagle Flight has several meanings depending on which unit in Nam was using it.
A quick Google review indicates that the most common definition of "Eagle Flight" was the Vietnam-era term for Air Mobile Insertion. Seems a little drab since every insertion that we did was airmobile. How would you have it defined in our Centaur Glossary? (email powellcentaur@gmail.com)
.............................................................................................
From Thunder Magazine (25th Inf Di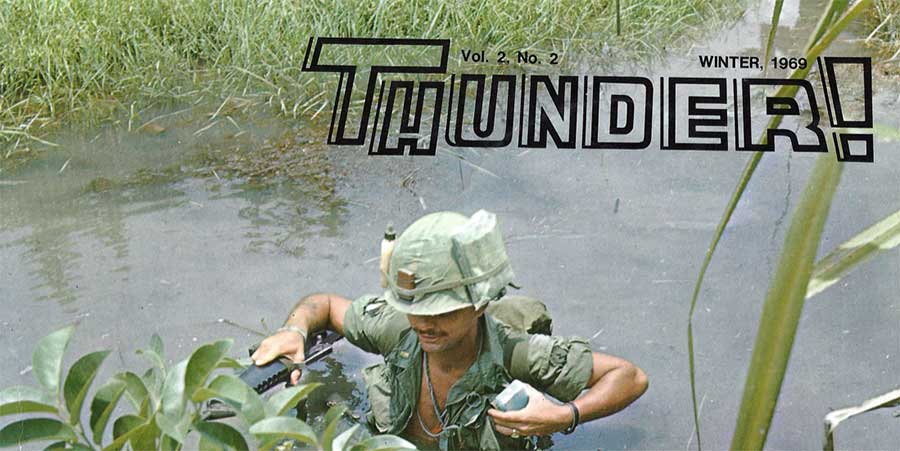 v publication)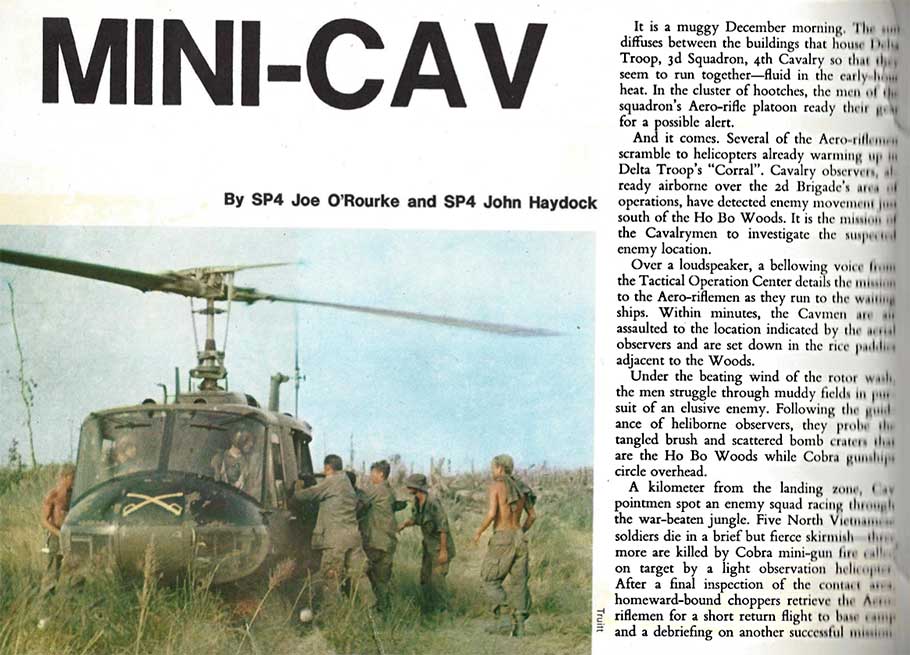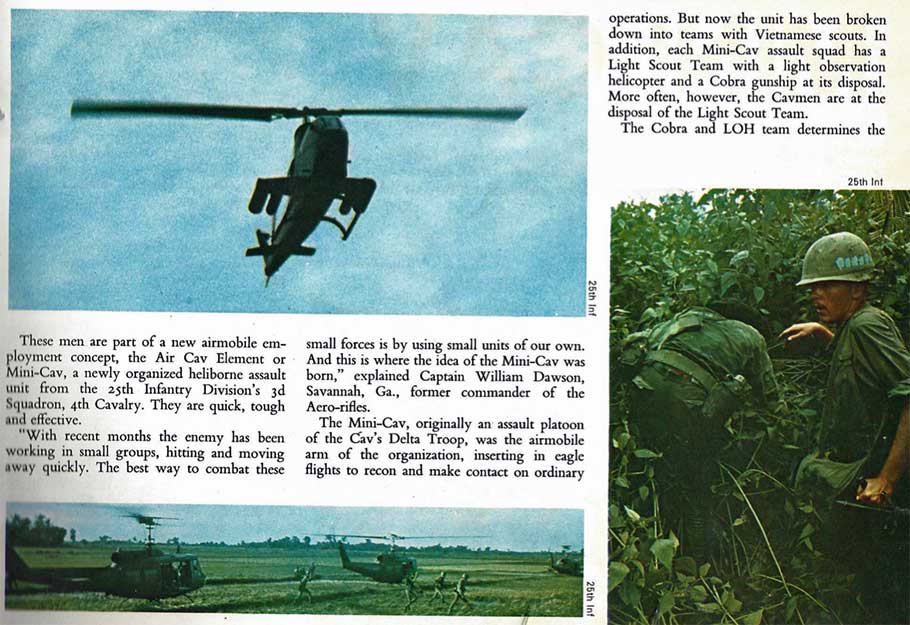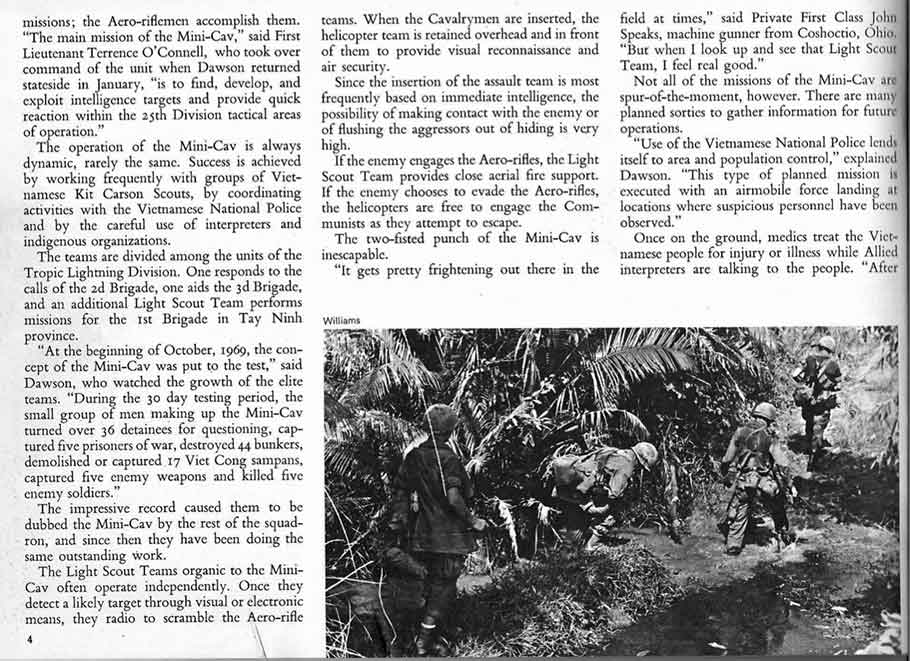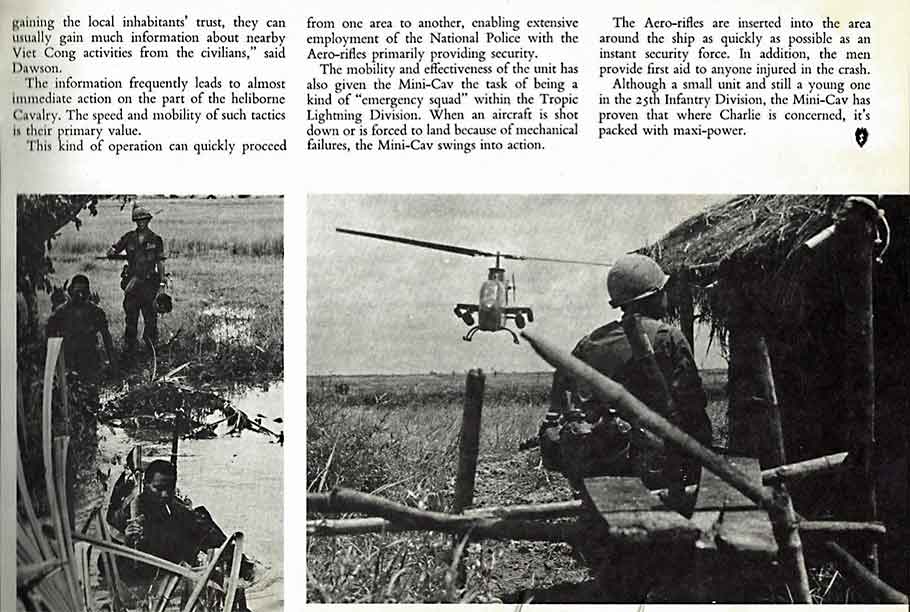 ..................................................................................................................
From Tropic Lightning News Vol 4 No 48 1 Dec 1969
'Mini-Cav' Brings Maxi-Smoke on Foe
By SGT TONY CAMELIO
CU CHI - Miniskirts revolutionized the art of girl-watching. In time, perhaps, the mini-Cav will do same for the art of Charlie-finding.
Major Eural E. Adams, Jr., commanding officer of Delta Troop, 3d Squadron, 4th Cavalry, said, "We noticed in the last few months that the enemy has been working in small groups, hitting and moving away quickly. We've found that the best way to combat these small enemy forces is by using small units of our own, and this is where the idea of using the mini-Cav has proven so successful."
Staff Sergeant Carl Hutchens of Houston, aero-rifle platoon sergeant, said, "The platoon was broken down into two smaller units of 15 men and two Kit Carson scouts apiece. Being broken down into these smaller units offers the mini-Cav better control of the men and allows them to move in and out of an area quicker, thus enabling the Cav to go more places in an hour than if they employed a whole platoon."
The mini-Cav is working. During a recent month's period, the mini-Cav killed 18 enemy, detained 30 suspects, and confiscated 12 enemy rifles, four pistols, 50 RPG-7 rounds, 100 Chicom grenades, 500 rounds of AK-47 ammunition and medical supplies.
..................................................................................................
From Tropic Lightning News Vol 4, No 52 29 Dec 1969
It Takes A Good Man
Mini Cav: A Real Life 'Dirty Dozen'
By SP5 DAN DE LANEY
TAY NINH - "They asked for a good man, and there I was," is how Specialist 4 Henry Milton of Detroit, Mich., a fire team leader from Headquarters Company, 2d Battalion, 22d Infantry, feels about his job with the Mini-Cav.
Mini-Cav is a twelve-man team of well-armed men which provides a quick reaction force to act on intelligence reports from anywhere in the 25th Infantry Division's First Brigade area of operations.
The Mini-Cav is led by First Lieutenant Lance V. Noyes of Denver, Colo., who was selected for the job over four other applicants, and Platoon Sergeant Ernest A. Lennon, from Panama. The unit is made up of selected volunteers from the 1st Brigade's battalions.
CONSTANTLY ON-CALL, the team can be saddled up and aboard slicks within ten minutes of a called-in mission. A light observation helicopter and a Cobra go along with the team's two slicks to provide fire support cover while the Mini-Cav troopers work on the ground.
They might be checking the identification of farmers in the rice paddies; investigating bunker complexes in the jungles; or they might be providing security while National Police or Military Intelligence teams gather information about Viet Cong movement in the area.
In moves that catch tax-collectors and obtain first-hand enemy intelligence, the two slicks set the Mini-Cav down at Resource control points in farming areas.
They then "try to catch the enemy soldiers who have intermingled with the civilian population," said Lt. Noyes.
"We are called the Mini-Cav," explains Noyes, "probably because of the size of our unit. We are organized like a company, but we are 'platoon minus' size."
ALMOST EVERY ONE of the men in Mini-Cav volunteered for the job. Specialist 4 Noel Toro-Medina from Lajas, P.R., a machinegunner for Company B, 3d Battalion, 22d Infantry, volunteered because he decided that "Mini-Cav" is where the action is."
"It beats being out in the field for three or four days at a time," said Specialist 4 Ronell Frederick, Jr., a rifleman from Chester, S.C. who works with Company B, 4th Battalion, 9th Infantry. The feeling was unanimous among the other men, too.
"These men are all individuals," he said. "They think for themselves. They have to. There is no platoon or company backing them up. They have to be able to work as a team - as a unit. Small, but effective."
Private First Class Marvin D. Lerch from Vinton, Iowa, an M-79 grenadier of Company D, 4th Battalion, 9th Infantry volunteered for the Mini-Cav, too. "My feet were getting tired of being wet all the time," he stated. "Moving in quickly via helicopter, doing the job, then moving out again is good for my feet...."
Private First Class Randy L. Marino of Alameda, Calif., a rifleman formerly with the 2d Battalion, 34th Armor "Dreadnaughts," says he would "try anything once. When they asked me if I wanted to join up, I jumped at the chance."
PRIVATE FIRST CLASS Daniel McDonald of White Cloud, Mich., who was also formerly with 2/34th Armor, grinned as he said, "They picked the two best men in the outfit, and I am one of them."
"It sure beats humping the boonies," sums up the way most Mini-Cav troopers feel about their job. Specialist 4 Jim L. Donahue, rifleman and assistant machinegunner from Watsonville, Calif., volunteered from Company A, 4th Battalion, 23d Infantry. "When the company commander told me about it, I liked the concept right away," he said.
Private First Class Jeremiah Bradwell, Jr., a radio-telephone operator from New Haven, Conn., was assigned from Headquarters Company, 4/23 Tomahawks 4.2 mortar platoon. Like the unit? "At first, no," he said, "but now that we have worked together for a while, I would not like to switch."
Not wanting to switch is a feeling shared by Specialist 4 Robert A. Miskowiec, team leader from Minneapolis, Minn., who was assigned from Company B, 3/22 Walking Regulars.
THE FINAL MEMBER of the team, Private First Class Robert L. Fruchey of Springfield, Ohio, added one more M-79 grenadier to the ranks of the Mini-Cav when he volunteered from Company C, 2/22 Inf. "When I go out," he said, "I expect contact. We are ready for contact and a fight. That is a big part of our job - staying ready."
Mini-Cav is an experimental unit, conceived by Colonel John E. Tyler, the First Brigade commander. The success of the unit might result in the organization of several more like it. But the men of Mini-Cav are proud to be members of the original real-life "Dirty Dozen."