Another View of TET 68
by Bill Hull - see also Battle for Saigon
Bill's second tour placed him in the middle of the TET offensive, on the ground in the Tan Son Nhut area.
He saw a much better level of preparedness than is often portrayed.
I find the stories about how unprepared and surprised the US forces were for the Tet Offensive of 1968 a bit disturbing and misleading. Here is what I know of those days.
Prior to deploying to Vietnam from Hawaii with the division, Capt. Delvy had me attend a 10 week course in Vietnamese language. I believe that is what got me my assignment to PACEX on my second tour of duty as I worked closely with our local hired workers and laborers.
It was January 31, 1968. I was on my second tour of duty in Vietnam, assigned to HQ, US Army Vietnam, PACEX. I was NCOIC of shipping & warehousing for the PX system. My duty station was at a warehouse complex on Plantation Road, about 2 miles west of Tan Son Nhut Air Port, about halfway between the air base and the 'Race Track' on the edge or Cho Lon.  At around 10 AM we were called to a briefing and were informed that major attacks were expected and we were to send home all of our Vietnam guards and workers, draw weapons, arm and post our own guards and those personnel not on guard were to report to our billets and stay there until further notice. We were reinforced by incoming replacement from Long Binh, green 'newbees'.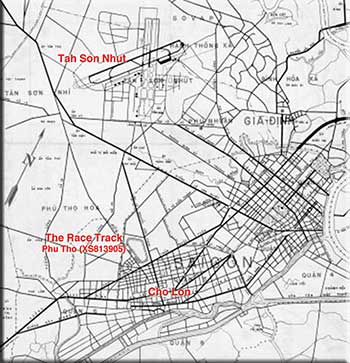 Our depot NCOIC, a Master Sergeant and OIC, an Air Force Captain elected to spend the night at the depot and sent the rest of us to our billets. I was living with Vietnamese family near Newport Bridge, (Long Binh Bridge, to some) about 200 yards from the local police station. At about 2300 hours I was awaken by 3 of our neighbors pounding on the front door. They were armed and wearing dark clothing. They informed me that I had best leave the area, if I wanted to live. I guess it pays to be on good terms with your neighbors. They were part of the local VC cell.
I had a 50cc Honda and although there was an 'after dark curfew', I made the run across the city to my duty station.  I did draw fire in passing a few times and didn't hang around to figure out who was shooting at me. I arrived at our compound safely about the same time the attacks began at Tan Son Nhut.
Early the next morning we were informed that all roads were closed in Saigon and there was to be no movement until further notice. I inquired about our secondary compound , a half mile closer to the air base just off Highway 1 and was told that it was manned by 3 of the 'replacements' that came up from Long Binh and that there was no communication with them since the night before.  I gather 3 volunteers and with the grouching permission of our OIC made the run to reinforce the compound and took command of the security detail. The seven of us spent the next 6 days and nights there, out of touch with everybody.
We were 'challenged' four times during those days. Rather than a 'target' I think we were just in the path of passing VC. On the 5th day, being low on ammunition, I lead a detail out at first light and gathered up a few fallen VC weapons and munitions. Early on the morning of the 7th day a relieve force arrived and they were somewhat surprised that we were still there and had suffered no casualties.  There is a letter of appreciation in my file for 144 hours of continuous combat duty.
On the days that followed I made almost daily trips between US Army VN headquarters near Tan Son Nhut and the PACEX HQ in Cho Lon. That took me passed the Race Track where a major battle between the VC and the ARVN Rangers Complex took place. There were bodies stacked like firewood 5 or 6 high on both sides of the road, the VC on the north side and the ARVNs on the south. I was told that neither side could breach the other's defenses until after day four when US gunships made numerous runs on the race track.
One last memorable thought; early in the first days I remember standing on roof inside the compound and watching helos attempting to land at Tan Son Nhut and as the entered the flight path, they drew streams of red tracer from a point just west of the base. I can't put into words what it felt like, standing there; helpless to do anything but watch them take fire and hoping that; they weren't Centaurs and that they made it in safe.
I guess even us REMFs have a few stories. - Bill Hull, SSG U.S.Army (Retired)