Info Sheet - Glenn Kay Otis - Deceased
Squadron Commander, 3/4 Cav, 25th Inf Div, Nov 67 to May 68
.....................................................................................................................................................................................................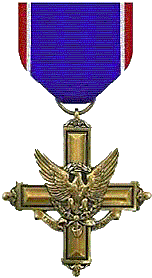 The Distinguished Service Cross is presented to Glenn K. Otis, Lieutenant Colonel (Armor), U. S. Army, for extraordinary heroism in connection with military operations involving conflict with an armed hostile force in the Republic of Vietnam, while serving with Headquarters Troop, 3rd Squadron, 4th Cavalry, 25th Infantry Division.  Lieutenant Colonel Otis distinguished himself by exceptionally valorous actions on 31 January 1968 as commanding officer of a cavalry squadron defending against the communist Lunar New Year offensive at Ton Son Nhut Air Base.  Viet Cong and North Vietnamese Army forces launched a massive attack on the base and penetrated the defensive wire.  Lt. Colonel Otis responded to a call for assistance and immediately led his squadron to reinforce the beleaguered friendly elements.  Braving devastating rocket, machinegun and mortar fire, he repeatedly ordered low passes over the enemy positions to asses the rapidly changing situation and skillfully coordinate his unit\'s defenses.  His aircraft was forced down on three occasions by the intense enemy fusillade, but he refused to leave the battle area and quickly secured another helicopter each time.  The battle grew in intensity, as he fearlessly landed amid a curtain of fire to coordinate with his ground commanders and encourage his men to continue their staunch defenses.  His skillful and aggressive leadership inspired his men to repel the attack and force the determined insurgents to withdraw.  Informed that an estimated Viet Cong battalion, poised outside the perimeter, was threatening the air base, he quickly directed his unit in a search and clear operation.  Repeatedly exposing himself to savage enemy fire, he led his men in a fierce attack that totally destroyed the enemy forces.  His fearless leadership in the heat of battle was instrumental in preventing the vital military installation from falling into enemy hands.  Lieutenant Colonel Otis\' extraordinary heroism and devotion to duty were in keeping with the highest traditions of the military service and reflect great credit upon himself, his unit, and the United Staes Army.')"
.......................................................................................................................................................................
"Memorial Article and photo reprinted with permission of West Point Association of Graduates.
This article is published in the 2014 issue of TAPS magazine (Memorial Articles for West Point graduates)
Please go to http://apps.westpointaog.org/Memorials/Article/19074
and leave your testimonial message

Glenn K. Otis 1953
Cullum No. 19074 - Feb 21, 2013 - Died in Carlisle, PA
Cremated. Ashes remain with the family.
Glenn Kay Otis was born Mar 15, 1929, in Plattsburgh, NY, son of the late Glen K. and Viola Hart Otis. Academically, he showed his talents early by graduating from high school a year ahead of his contemporaries. He then enlisted in the Army, was sent to Korea on occupation duty, and while there qualified for a Regular Army appointment to West Point.
While in high school, among his acquaintances was one Barbara Julia Davies; Barbara says she and Glenn couldn't stand each other. This state of affairs lasted well into Glenn's plebe year, when Glenn invited Barbara to West Point for a weekend. Things progressed so well that they got married in Plattsburgh four days after graduation. In time they would produce three wonderful children: Caren, Peter, and Nancee; and four grandchildren.
At graduation Glenn chose Infantry, then requested and got a transfer to Armor. He then served in Korea (Barbara took the children back to Plattsburgh); West Point, in the Mathematics Department; Germany (three tours); the Pentagon (twice); and Vietnam (Barbara took the children back to Plattsburgh again).
Upon promotion to brigadier general (first in his class), he was assigned as director of the XM - 1 Tank Task Force. He was responsible for developing the Abrams battle tank, which continues to be overwhelmingly superior to any other tank in existence today.
Glenn went on to command the 1st Armored Division in Germany, returned to the Pentagon as the Army Deputy Chief of Staff for Operations and Plans, and moved on to command the Training and Doctrine Command at Fort Monroe, VA. From there General Otis went on to become Commander in Chief, U.S. Army Europe. He retired in 1988, but continued to actively participate in the defense business community and as a member of numerous advisory boards at the highest levels of government.
Glenn's achievements were many and varied, not least is that he began his service as a private and completed it as a full general. He was a Ranger, a graduate of the Command and General Staff College (first in his class), and one of the first recipients of the Master of Military Art and Science degree. He earned a master's degree in mathematics from RPI, and was a graduate of the Army War College. His military decorations include the Distinguished Service Cross, Silver Star, five awards of the Legion of Merit, two Purple Hearts, and eight Air Medals. In 2004 he was honored by his class and the Military Academy by receiving the USMA Distinguished Graduate Award.
The following testaments to Glenn's character and service were extracted from messages, letters, and calls from his friends and admirers:
From a West Point classmate who barely made it through, graduating by the skin of his teeth: "He taught me much of what I ever learned of math and sciences."
From one who was at C&GS with Glenn: "In our seminar Glenn...took a very complicated Operations Research problem and boiled it down to utter simplicity for his less informed class mates. Such was his touch...at the end of the course learning that Glenn was our #1 graduate was no surprise."
From a classmate and newly assigned mechanized infantry battalion commander, just after the Tet offensive: "That May 1968 afternoon...Glenn dropped in by chopper to warn me that in his experience, the NVA leadership was very stupid - they kept repeating tactics that had failed them. And since we were astride the same axis they had used in Tet when Glenn's squadron stopped them, he forecast they would try the same thing against us. Since I had never heard a shot fired in anger, he nicely reviewed with me our defensive lager (position) and gave it his seal of approval. He was correct; the NVA came as predicted, and we decisively kicked their collective (backsides) that night." And from a junior officer in that same battalion, about the next day's battle: "...of all the firefights I survived in Vietnam, I don't think I heard such sustained fire, a lot of it incoming, for so long a period of time. And there appeared no end in sight. Then, late in the afternoon the 3/4 Cav came busting through the NVA lines and broke up the siege of our positions. Riding on the lead tank, standing next to the turret was LTC Glenn Otis. With one hand he was holding onto a handhold on the turret and with the other he was holding a radio handset...The siege of our position was broken and NVA began running away in the open. Daylong gunships and airstrikes had not pried them loose, but the 3/4 Cav did."
An enlisted man who served under Glenn in the 3/4 Cav: "It was a privilege to serve under Otis. His leadership is one of the few positive memories I have from Vietnam, and it has been gratifying to watch an old - fashioned warrior like Saber 6 rise to the top in the postwar army."
From another classmate, a retired general officer: "Few really know of all the things he did for the country and for individuals. He never wanted credit for what he did - you never saw him thump his chest or gloat - even after he thoroughly thrashed an opponent on the handball court. No one was better than Glenn Otis."
And another: "Glenn was an icon in the Army. Within our West Point class, no member is more respected. His rise to four stars and his key commands of TRADOC and USAREUR, just as the Army was trying to get over the trauma of Vietnam, were keys to victory in the Gulf War."
Glenn...Dad...Gus...Saber6...General Otis...you have more than earned your place in the Long Gray Line. You are the epitome of "Duty, Honor, Country." Well done!
- His Classmates
..........................................................................................................................................................................

General Glenn K. Otis - 83
Funeral Homily
Father William Forrey - February 27, 2013

Barbara, please accept the sympathy and love of all of us gathered together as we commend Glenn to the Lord. Your devotion to him, the example of married love that which you and Glenn offered, remain a great inspiration to us all and we pray that the Lord will bless and console you and Caren, Nancy and Peter and all of your loved ones.
I also want to thank the Honorary Pall Bearers who are with us today. Many of you comprise the Saturday Morning Breakfast Club. General Otis would be so honored by your presence here this morning. Allow me to personally thank and acknowledge the following distinguished officers. Your friendship and support meant more than you will ever know to General Otis: Lieutenant General David Grange, Major General William Burns, Brigadier General Dick Potter, Colonel Robert Gerard, Colonel George Shevlin, the recently deceased Colonel Don Lunday is represented this morning by his son Lieutenant Colonel Brian Lunday. My sympathies to you all as well and thank you for your service today as the Honorary Pall Bearers.
Today we celebrate the life of General Glenn K. Otis. For God has called his creation back home again. And as we contemplate the loss of General Otis many thoughts, emotions and questions come to mind. The meaning of life, the meaning of death and the afterlife.
But most of all our thoughts turn to faith for we celebrate this day - Glenn's victory in Christ in His Passion, Death and Resurrection. Our faith tells us that through Christ the power of sin and death was destroyed. Through our belief in Jesus Christ we know that our ultimate destiny is to live with God in heaven.
Our thoughts this day reflect upon the belief that Glenn is with the Lord Jesus and that should be most comforting and consoling …. for this is our goal as a Christian community. To one day be united with God in heaven. Death is the great and final emptying of self so that Jesus can come and take possession – come to me, all you who labor!

No words will take away the sense of pain, sorrow or human loss that each of us now experience. But our faith in the Lord Jesus enables us to say that for Glenn, life is changed and not ended. Glenn is home. He is at peace – that place where there is no more pain, suffering or torment.
As you know we are in the season of Lent and the themes of death and dying, life and living, are constantly before us. However, from the start of the journey, from whatever town or village, whatever suburb or inner city we happen to be in at the moment, we know where it will end at the end of Lent we find ourselves at the tomb. The death of Jesus.
Yet, we know that this isn't the end of the story. There is another chapter and that chapter is the Resurrection of Jesus Christ. We can again get bogged down in the questions of why? Why did he have to die? Why did Jesus have to die in the manner that he did? Why didn't God intervene? Couldn't anyone have saved Our Lord – many questions?
As Catholics we walk the Stations of the Cross during the Lenten season we identify with the suffering of Jesus and in this we mourn. His journey is a sad one, broken, battered carrying a cross to his death – but his entire life story isn't the cross. His life story is one of life, love and acts of kindness that marked his life. His life story is one that didn't end in death on the Cross, but rather in new life that was promised to us in Baptism. Today it is the life story of General Glenn Otis that we remember; it is his new life in Christ that he is now experiencing that we must remember and rejoice in.
General Otis knew the Beatitudes and he lived the Beatitudes. He instinctively understood the Beatitudes as a formula for living and a formula for life and happiness. The Beatitudes that we heard from Matthew's Gospel this morning are often referred to as the "Attitudes of Life". They go beyond the Ten Commandments in a way that doesn't just keep us from sinning against God and neighbor; but rather compel us to love one another in a Godly way. Who doesn't recognize General Otis in these instructions?
• Glenn K. Otis was born in Plattsburgh, New York. Would graduate from Saint John's Academy.
• Enlisted in the Army for 2 years – here he served in the Army of Occupation in South Korea
• He returned home would be selected to attend West Point
• He would go on to receive a Master's from Rensselaer Polytechnic Institute in Mathematics and then another Master's degree in Military Art and Science from the Command and General Staff College.
• You know they always say that behind every successful man there is a successful woman and such was the case with General Otis. He would come to know the love of his life Barbara Julia Davies also from Plattsburgh, New York. Barbara, at least at first, was first drawn to Glenn's mother whom she loved and adored – she would also come to love her son Glenn and marry him on June 6, 1953. They were married almost 60 years.
• 60 years of beautiful, sacrificial, unconditional love years of marriage – the military life is not easy – I wouldn't know, but perhaps all the more challenging when you are married to an officer who has immense obligations and responsibilities that required wife and family to move and move often.
• Barbara and Glenn would have three beautiful children: Caren, Nancy and Peter. Later they would enjoy 4 grandchildren: Logan, Donovan, Tyler and Emily.
• His active duty would take him to Fort Benning, Georgia, Fort Carson, Colorado, Nuremburg, Germany, Fort Hood, Texas, Cornwall, New York, Leavenworth, Kansas, Fort Knox, Kentucky where he become the Commander of the Armor School, Fort Myer, Virginia and Fort Monroe, Virginia as the TRADOC Commander
• There was no possible way that I could trace the exact order of General Otis's career – it was too extensive and vast.
• He had 3 tours of Germany, He was a graduate of the Carlisle War College in 1970
• During the Vietnam War, he played a decisive role in the Tet Offensive as Commander of the 3rd Squadron, 4th Cavalry, 25th Infantry Division.
• While defending Tan Son Nhut Air Base, his unit was faced with an enemy battalion of 600 men, his squadron killed 300 and took 24 prisoners. He received from his tour in Vietnam the Distinguished Service Cross, Silver Star, and Purple Heart with Oak Leaf Cluster, the Legion of Merit, and 8 Air Medals. The Squadron he commanded received the Presidential Unit Citation.
• He spent 5 years in Heidelberg, Germany as the Commander of the United States Army Europe where he had oversight over 250,000 troops and 250,000 civilians.
• He was on the design team that engineered the XM1 Abrams Tank
• He would retire in 1988 after pouring himself out in total dedication and service to our country as a soldier for 42 years. He retired a 4 star General.
• When I think of General Otis this morning I cannot help but to think of how he contributed to the long line of men and women that serve in uniform today. He did his part to care for our soldiers when we were a nation at war. His heart beat as one with his troops – when they were on the field – he was on the field. When there was a fatality – it might have well been someone who died in his own family. Duty, Honor, Country were themes that were simply a part of his DNA.
• General Otis came from that generation that never asked what their country could do for them, but always and with their lives asked what they could do for America.
• He knew that the real strength of troops, platoons, battalions, or a country comes from a sense of shared history, values, customs, hopes and dreams all of which unifies a people making them stronger.
• When I asked Barbara, Caren and Nancy how to describe the General's personality they said he was independent, self-made, self-sacrificing, easy to live with, great sense of humor – especially when the joking was at his expense, humble, thought of others before self, fun, loved a good laugh.
• Unfortunately, he was a frustrated golfer.
• As you can imagine he was a great athlete – in younger days he was a great swimmer and a lifeguard in high school.
• Loved watching sports. When the kids were younger he would take them fishing on Lake Champlain. He loved his wife and he loved his children.
• To know General Otis was to know a man of incredible, outstanding character, integrity, leadership. I mean the kind of leadership that brings out the very best in you. He brought out the best in you because he led by example.
• He was honorable, a man of service – an individual that only comes around once in many years. A man who knew his God and was a faithful Roman Catholic – a man of faith. A man who practiced his faith.
• Every two years he attended his Vietnam unit's reunion – it was important for his men to see him. General Otis had the ability to instill courage, when courage was in short supply, to instill faith, when faith seemed fleeting and he could create hope when there was an overwhelming sense of despair.
• Those who served under the command of this great man, soldier and leader loved him, respected him and will miss him.
• In the end complications from an aneurysm would claim his life – a life poured out in love and service. You gave to us a wonderful example and will forever be an inspiration.
• He was and always will be a soldier's soldier.
Our hearts are heavy with the feeling of a profound sense of loss right now, for someone we knew and loved is no longer here in the flesh. Glenn in his own way had been preparing for this moment in his life. Though we were not ready to say good bye to him, we have to believe that he was ready for this next chapter in his life. He had accomplished his mission in life. Our faith must now console us in knowing that he has been welcomed by the Lord himself and taken to a place that has been prepared for him. Our faith tells us that life does not end with death, but rather we are changed, reunited with the source of all life through the redemptive grace of Christ's own death and resurrection. And one day we shall be reunited with Glenn again – his life must be an inspiration to us all. To love, share and give without counting the cost and to be ever faithful to the one who died so that we might be set free.
What the Beatitudes give to us in this life are very beautiful and precious – all those things which make life worthwhile, things such as peace, goodness, joy, love, compassion, mercy, gentleness, integrity, freedom of spirit. But they are only a foretaste of the good things to come.
A person who lives according to the Beatitudes offers us a glimpse of what is to come in the kingdom of heaven. Eternal life will merely be the full blossoming of a plant that is green with life and health. Glenn lived the Beatitudes. The joy that he possessed in loving so many in this life was a foreshadowing of the joy that he now enjoys in being in the presence of our Creator.
General Glenn K. Otis, know that we will never forget you. Thank you for your service in loving God, family country and neighbor. Rest in peace. Rest in peace. ..................................................................................................................................................
LTC Glenn Otis departing letter to the troops of 3/4 Cav.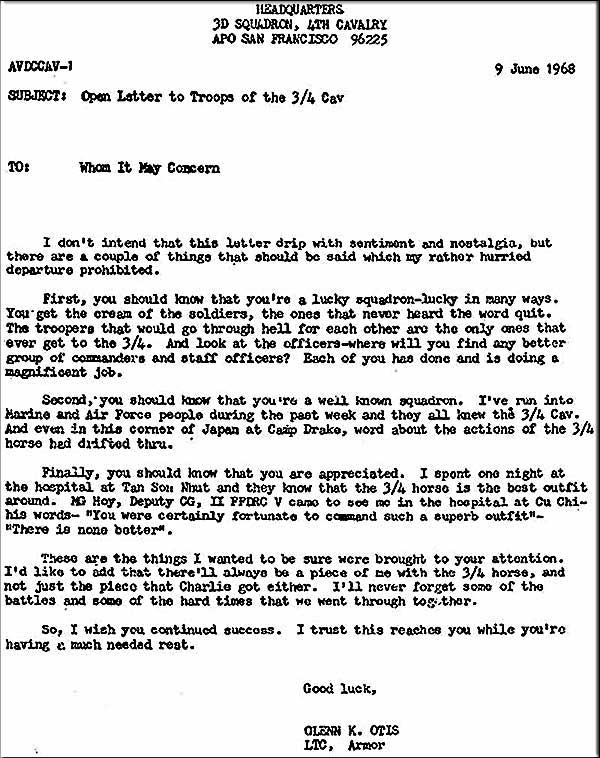 ...........................................................................................................................................................................
Glenn Otis was sent a copy of the Centaur Brothers DVD and responded with this note: