Aug 2019 - Sep 2019 - Oct 2019 - Nov 2019 - Dec 2019
Jan 2020 - Feb 2020 - Mar 2020 - Apr 2020May 2020 - Jun 2020 - Jul 2020 - Aug 2020 - Sep 2020 - Oct 2020 - Nov 2020 - Dec 2020, Jan 2021
CIVO Website Newsletter - Feb 2021
remember to click on the blue underlined text for more information and photos.
index: Corrections, Deceased, MyPages, War Stories, Other, Glossary
A new SCAM:

You may receive a legitimate looking email from a recognized email address that is asking you for a small favor. The key word being "favor". Even though the email address of where it was sent from is exactly your friends email address, it is really not. Do not open it. It is a clever scam. If you respond to it, it is not really going to your friend's address. Do not hit "Reply". If you do it will go to the scammers hidden address. If you want to double check you can telephone or send a new email to your friend for verification. Easiest thing is to just trash it.
CORRECTIONS:
An InfoSheet/Obit was published in the November Newsletter for Daniel "Dan" Lott CPT. The link from his deceased MyPage was broken and unfortunately not reported until now. It has been fixed.
Please help us to find errors like this as you are reading the Newsletter or viewing the website. Then send an email to powellcentaur@gmail.com.Thanks.
Reunion for 3/4 Cav has been rescheduled for April of 2022 due to Covid concerns. Location, Agenda and other plans remain the same. see Cav Reunion Info
Deceased
John Alto 1LT, our first Aerorifle Platoon Leader, died on 25 January 2021. His long battle with pancreatic cancer ended with a stroke and placement in Hospice. His was a peaceful death surrounded by friends and family. John was a mainstay in the development of both the Centaurs In Vietnam Book and that of our legacy website. See his Info/Obituary page. Comments by Tom Fleming.
Hollie Tripplett Jr SSG Aerorifle Platoon Sergeant in 1968 passed away from a heart attack 16 Jan 2020. A deceased MyPage and Info/Obit has been created from his obituary data. He was the Aerorifle Platoon SGT in the first half of 1968 but his actual Centaur tour months are not recorded.
Triplett attended the Cav reunions of 2006/ 2008 & 2012, according to Dale Dow's notes.
Permer R. "Soupy" Sales SP5 UH-1C Door Gunner 1966 died 17 April 2018. Bob Tegelman found his Obit which was used to do an InfoSheet/Obit. Also added a MP1 of Sales from Steve Tolle, his Crew Chief. Permer's MyPage has been changed to a Deceased MyPage and listed on the In Memoriam Deceased page.
Jeffery T. "Jeff" Griffin CW2 Cobra pilot Centaur 50, 1971-72: Bob Jones reports that Jeff passed away 13 January 2021 of a nonCovid related illness. His MyPage has been changed to Deceased and an Info/Obit page added. He is now also listed on the InMemoriam/Deceased page.
John M. Hohman CW2 Slick and Scout pilot 1966-67 and 1969 (Deceased): Mike Vaughn provides a photo of John from his first tour as a Centaur flying a UH-1D. His MyPage has been upgraded with that.
Curtis Michael "Mike" Young SP4 UH-1D Door Gunner 1967 now has a deceased MyPage and two MP's using photos from Mike Vaughn. The MP photo of Young and Stegner has been added as MP1 to the Young and Stegner MyPages.
Robert B. Bob" Long CW2 LOH pilot 1971-72 is not dead. There was a mixup; we had him shown as deceased. He phoned in on 4 Jan 2021 to say he is fine and will send photos and information. Might there be a second Bob Long?
My Pages
John Kelly 1LT Forward Observer 1967-68 posts his InfoSheet. Also note his War Story The Vinatexco Cotton Mill - TET 1968 listed below.
William "Bill" Gausman SP4 LOH Scout Observer and Crew Chief 1971-72: His MyPage has been updated with a better photo and three MP's added.
Bill also has his Photo Album of six photos published. It is listed on the Photo/Slides page of the PhotoAudioFilm section and linked to from his MyPage.
William "Bill" Gausman also has his Bowling Green, KY Reunion Interview movie published. It is listed on the War Stories Video page and linked to from his MyPage.
Chuck O'Connell CW2 Cobra Pilot Centaur 51 1971-72 provides a photo of his Cobra 6815197 showing the name "Viva Santana" painted on it by his crew chief (not yet identified). It has been added to his MyPage as an MP and to the HIstory/AH-1G page. it is also noted on the AH-1G Tail Number page and linked back.
David Whitley SP4 Aerorifleman 1970 - 71 noted that we had the wrong name and rank for SP4 Kenneth L. Cavender. It should be SGT John E. Cavender. We went back to the original Tropic Lightning Newsletter (22 Mar 71) which referenced Cavender, and found that the author named him SGT John E. Cavender not Kenneth. Our 3/4 Cav Roster shows a SP4 Kenneth L. Cavender as per Special Orders 58 Feb 1971. We haven't been able to find those orders in our history files (yet); but will assume that they are either incorrect, or else we have a second Cavender. Ken's name has been left on the roster just in case.
John E. Cavender's MyPage SGT, has been upgraded with a photo from Whitley's Photo Album (photo 4 of 9). The TLN article is added as a link and the article photo has been added as an MP1.
Jon E. "Festus" Hagen SP4 Aerorifleman 1971 now has a rough draft MyPage using his Yearbook photo and an InfoSheet. His page is linked to the Tropic Lightning Newsletter (22 Mar 71) which references he and SGT John Cavender.
Richard Stegner SSG UH-1D Door Gunner and Aerorifles 1965-67 now has a Photo Album of 20 pictures posted. An MP of Stegner and Young has been added by Mike Vaughn.
Dennis Hogan CW2 UH-1H PIC 1972-73 now has a slide show of 56 photos taken during his time with JMC at the end of the war Jan 1973 to March 1973. Also see the story by Brian Harrison.
Brian "Stretch Harrison SP4 UH-1H Door Gunner 1972-73 has contributed so many stories and articles of information that there was no more room for buttons on his MyPage. His stores have been transferred to a seperate Index of Articles page. Go to his MyPage and click on Index of Other Articles.
Frank M. Hock CPT Operations Officer Jan to Jun 1972 draft MyPage is corrected. Frank is assembling some photos and info to send to us.
Melvin "Gene" Vasser SP5 Light Scout Crew Chief for D Troop 1969-70 now has a MyPage and Photo Album
Johnny L. Dixon WO1 Slick Pilot Feb to Apr 1972 sent in some new photos. His MyPage has been updated with a color pic of him in Nam and a Photo Album of six photos has been added. His album has been added to the Photos/Slides page of the PhotoAudioFim Section.
Richard "Rick" Benner SSG Aerorifle Platoon NCOIC and LRRP 1971 has contacted us and provided notes from the 21 December 1971 LOH crew rescue in Cambodia. A War Story Discussion page, "Wayne Burns KIA - 12 Dec 1971", has been started with Rick's notes about the mission. He was in charge of training the Browns (ARVN Troops) to replace the Blues (F Troop Aeroriflemen). He also now has an InfoSheet.
War Story Videos, Essays & Discussion
VIDEO: William "Bill" Gausman's video interview at the 2019 Vets Reunion in Bowling Green Ky, is now posted. it is linked to from the War Stories Video page and from his MyPage.
The Vinatexco Cotton Mill - TET 1968 - John Kelly 1LT Forward Observer 1967-68 has tells of that day in Jan 1968 when C Troop was devastated and artillery was called in to destroy the enemy in the Textile Mills near Ton San Nhut. The story is linked to from the War Story Discussions page, the Pat Eastes War Story Year of the Rat, The Battle for Saigon page and his MyPage.
The Joint Military Commission - 1973 War Story is posted to the War Stories Discussion page and linked to from the MyPages of Brian Harrision, Dennis Hogan and Wayne Moose. Some F Troopers stayed to fly for the Joint Military Commission during the withdrawal of American Troops from Vetnam. This is their story. We would like to locate WO1 Gene Scarborough and CPT William Barry Penzel (Minden, NV).
Accidental Death of Ernest Dow Ford: Allen KC Allcock and Tom Dooling remember the day that Ernest Ford was killed by a 40mm Grenade Launcher detonation in the Corral working in a revetment. The story is added to the War Storys Essay section and linked to from the KIA MyPage of Ernest Ford, plus Allcock and Doolings MyPages.
Mrs Parratt Adopts Aerorifles - 1966: Newspaper article from New Mexico (located by John Moore) where a local family decides to adopt a combat infantry platoon. 1LT John Alto, the first Aerorifle Platoon leader of the Centaurs, corresponds with Mrs Parrott and family. The story is listed in the War Stories Essay section and linked to from John Alto's deceased MyPage. The newspaper may have spelled the Parratt name wrong. It might be "Parrott". Do you remember these letters? Let us know - powellcentaur@gmail.com
Other
Rick Chesson 1/9th Cav, (Sabre 14) remembers where the 6lb MK-4 Mighty Mouse rockets came from. See his note at History/Ordnance/Rockets. Rick also asked the question as to how one might go about creating a multimedia website like ours. That response has been added to our Help/Answers section item #65.
David Bossary Photo Album needs names (Jan 67 - Feb 68). Please look through it and see if you can help to identify some of the men.
Last months article on F Troop Patches has been added to the F Troop Orphans War Story Discussion page.
Mike Vaughn found three more good photos that have been added to his Photo Album (#24, 25, 26).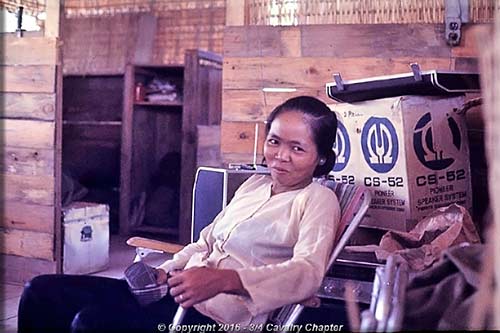 Jerry Toomey is hoping that one of you will remember this Hootch and Hootch Maid in a effort to find the guys that he lived with for a short time in D Troop (Jan to Jun 1968)
The Cobra Aircraft Decal mentioned in the January Newsletter is now available for direct order from the following link: https://militarygraphics.com/product/bell-ah-1-cobra-decal/
Glossary
Glossary: Thumper, MACV, Yards
For the CIVO Board of Directors,
Bruce
Bruce Powell, Moderator of the Centaur Society and Webmaster of centaursinvietnam.org
cell 619-823-0992
email: powellcentaur@gmail.com
1601 Rhododendron Dr, Spc 571, Florence, OR 97439 (Summer)
11875 S Ironwood Drive, Yuma, AZ 85367 (Winter)