CIVO Website Newsletter
6 August 2019
remember to click on the blue underlined text for more information and photos
The Blessing of Combat Camaraderie: Why do we spend so much time, effort and money to continue to build the Centaur Legacy Website? It is hard for some to understand how feelings from a half century ago can still be so strong. I wish I had the capability to fully express my thoughts in the elegant manner of former Marine Michael Norman:
"I now know why men who have been to war yearn to reunite. Not to tell stories or look at old pictures. Not to laugh or weep. Comrades gather because they long to be with the men who once acted their best, men who suffered and sacrificed, who were stripped raw, right down to their humanity.

I did not pick these men. They were delivered by fate. But I know them in a way I know no other men. I have never given anyone such trust. They were willing to guard something more precious than my life. They would have carried my reputation, the memory of me. It was part of the bargain we all made, the reason we were so willing to die for one another.

I cannot say where we are headed. Ours are not perfect friendships; those are the province of legend and myth. A few of my comrades drift far from me now, sending back only occasional word. I know that one day even these could fall to silence. Some of the men will stay close, a couple, perhaps, always at hand.

As long as I have memory, I will think of them all, every day. I am sure that when I leave this world, my last thought will be of my family and my comrades...such good men."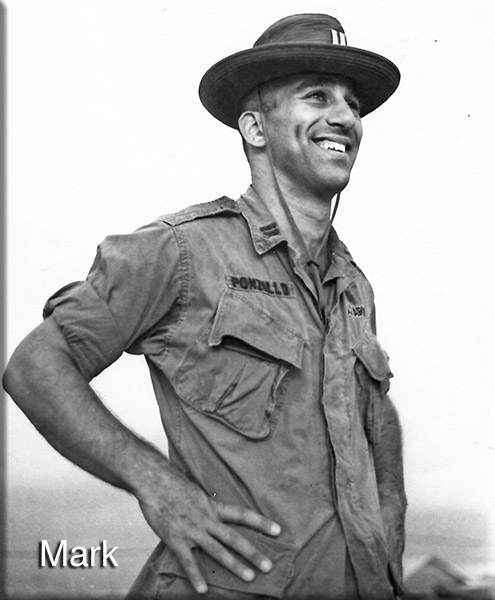 Mark Ponzillo CPT LRRP Commander 1966-67 has died (14 July 2019).
.....His name has been added to the In Memoriam/Deceased page. His Obituary has been linked to his MyPage.
.....Our great friends and comrades in the initial LRRP unit (1966-67) and the following units of F Troop, 50th and 75th Rangers have lost their greatest hero and founder.
.....Those of you who worked with Mark in combat can send me your memories to be posted on his InfoSheet. Please do this.
.....Let us show our respect for this great warrior by taking the time to reread his amazing story about how he single handedly built the LRRP Unit for the 3/4 Cav and the 25th Inf Div; and did it all within our Centaur unit. See Chapter 10 page 133- 145 of Carl Burn's book "Centaurs In Vietnam". Also watch the 23 minute video that he did for us at the Nashville Reunion in 2012. What a story! What a man.
Marshall Huckaby, LRRP, Centaur & Mark's close friend sends us this report: Mark Ponzillo was laid to rest with full military honors at the Georgia National Cemetery. A detachment from the 75th Ranger Regiment served as poll bearers and escort. They also honored Mark with the playing of taps and a rifle salute. The service was conducted by a Young Ranger Chaplain Captain. He was tremendous. It was truly dignified and respectful. David Dunlap, son of LRRP James Dunlap, arranged for a UH-1 Fly-by and salute by the Army Aviation Heritage Foundation. It was a fitting conclusion to the ceremony that a Huey should be present at Mark's internment. The wop-wop of the Huey's blades are definitely the soundtrack of our lives !!!!! (please take the time to review Marshalls MyPage and links. He is a LRRP extraordinaire)
New CIVO Director: Thomas "Sam" Dooling CW2, LOH and Cobra Pilot 1969-70, was nominated to become a member of the Centaurs In Vietnam Organization (CIVO) Board. He has accepted (19Jul2019). A new group photo of all 13 Directors has been posted to the website in the Contact Us section.
Understanding our Board of Directors Concept:
.....We are not a federally registered formal organization (someday maybe). We operate as a committee with no designated leader, equal authority, consensus decisions, and level of mutual respect formed by our combat brotherhood.
.....Our Directors are not figureheads, or selected for their rank or social status. They are all workhorses. They have the job because they believe in the Centaur Legacy Mission (the recorded history of the Centaur units as told by the men) and are willing to spend the time, money and effort to make it happen.
.....If you take a look at all the Centaur tour dates of the Directors, you will notice that nearly every tour of all Centaurs (1966-1973) is represented: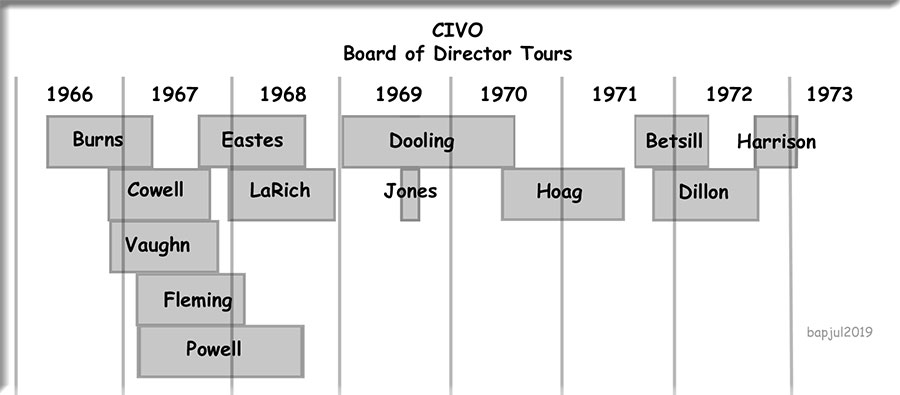 Hand Salute: The CIVO Directors would like to thank Mike Holder for his selfless work in helping fellow Centaur Chester Stanley through some real tough times. Mike doesn't just talk about Brotherhood, he lives it.
George F. Schmalhofer 1LT 1969-70. The email address we have for him doesn't work <g_schmalhofer@yahoo.com>. Anyone in contact or remember anything about him?
Couples Photos to InfoSheet: Lin Riniker and Marty Jenkins sent in photos of themselves with their wives which are now posted on their InfoSheets. You should do this too if you haven't already.
William M. McConnell 1SG F Troop 1972, deceased 3 January 2008, has been added to the Centaur Roster. He had served in the Korean War and did three tours in Nam. When 1SG Johnny Martin was killed, MSG William M. McConnell became the First Sergeant of F Troop. He had been in that position only days, when on a mission where he was coordinating a Search and Rescue, he was seriously wounded. He now has a Deceased MyPage and InfoSheet. Some thought the Slick that he was in was in that new UH-1H that we don't even have a record of (Serial Number starts with 71-xxxxx). Dan Miller might send some photos and info. Maybe it was MAJ Kermit Larson's C&C bird flown by Pappy Jones.
Memory Jogger 051 - (9 Jul 2019): From Frank Dillon: the 71-xxxxx (tail number not known) Slick was a replacement for MAJ John Spencer's 881 Slick that had an engine failure and was slung back to Tan My minus the tail boom. Could this be the one that Dennis Hogan is flying in his MP2 photo? Someone said that John Spencer said it was Pappy Jones who took the 1971 Slick out and brought it back with 80+ bullet holes in it. We assume that was when 1SG McConnell was wounded. (We need info/photos on this and on McConnell)
Joseph S. Bowen CPT Operations Officer 1973 now has a draft MyPage using a photo from Dennis Hogan. We have a bad email address for him: "Bowen, Joseph" <saber@snowhill.com>. Maybe you can help? Last known address was: Ozark, AL 1972-73
Paul F. Hutson PFC Aircraft Armament Repairman 1967 was the unknown in Memory Jogger MJ011 (photo by Terry Vaughn). He has been identified by Doug Olsen and Harold Deist and a MyPage created with two MP's from Doug Olsen's Photo Album.
Herman W. "Bill" Witt SP4 Aerorifleman and Door Gunner 1967-68 has his Cobra photos posted to a Photo Album linked to from his MyPage and from the PhotoAudioFilm section. Can you identify any of the Maintenance guys in the photos of his Photo Album?
Bruce E. Anderson SP4 Door Gunner & Crew Chief for LOH Scouts March to September 1972 has an improved MyPage with Nam photo and an InfoSheet with a picture of he and his wife Joan. Bruce was Gunner for Ron Radcliffe when he wounded on 23 May 1972. He was with Fred Ledfors when he was shot down on 20 Jun 1972. We need more information on those two incidents.
Robert "Butch" Glenn PFC Aerorifleman 1969 contacted us and now has an InfoSheet. We hope to hear more from him and maybe get some photos.
Hal Hebert SP5 Crew Chief Heavy Scouts 1967 has an InfoSheet that you should read. Maybe you can add some details to his list of memory snippets. A photo of Hal and his wife Patricia has been added. (do you have your wife up on your InfoSheet Yet?)
John B. Scott PV3 Aerorifleman 1967 has a very rough draft MyPage made from Herman Witt's MP6. Need info and a better photo.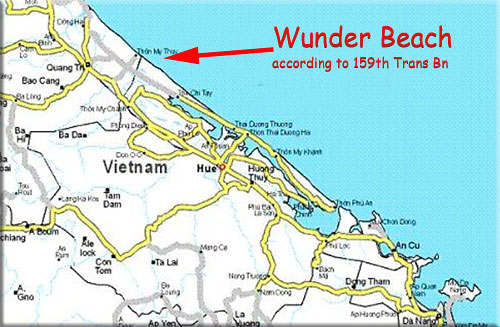 Dennis Mike Hogan CW2 Slick pilot 1972-73 now has an InfoSheet and a couple photos of destroyed enemy tanks from near Wunder Beach which were sand dunes South of the Twin Steeples (Location/Photos?). He also mentioned the term "Tennessee Valley", South of the A Shau Valley. Do you remember any of these names/locations?
Dennis also provided a VHPA Reunion pic (from 90's) of he and Hayden "Pappy" Jones. It has been added as an MP to each of their pages.
Gary M. Portas SP4 Heavy Scout Door Gunner 1967-68. Hal Hebert contacted Gary and Sally by phone. We sent them a Welcome email and hope to hear back from them. Gary's name is mentioned several times in Powell's Gun Platoon Notes (1967).
Richard E. Bernier, LOH Scout Crew Chief, Centaur 12a, 1970-71 has checked in looking to contact his pilots Sparrow and Broadbent. No MyPage or photos yet. Hope to hear more from him soon.
Richard Parrish has moved to Kentucky. His MyPage is updated.
James F. "JC" Carnathan CW2 LOH Scout Pilot has a newspaper article from August 19, 1970 (The Tampa Tribune) added to his InfoSheet. Article was found by John Moore. Eric Brethan is in contact with JC and hopes to help him get more info and photos to us.
Henry H. "Rick' Roll 1LT D Troop (Air), 3rd Sqdn, 5th Cav, Heavy Scout Gunpilot 1967 has been added to the Centaur Friends Roster. He has a MyPage and InfoSheet. He trained with the Centaurs in 1967 for a couple months. Rick is a lifetime member of the VHPA and reunion organizer for his unit the Crusaders. He added his email address ("Roll, Rick" <Rroll@comcast.net>) in case any Centaurs would like to talk to him.
Jan C. White SP4 LOH Crew Chief 1970-71 has an upgraded MyPage. Jan and his wife Trudy own "Dat Cajun Place" restaurant in Panama City Beach, FL. Jan crewed LOH's Proud Mary and Sweet Cream Lady.
Michael A. Norris LRRP 1966-67 has a rough draft MyPage and MP1 using a photo from Bill Boyd's album
Charles Loher LRRP and C model Gunship Doorgunner has a rough draft MyPage and MP1 using a photo from Bill Boyd's album. He is also now linked to Powell's Unfinished Letter War Story where he is mentioned as a Door Gunner.
Robert "Wayne" Ayres CW2 Assistant Operations Officer 1970, now has a draft MyPage. We will continue to search for more info on him to do an InfoSheet.
Update to the "Rescue of Lady Ace" July 1972 article by Rex Gooch:

.....USMC CPT Alan Zygowicz CH-46 pilot has been added to the story. Alan also has a Centaur Friends page that includes a VHPA reunion photo of him with Centaurs. His InfoSheet tells of his part in the battle and his text has also been added to the Rescue of Lady Ace War Story.

.....Terrance W. Hawkinson CW2 Cobra Pilot, deceased 1 January 1996. No photos but we have created a draft MyPage using his grave stone. Some one must remember him? Photos?

.....Ferrell Duane Swindell CW2 deceased 25 August 2014. His name is now linked to an InfoSheet/Obit. Need photos.

.....Many names that were not linked to their MyPages have now been properly linked.

.....If your name is shown on this War Story page, would you please send in any comments or other information that you might remember.
Can you help us find photos and information on these men mentioned in the Lady Ace story:
.....Centaur names mentioned in the story that are not on our roster;
..........CPT Stephen C. Moss Cobra Copilot - Bensalem, PA
..........1LT James Hogg - Aerorifle Platoon Leader
..........SP4 Jerry Evans - Slick Gunner
..........SP4 Mathew Mano - Slick Crew Chief
..........SP4 Paul Sofia - Aerorifleman
.....Centaur names that are on our roster but no information or photos:
..........1SG Gilbert Carrasco - Platoon SGT on that mission
..........SGT Richard L. Dyer - Squad Leader
..........SP4 Johnny M. McReynolds - Slick Gunner
..........SP4 Edward Sodja - Rifleman
Centaur Personal Weapons:

.....Lin Riniker Armament Repairman 1972, has taken on the task of writing the personal weapons section of the Website (History/Equipment/Ordnance/Personal). We have many photos and stories that could be worked in to the new article. Our published war stories could be linked where appropriate.

.....There is much already on our website, but the site has gotten so big that it would be hard for one person to find all the photos and stories that could be used. Hope you can help by sending your ideas and information directly to Lin. Linford.Riniker@dcma.mil

.....A few things that come to my mind besides the history of the officially assigned weapons:

..............I carried a Winchester 12 Gauge pump shotgun and a frag grenade flying OH-23's in 67. Found it to be useless in flight but gave me comfort in case I went down.

..............John Gough Heavy Scout CE insisted on carrying a Swedish K as his backup. During an engagement over the Cholon area of Saigon, when it became necessary to use, it immediately jammed. See Gough MyPage, MP2

..............When TJ Lange Heavy Scout Crew Chief needed a backup weapon on a hot mission, he grabbed Jeff Halliday's M16 from the back of the pilots seat. TJ never realized that many of the pilots never spent any time at all cleaning their personal weapons. It jammed on him in a life and death situation. see story.

..............As Cobra Pilots we initially carried the Colt 45 or the 38 in a shoulder holster; or some had it attached to their Chicken Plate. The M16 just didn't have a place in that small cockpit. When the CAR 15 came out it was a prized weapon; small, deadly and accurate.

..............Our Huey Door Gunners prided themselves in their care, maintenance and innovative ideas for their M60 Door Guns. It might be better to have a different article that just covers our Door Gunners and their M60s.
..............Since our Aviation unit had organic infantry and LRRPs we can include their weapon stories and photos.
40mm Grenade Launcher Variations: A discussion of possible different variations of the 40mm has been posted to the bottom of the 40mm Grenade Launcher History page.
20mm Cannon page of the History section has some comments added by Lin Riniker and Richard Parrish.
Added to Glossary: ECB, Mini-Cav, Eagle Flight, Scramble, Anti-Torque, Anti-Torque Failure, RPM's, Break-Break, Will Comply, Copy That, Going Hot, Deadman Trigger, Fox Mike, Counter Mortar Standby, Gunship, Gun Team, Door Gun, SOI, XM-21, XM-16
Boonie Hats War Story Discussion page is updated with comment from Powell's Gun Platoon Notes.
......This is now a new Discussion Page in our War Stories section. We have a great Avionics page in our History Section, showing photos and describing the radios that the Centaurs used in combat. But there is much more to this story. How and where the radios and various components were used is the additional story.
......Look over the discussion so far and add your remembrances to this page (email me).
Scramble the Guns:

.....In 1966-68 the Troop Operations used a siren to alert and launch (scramble) the standby Gunship support team. As I recall the Oogha Horn was used to scramble one of our on standby Slicks for a Medevac operation.

.....What are your memories? What was used in later years?
Memory Jogger: Don't forget to review the Jogger frequently since things are entered in there long before the newsletter comes out.
Yearbooks:

.....We have three yearbooks posted on our website (go to the PhotoAudioFilm section and scroll to the bottom). They have been extrememly useful. 1970, 1971 & 1971-72

.....A big project that has yet to be started is going through and Identifying all the photos and replacing the BS captions with actual names. Editing the names into the online version of the Yearbook to replace the BS ones will be a challenge, but would be well worth it.

.....It would save me a lot of work if one or two men from that era took on the task, exchanging emails, starting a text file of names vs BS captions. I would then take the final product and update the YearBooks. Any takers?
Reunion Video Interviews Colorado Springs 2018:

.....Harlan Gray Sparrow III tells of the VC Monkey

.....Mike Holder tells of his tour and the men he flew with

.....The movies are linked to from each man's MyPage and from the War Stories Video page. More to come.
The concept of Hyperlinking words, phrases and acronmyns to make our stories more understandable for our many non military viewers.
......Hyperlinking means to add computer code to a word, phrase or image. This allows a user to click on that item and be taken to another location, like a glossary or something presenting more information. Text items are identified as having that code by being colored blue and underlined.

......More and more folks are viewing and enjoying our website. The most common problem however is that our military language, even our specific Centaur terminology, often confuses them and causes them to loose interest in the article.

......Adding parenthetical phrases of explanation within the text and adding descriptive photos helps a lot. It is very time consuming to do that.

......Our main solution has been to use Hyperlinking where a reader can click on any blue underlined text to get a Glossary definition, get more information on a person mentioned or go to a War Story. A lot of work, yes, but well worth the effort to keep our viewers coming back.

......It was pointed out to me that I was a terrible offender of not explaining things in my letters home. My friends and folks at home seemed to enjoy them, but I have to wonder if they really had any idea what I was talking about most of the time. So I decided to work on just one letter that has been up on the site forever called "Unfinished Letter-1967", just to see how much work it would be to make it better with Hyperlinks. It took several days to do the thirty plus links and to write definitions for the Glossary.

......Those of you who want to make your stuff on the website better, email me with specifics, photos, definitions and corrections. I will make time to work with you on those additions.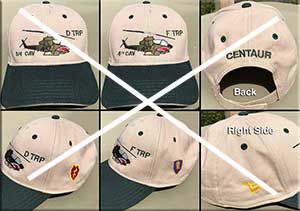 Centaur Cobra Shark Teeth Hats:

.....They are in production. Price per hat is $28 plus shipping. All profits will go to the Dale Dow Scholarship program.

.....To order email Christine Dow Smith at jaychris0126@att.net. Give her your address and number of hats and she will figure out the shipping costs.

.....Many thanks to Don Phillips for designing and getting the hats produced; Frank Dillion for loaning the funds to get the operation going; and Christine Dow Smith (Dale's daughter) for donating her time to take the orders and do the shipping.
Your MyPage, InfoSheet and Photos: Take a look at what we have up on the website for you. Let's make it better. Send me corrections, upgrades, photos, war stories and write about your Centaur Tour if you haven't already. I promise we will get it up quickly.
For the CIVO Board of Directors,
Bruce
Bruce Powell, Moderator of the Centaur Society and Webmaster of centaursinvietnam.org
cell 619-823-0992
email: powellcentaur@gmail.com
1601 Rhododendron Dr, Spc 571, Florence, OR 97439 (Summer)
11875 S Ironwood Drive, Yuma, AZ 85367 (Winter)